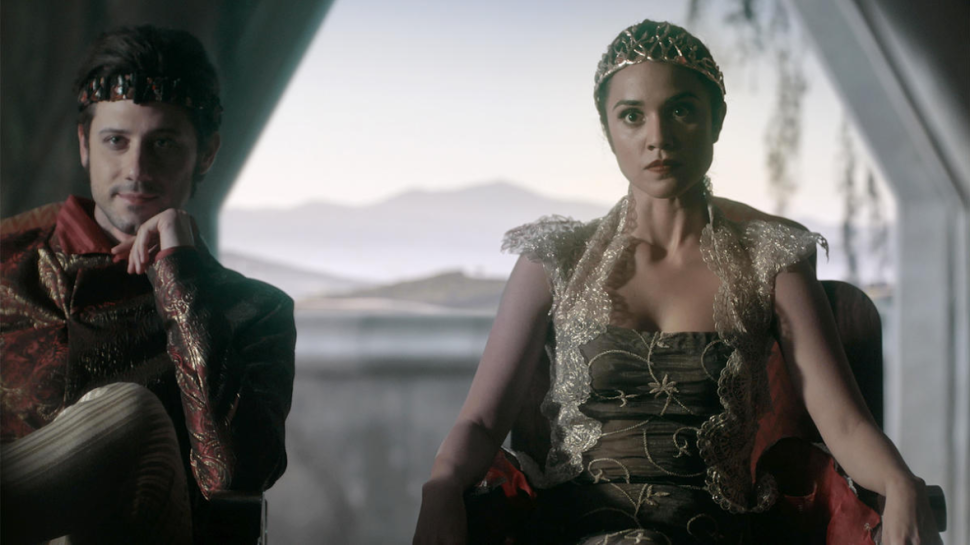 The Magicians has proven itself to be one of the most consistently enjoyable shows on television, so even a filler episode like "The Cock Barrens" is a delight, with a few great lines and at least one showstopper moment (thank you, Kady).
My main problem with the show now is that it's begun to feel like about three shows—all good shows, but with stakes that are so varied and tones that are so distinct that they hardly seem cohesive.
After a "what you missed" that seems like it's about forty-five minutes long (honestly, who is that for? Just watch the show if you need that much recapping) we dive into the episode proper.
In corner number one, we have Quentin dealing with the ostensible death-by-niffining of Alice, who's still haunting him in ghost form with a blue aura and some bomb crimping in her hair. Q begins the episode trying to summon Alice with the five movements from The O.A. which obviously doesn't work (you need five people, Q! Did you even leave your front door open?)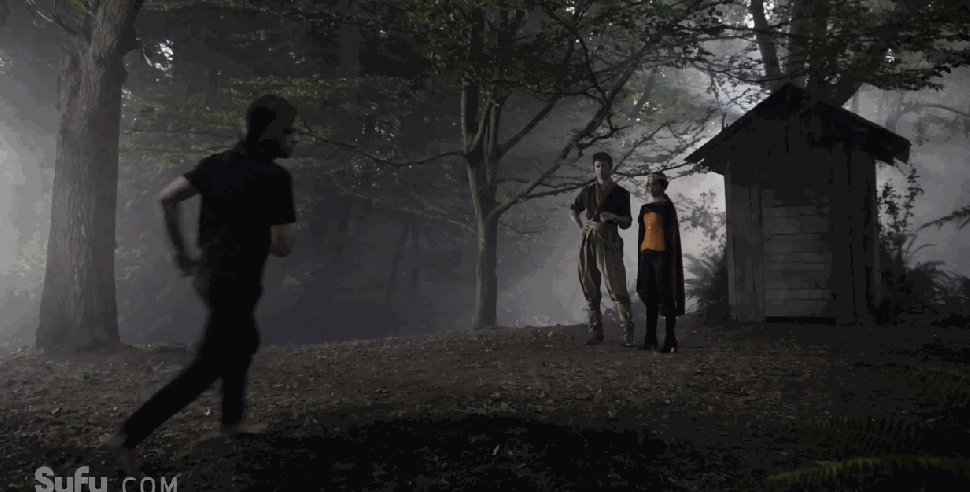 Although he thought it would be totally cool to send an email to her parents to let them know that their only daughter died, Quentin finally seems to realize that he should see them in person at her memorial service, where the audience is taken on a convoluted journey from a locked study to an ancient Egyptian summoning spell set up in their backyard so we can learn the following revelations: a) Alice's parents sucked and b) Alice is trapped in the tattoo on Quentin's back that held the cacodemon. Okay, then.
So while one member of the cast is dealing with the mourning family of his departed lover, we have Eliot and Margo starring in a zany sitcom about a fantasy kingdom when Prince Ess (another fun "FU Fighters" moment) vanishes their castle and attempts to strong-arm Margo into marrying him. We get exactly the hijinks you expect: a dick rock forest ("honestly, it's a variety pack out there"), amazing resting bitch face from Margo, and some incongruous swearing from people in fancy costumes. We do get a few nice moments here: Eliot revealing his actual feelings for Fen, finding out that Eliot is closer to bisexual than strictly gay (sexuality is a spectrum, after all), but overall, the subplot seems a little low-stakes compared to Quentin's plot-relevant existential torture and Kady and Julia's attempt to hunt down a raping, murdering trickster god.
Poor Julia. She has had everything made as difficult for her as possible for every step of the way. Julia and Kady track down the woman who had previously banished Reynard, which leaves Julia tied up in her basement with a giant, grotesque semi-naked gimp in a mask called a "haxen paxen" that's tethered to his litter box and apparently has a smell that keeps gods away. It's a scary scene and the tension is beautifully resolved by Kaptain Kady to the rescue with a killer right hook. My favorite duo escape with the haxen paxen and the knowledge that Reynard was banished the first time around by the power from giving birth to his child (so who is the "influential" child who was born last time? Have we met him yet?)
Oh, and Penny was trying to find some moss or something.
In spite of its flaws, this was a good episode of TV. I'm just hoping the gang gets back together and on the same page so I don't get emotional whiplash from subplot to subplot.