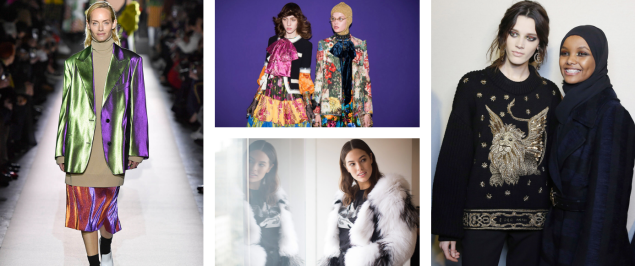 According to Ghizlan Guenez, customers who are seeking modest designer clothing find shopping to be a downright chore.
"She has had to spend a lot of time curating fashion from countless retailers to find what works for her and fits her preferences be it long sleeves, long hems, opacity of clothes or styling that is sensible yet stylish," she told Refinery29. That's why Guenez decided to found The Modist, an e-commerce shop stocked with modest threads from today's premiere and emerging designers. Among the selection is a red and white Marni midi skirt, a pair of Re/Done mini flares, a ruffled yellow Ellery dress and a pair of leopard Dorateymur mules. The hemlines in this shop tend to hit well below the knee and long sleeves prevail in the shirt department.
A woman may dress modestly due to her faith or religion, or she might choose to wear demure clothing because of her lifestyle. Muslim women are no doubt a focus of the site; according to Fortune they are on track to spend $484 billion annually on clothing and apparel by 2019. So naturally, more and more brands are tapping into this lucrative market: Dolce & Gabbana debuted a jewel-festooned hijab in 2016 and Nike just unveiled a sport hijab this past week. This year also marks the introductory issue of Vogue Arabia. 
Ultra-Orthodox Jewish women are also members of this underserved fashion market, in addition to Mormons and conservative Protestants and Catholics. As USA Today pointed out, some women just want to wear less exposing outfits, and they count Kate Middleton as "one of their icons."
The Modist, which launched yesterday, wants to change the reputation of modest clothing, which is often thought of as frumpy and not worthy of luxury designer's time. In fact, The Modist will be carrying a slew of exclusive product and working directly with designers to alter their current pieces into more modest ones. Some of the labels featured on the site include Peter Pilotto, Emilia Wickstead, Christopher Kane, Alberta Ferretti and Mary Katrantzou. Even women who don't adopt a modest dress code can find something here, from a strappy Tabitha Simmons stiletto to a cheeky rainbow clutch from Sarah's Bag. We even spotted a cropped blouse from Preen.
"Our mission is to build a strong sense of purpose to empower a woman's freedom of choice and to acknowledge how similar women across the world are — despite our diverse backgrounds, cultures and lifestyles — a relevant conversation at this time," Guenez said in a release.
The Modist will cater to those women in over 100 countries, even though the company is based in London and Dubai. The e-commerce site will also publish a monthly online magazine, The Mod.
The magazine introduced itself boldly: "With women rising up to be heard, and being covered emerging as the ultimate cool on the catwalks and beyond, we are entering a new era of empowerment for women; an era where having the freedom to be yourself is the ultimate freedom." The stories in the mag feature Muslim women, women in their 40's, plus-size women and more; proving that The Modist is an all-inclusive destination, for women of all types, religions, creeds and sizes.
Now, all women can easily stock their closets with beautiful clothing for their lifestyle, whatever that may be.