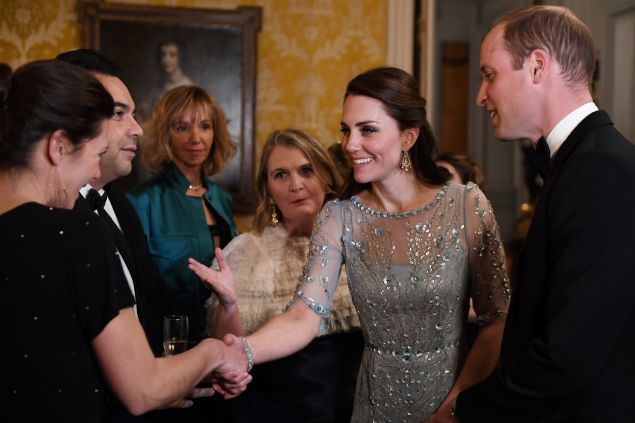 Just last week, I thought I was a person with relatively good etiquette. Out of all my friends, I was the only one that had attended Dancing School as a tween, where I wore white gloves, studied the foxtrot, the box step, the tango and the lindy, learned how to sit politely and became proficient in the proper way to hold a punch glass.
But when I turned up to the Plaza Finishing Program with Beaumont Etiquette, which specializes in teaching modern women and men etiquette, I found out that I'm not as refined as I had originally thought.
Did you know that you're supposed to cut and eat one bite at a time and then take a mandatory break after four bites in a row? Or that you're supposed to dab your mouth using the inside part of the napkin, so your dining mates aren't privy to your disgusting stains? And never, ever put your lips to someone else's cheek. Why? Because you don't want "George looking like he was accosted," explained Myka Meier, the host and founder of Beaumont Etiquette.
Meier, who was trained by a former event-planner in the Queen of England's household and attended prestigious finishing schools in England and Switzerland, does bare a vague resemblance to a character in a Whit Stillman film, but she is also very smart, welcoming and full of energy. She insists that both charm, etiquette and grace can be learned (and yes, Kate Middleton was mentioned a few times.) "Etiquette is about being kind, thoughtful and respectful to everyone around us," she told the Observer. 
Despite her roots in the old fashioned art of etiquette, Meier is quite modern. These classes help both women and men learn the proper decorum for social situations like dates (that failed Tinder date will never forget your cutlery etiquette!), but also etiquette for business and networking.
"These are modern, practical and exciting courses designed to instill confidence in any situation, from [a] formal eight-course meal, to walking into an interview for your dream job and knowing you look, sound and feel great. Some people come in for a little polishing and others for a complete revamp…Regardless, our goal is that everyone leaves feeling confident, knowledgeable and empowered. It's much more than just learning which fork to hold." A simple trick for injecting a little bit more Grace Kelly (Meier's ultimate etiquette icon) into your day? Slow down when you talk and use your hands less. A stressed out story of your morning routine can literally turn into a poetic fable if you simply slow it down and don't whip your hands around. 
I attended one of Meier's Social Swans Etiquette sessions, which was made up of mostly women, ranging in age from late 20s to 40s, in which we learned about greetings, wine etiquette, social conundrums, elegant introductions, posture, social networking, dressing and grooming, among other important topics. The session was held at the beautiful Palm Court at the legendary Plaza Hotel. When you walk into that room, you automatically stand up a little straighter (turns out my posture is also terrible), thinking about all of the high society functions that have taken place here, as well as the seminal film Big Business. Not to mention you also have the famous portrait of Eloise and her little dog Weenie looking over you.
"Partnering with The Plaza Hotel felt very organic. The longstanding values of the hotel are based on the etiquette of putting others first from the attention to detail, the exceptional service and most of all the experience you have while you're there," said Meier.
Clearly, the location is appealing, as are the delicious meals and wine/champagne spread that are included. The two hour classes range from $75 to $150, with one five-hour Saturday class covering everything including Hermès scarf folding for $599. Seeing as these classes are selling out within hours, it looks like millennials are putting down their phones long enough to tweak their politesse.
"My goal was to make etiquette appealing to even the youngest generation, through creating courses that were modern, relevant and relatable. We are now so dependent on our electronic devices to communicate, that I find we are losing the soft social skills that are crucial to success, both socially and in business." She says the behavioral mistakes she most commonly sees among millennials is when they leave their phones on the table in restaurants, and not making eye contact when shaking hands.
"Our clients learn everything from how to hold cutlery correctly to who is introduced first (the correct answer is essentially whoever you want to show respect to, is introduced first: Senator Smith, may I please introduce you to Mr. Green)."
In order to accommodate the wait list, Beaumont has added additional courses, including the luxury dining course, which is possible thanks to a partnership with Dom Perignon Champagne. And with the overwhelming response to the adult classes, the school has now launched etiquette courses for youth (ages 5-11) and teens (12-17), which will start in the late spring. 
I learned so much from the evening and walked away with knowledge that I can apply to almost any aspect of my life. For example, if you don't want to eat something, do not dissect your food. This is a word to all the gluten, dairy, sugar, bread, meat-free people: the proper etiquette is to just leave that piece of food alone.
Always look presentable when you leave the house, because you never know who you may run into. When Meier was sick a few years back, she ran to CVS for some medicine and ended up running into the Director of Mulberry, with whom she had had a meeting with the day before. That's a good reminder to all of us not to wear your pajamas outside the apartment.
And here's another one: when getting out of a car you need to master the Meier's trademark "swivel and pop" move. It's like "bend and snap!" from Legally Blond, except this one results in the graceful exiting of a car, instead of flashing everyone as the big finish. And always remember, there is "nothing worse than a sloppy swan." Kate Middleton would definitely agree.