https://www.instagram.com/p/BRNrLXwltXK/?taken-by=fedorovaoksana&hl=en
If you're looking for the ultimate Russian multi hyphenate, look no further than Oksana Fedorova. She was crowned Miss Universe in 2002, but also happens to be a retired policewoman and model, in addition to having an a career as an actress, singer and TV presenter. Somehow, between all that, and her philanthropic endeavors, Fedorova has found the time to start her own fashion label, Oksana Fedorova Design Studio by Oksana Fedorova. (For some really entertaining reading, check out her Wikipedia page, which is chock full of random facts).
Now in its third year, Fedorova is trying to position her namesake brand as one that is accessible to all women across Russia. The Fall collection, which was shown on the runway this past week at Mercedes-Benz Fashion Week Russia, looked to be a sensible series of work appropriate  grey trousers, cozy sweater dresses and layered button-down shirts. It was certainly nothing groundbreaking, nor were the designs particularly trendy, but it's an elevated take on the dark and drab wardrobe adopted by many working Russian women. That might go to explain why the brand is only sold in Russia. The collection featured a few splashes of red, alongside heavy doses of grey black and white, and many of the silhouettes were emphasized by waist cinching belts. The clothing looked to be flattering on a variety of body types, for women of all ages.
Fedorova started her line with the desire to dress women in clothing that not only made them look good, but made them feel good, too. And judging by this collection, she does a good job of attracting that customer.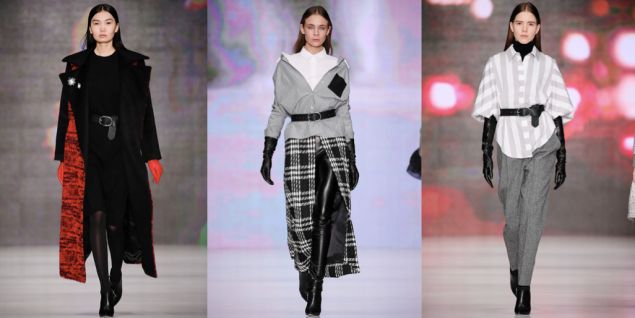 Clothing aside, we were more interested in learning about who the former Miss Universe really is. As it turns out, she was just as poised and polished as one would expect (despite the fact that she controversially forfeited her crown only 119 days into her beauty queen role). She gracefully told the Observer, with a thick Russian accent and a little help from a translator, about her personal style and how her past modeling career has impacted her career as a designer.
Why did you want to become a fashion designer?
The fashion business came into my life, of course from modeling, but also because of Miss Universe. But when I was pregnant the second time I wasn't feeling so good, so I had to stay at home. As a person, I am very active and I needed to do something. At that time I realized that I should design something for women to feel modern, but also comfortable in her clothes. Fashion is the main basis of my philosophy, but I wanted to make these clothes available to many women. The price is very important to me, so we make sure it's not too high and not too low. It's affordable, but it's good quality.
How does your past modeling career influence how you cast your shows?
Casting is so difficult because I remember what it was like when I was a model. Now, I understand what I want from a model. Eighty percent of them don't feel comfortable in their bodies, or at least the way I want them to. Most of them are so young that they don't understand the woman they are. Sometimes they are nervous, even though they are so beautiful. Of course we are looking for girls with good bodies, but their personalities are just as important. I'm very particular. I'm looking for this atmosphere of positive energy that comes from the heart. This is very important for me.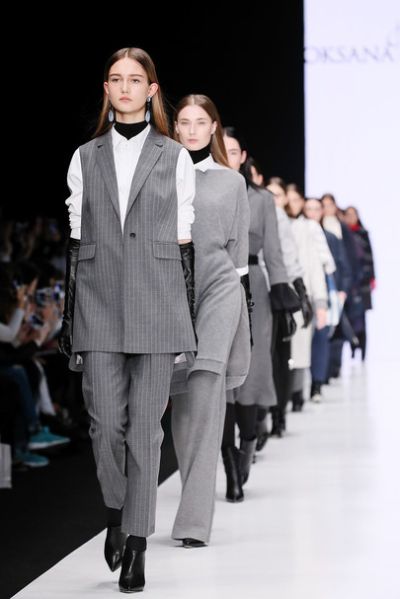 Do you wear your own clothing when you appear on TV?
Yes, sometimes. Evening gowns were not in my collection this time, but my work consists of performances and appearing on stage, so I always need evening gowns. Sometimes I make dresses for myself, or I wear some other designers.
Do you wear only Russian designers?
No, it's 50/50 because I need to be international! Russian designers are good, but sometimes I will wear Versace or Jil Sander, I love Jil Sander. Some of my designs are kind of inspired by those brands.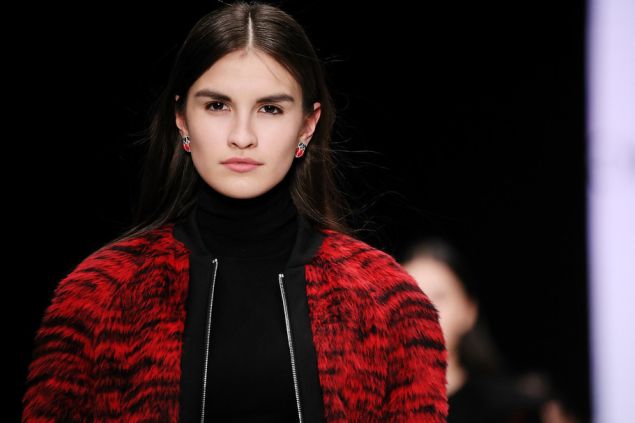 What's your signature style?
I love suits, day dresses and wide black pants with a sweater. Clothes that make me feel free, because I don't like something tight. Unless I need it for a photo shoot! I need to feel like myself.
How do you feel, now that your fashion show is over?
I feel happy, tired and very stressed out. But it's positive stress, so it's okay. We are used to doing this, it's our sixth time. Next, we are preparing for next season, summer! Normally, I go to meet buyers from different parts of Russia after this, to make orders.