Miami-based food stylist Adeline Waugh invented Mermaid Toast and has the Instagram feed of our dreams (@vibrantandpure). She manages to make food look delicious and stunning by working her magic with colorful (and edible) sprinkles and golden dust. Her aesthetic is bright and bubbly yet it takes hard work too.
Here, she reveals what it takes to have the perfect Instagram feed and what on earth she was thinking when she put glitter on toast.
How long have you been a food stylist and how did you start out?
Adeline: I've been doing this for about two years. I started getting really into healthy food and a health conscious lifestyle after discovering that food sensitivities could be linked to my long-suffered skin ailments. I was working in event planning, and started Vibrant&Pure on Instagram as a place to share pictures of healthy meals I had prepared. I quickly discovered my passion for food styling—I've always loved being creative and it was a great outlet. Around the same time, an opportunity came up to work on a commercial as an assistant food stylist, and after realizing what a legitimate profession it was, I was hooked.
Did you expect the mermaid toast to become as big or even bigger than the unicorn toast?
Absolutely not- I never even expected unicorn toast to become such a "thing." To be honest, I was just getting a little bored, it's more interesting to me to create new things all the time. Also,  so many people were copying and selling it without giving me any credit that I decided, "Hey, I'll just make something new!" I wasn't trying to start a trend, I just like to think outside the box and create unique photos using natural food ingredients.
What was the inspiration behind these creations? Tell us about your aesthetic.
My aesthetic is color. I'm obsessed with certain color combinations. I love cold hued pastels and super-saturated, rich jewel tones—I'm kind of all over the place, but I think that's O.K. My all time favorite color is orange, especially when mixed with shades of turquoise or pink.
I was using a lot of beets and beet juice in recipes once I realized they could create the most ridiculous shade of hot pink. I had been adding drops of beet juice to cream cheese to create a pretty back drop on toast and I started wondering if I could create other beautiful colors using natural pigments. I used spirulina, turmeric, chlorophyl, and freeze dried blueberry powder and spread them all across a piece of toast in a very abstract way. My followers pointed out that the hues reminded them of unicorns, and voila, unicorn toast was born.
What is your inspiration as a food stylist in general?
I just want to create beauty using food. A food stylist's job, on whatever scale, is to make food look good and appetizing to eat. I like to put out a healthy mix of both normal food dishes that look super appetizing, and also some impractical and simply aesthetically pleasing shots, like unicorn/mermaid toast, that are more artistic expression than they are a dish that's supposed to induce a mouth-watering response.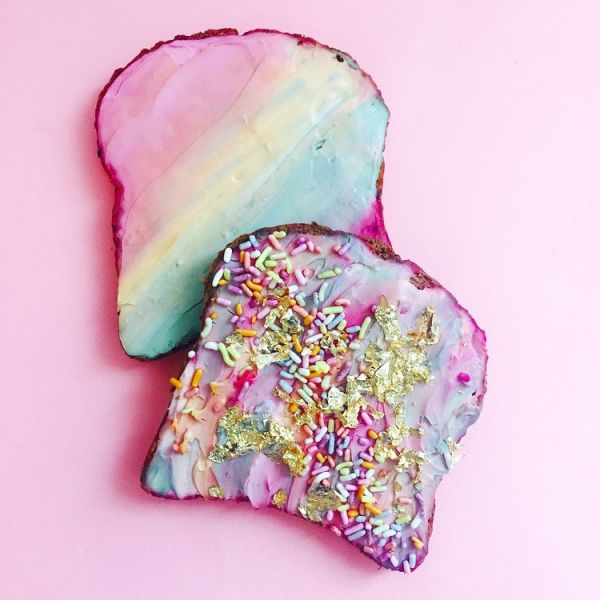 Walk us through the daily life of an Insta-famous food stylist.
(laughs) Insta-famous? I don't know about that, but I'm definitely flattered. My days are almost always different. Sometimes I'm working on personal projects or styling and photographing a restaurant menu. I also create social content for new products and brands that want to emulate the aesthetic of my photos—it really depends on the day.
Could you give us any tips on food photography and Instagram curation?
My tips are: practice and find your own unique aesthetic. If you saw some of my first food photos you would laugh. It takes time to develop your own style and you will learn as you go. There are so many food blogs and food photographers on Instagram and it's easy to get caught up in comparing yourself to others, but don't give into this; trust in what you like and what you want to put out there, authenticity attracts people.