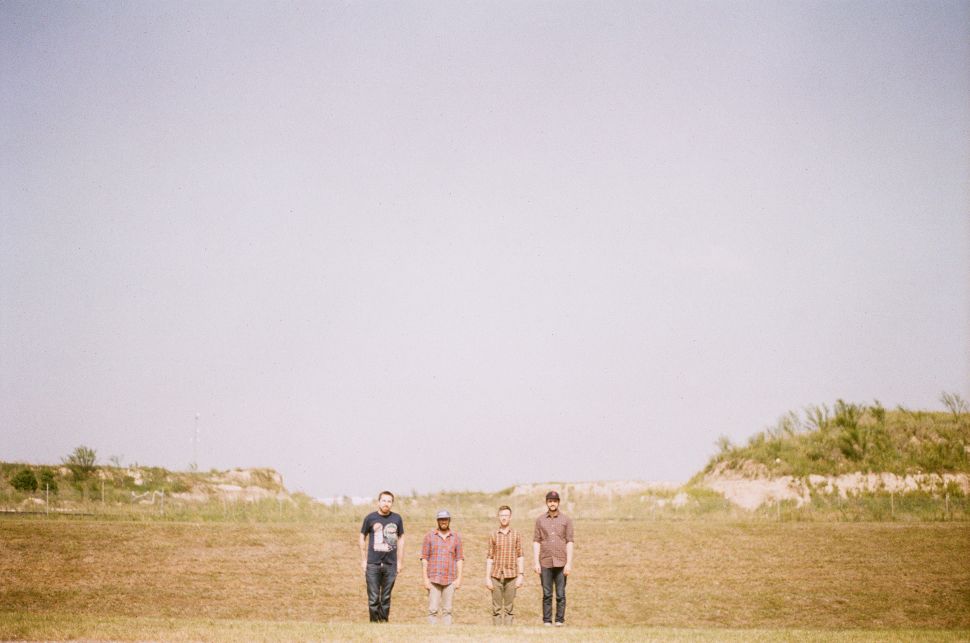 The cell transmission linking me with This Will Destroy You guitarist Jeremy Galindo was failing, but it was clear that he was eager to speak. His voice, when it didn't sound like it was being raked across a welding table, when it was audible at all, was buoyant. Earnest, even. This was shocking: The road warriors who take my calls often sulk and demur, as if talking about their work is a form of punishment.
This Will Destroy You—the 13-year-strong elegiac instrumentalists from San Marcos, Texas—were 30 miles outside Albuquerque, N.M., when I reached Galindo a few weeks ago.
He was on a tour bus, initially, then he loped around outside, freezing, licked by a wind that drifted and roared like the band's music: elegant, fractured, disintegrating, composed with bruised, Romantic tonality. This Will Destroy You's work suggests light in the deepest navy blues, and, as we spoke, I couldn't resist mapping their work onto the cascading Western skies that surrounded Galindo.
The band were three days into a U.S. tour with the shoegazing metal act Deafheaven and songwriter Emma Ruth Rundle, a trip that followed, by a few months, a jaunt to celebrate the 10th anniversary of Young Mountain, This Will Destroy You's debut. And they'd recently announced that Galindo and guitarist Christopher Royal King, This Will Destroy You's founders and sole original members, had "composed a seasonal soundtrack that awaits 22 guests for 2 sittings per night," for a restaurant called Vespertine in Los Angeles, where the two now reside.
Outside ad hoc projects like this, songs by This Will Destroy You have appeared in the films Moneyball, World War Z, and Foxcatcher, and Galindo told me that they recently scored a short sci-fi film. They're also going to make a new This Will Destroy You record this summer, and the restaurant scoring work may be ongoing, "like a series," Galindo says.
They are, in short, living some version of the dream for musicians in this space.
Still, creative success doesn't equate happiness without a measure of grounding, not for long anyway, and something in Galindo's bright tone felt earned. Presence of mind, generosity of spirit, and a lack of pretension usually flow, in my experience, from lived suffering, from metamorphosis.
It's journalistically irresponsible to speculate on a subject's inner life, but consider that a press release for This Will Destroy You's stunning and crestfallen LP Another Language, from 2014, referred to a "prolonged, vacuous dark period that threatened to break both the band and the members apart." Consider that, as Galindo shares below, he and King battle "extreme anxiety" and that they sacrifice a piece of their mental states with every tour. Consider that the band's name is This Will Destroy You.
Galindo's tone suggested that he's taken a few lethal punches, and that he's grown as a result. And, together with King, who's more brother than bandmate, he's masterfully written into that struggle for 13 years.
Listen to "New Topia" from 2014: I know few other songs that capture the tension between shackled and liberated states so well. It is the sound of skin shed and wrapped anew.
Ahead of This Will Destroy You's sold-out show at Brooklyn's Warsaw on Tuesday, March 14, Galindo and I discussed the perils of the road, the band's evolved attitude toward "post-rock," their new activist work and more.
This interview has been lightly edited and condensed for clarity.
[youtube https://www.youtube.com/watch?v=xruOyuMXq_0&w=560&h=315]
You and Chris King are the sole original members of This Will Destroy You, which turned 13 this year. How did you two meet? What keeps you working together?
We met through mutual friends. We used to hate each other, but our friends forced us to hang out. Chris worked at a movie theater, and I'd hang out all day while he was working, just talking because we had a lot in common.
I think the first conversation we ever had was about MTV Cribs. We were both big fans [laughs]. We were also big fans of film, and we'd see a lot of movies together for free since he worked at the theater.
It almost sounds like a romance. We moved in together a few years later, Chris joined the band that I was in before This Will Destroy You, and the rest is history.
What band was that?
Second String. It was our pop-punk band, when we were teenagers.
Pop-punk is where every good story begins.
[Laughs] Yeah, we have a strong bond, musically and emotionally. We're very protective of each other.
In press assets for Another Language, which TWDY released in 2014, there's a reference to a "prolonged, vacuous dark period that threatened to break both the band and the members apart." What was going on back then? How are things different now?
That was really dark time. We experienced deaths of friends and family members, and we had a toxic crew that made it difficult to have a good time on the road. We were touring six, eight months a year, and it was hard to stay together and make it work. But this is what we've been doing for so long and we didn't want it to stop.
By the time we got to Another Language, we'd grown up and we were in different chapters of our lives. Now that we're reaching the anniversary period, especially, we're finding a newfound pride in everything we've done and created together. Chris and I have been working on a couple scores and other music outside the band, and we're trying to push each other to be the best people and the best musicians we can be.
We moved to L.A. to really push the career side of this, and we're loving it. It's been a breath of fresh air compared to Texas, especially when it comes to the political climate.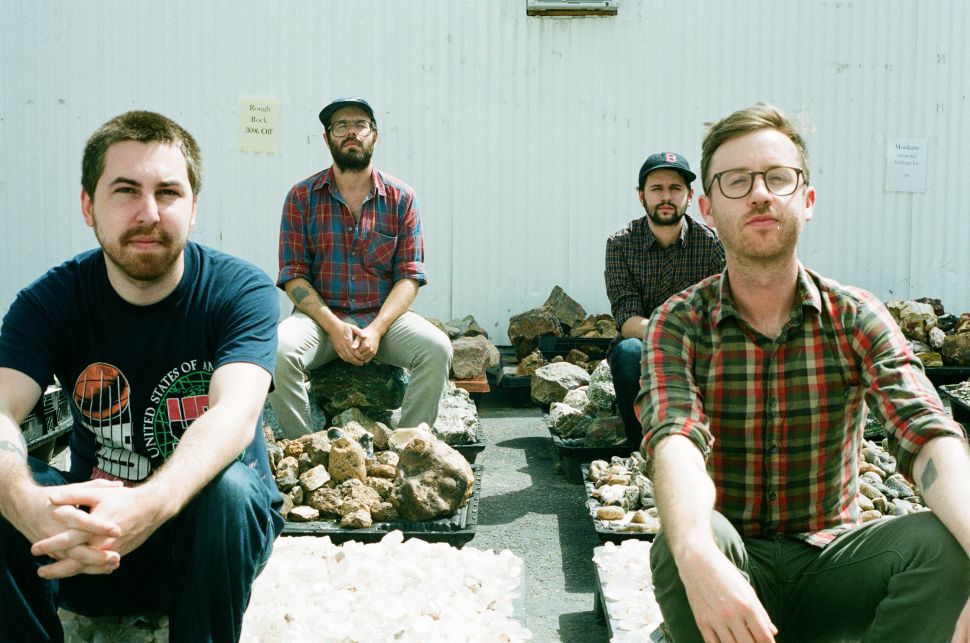 What's the most difficult aspect of being a full-time musician? What sacrifices do you make?
The biggest thing, for Chris and I, is that we both have extreme anxiety disorders. Being on the road and the mental toll that it takes can be really, really difficult. We've struggled greatly with that. We feel, after almost every tour, that we've sacrificed a piece of ourselves, of our minds, or mental states. But we learn from it and we find strength from it as well.
There are other things that we miss, too. Family, birthdays, funerals. It's intense when you're on the other side of the world and you find out that someone you know has died, and there's nothing you can do about it. Sometimes it's really difficult to know whether we can cancel shows or not, because we have to pay our bills.
There's a physical toll as well. Our bodies are in terrible shape for our ages [laughs], but we're trying to get better about that.
There are a few key cliches that pop up in interviews with instrumental rock acts. One that recurs in reading about This Will Destroy circles around genre—whether the band is "post-rock" or "doomgaze," that sort of thing. How does our need to pin down "genre" limit our understanding of an artist, or an artistic experience?
That's a hard question to answer. There have been times when we've been frustrated with being labeled with a genre, but at this point we feel that whatever people want to call it, they can call it, and we'll just make the music we want, for the most part, and just hope that people like it. It'd be nice to have a blanket term and call everything "music," but it doesn't work that way.
Over time, we've found that being classified has made it easier for fans of instrumental music or post-rock or shoegaze or doomgaze or whatever to find our music online. We hear so many stories about how fans found us by starting or listening to a post-rock playlist, then they come to our shows and listen to all our albums. So we have a newfound respect for it. But I understand why people are sensitive about being classified under a specific genre, especially in the instrumental community.
Our old bass player kind of famously said in an interview, "Fuck post-rock and fuck being called post-rock." We had to deal with that statement for four or five years—it was asked about in almost every interview. That's how he felt, at the time, and at times we've all been frustrated with that term, specifically, because it never really made much sense. We always wanted to think of ourselves as something separate because it's not something that we listen to.
Still, our resentment for the term has gone away. If we're talking with a group of people who don't know who we are and they ask us, you know, "What kind of band are you?" We normally say instrumental rock or post-rock, depending on the person we're talking to.
[youtube https://www.youtube.com/watch?v=F836tdz1Meo?list=PL36D28919AC74C550&w=560&h=315]
This Will Destroy You is donating 25 percent of online merchandise sales to ACLU for the next four years. What compelled that decision?
Or possibly eight, but hopefully not.
But, yeah, as soon as the Muslim ban hit, we got on the phone and talked for a while. There are so many people who need help, and who are going to continue to need help, from the ACLU.
We believe that our president is a racist prick and we couldn't just sit by and do nothing. We've made it a point, since the beginning of this band, to stay out of anything political or religious, but we just couldn't stand back anymore while friends of ours are being affected, and friends of friends.
We thought, if there's something we can do, we should help people who need it: friends getting stuck at the airport or friends being deported.
It's been difficult to wrap our heads around everything that's been going on in the last 100-plus days. I think a lot of the country is in shock, watching the progression, getting to a better place as a nation, then having that systematically torn down everyday. It's frustrating and difficult, and we thought this would be the best way to help.
What are you listening to, reading or watching on the road?
Chris and I are watching Gomorrah, the Netflix crime show based on the movie. That's been really cool. And I'm a gamer, so I threw some games on my iPad: Final Fantasy 7, stuff like that. I'm a bit of nerd in that way. There are also audio books and other shows that we try to download every Sunday to keep us entertained when we're on a good eight to 10-hour drive.
Music-wise, everybody has different tastes, so people are pretty much in their headphones listening to whatever they're in the mood for. Today I was mostly listening to Arvo Pärt, then Bone Thugs.
That's a hell of a jump [both laugh].
This Will Destroy You play Warsaw in Brooklyn on Tuesday, March 14