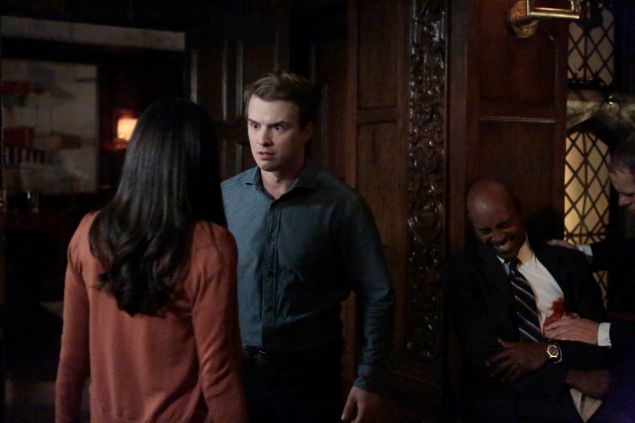 Well, well, H.G. Well, look which time travel show remembered to do some actual time travelin'. That's right, Time After Time diehards, all 15 of you, TV's No. 1 show where sexy H.G. Wells chases sexy Jack the Ripper went back, all the way to…
The 1980s. 
Well, at least H.G. and Jane did. History's favorite couple search the apartment of Chad Holland–H.G.'s redheaded pursuer from last week–only to find a date and set of coordinates. The date: September 15, 1980. The coordinates: The Long Island childhood home of one Vanessa Anders. The mission, should they choose to accept it: Gather very little helpful information, be as conspicuous as humanly possible, and react to every single observation with this exact face: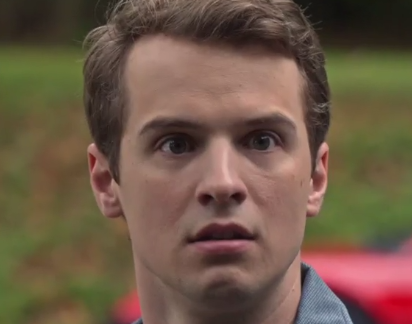 Mission accepted.
Jane and H.G. take the time machine to the Anders' home, where they are throwing a dinner party. Immediately, they encounter a three-year-old Vanessa Anders. "You talk funny," three-year-old Vanessa Anders tells H.G. Wells, because as any historian can tell you, the British did not step foot in Long Island until well after the 1980s. Either way, H.G. and Vanessa are then introduced to the World's Worst Human, who is more shoulder-pads than actual woman, who fills them in on all of the party's deets.
The shady, balding man hanging on the outskirts of the party is Robert Holland, father of William Holland. The shady, but full-haired man giving off the vibe that he pays his hired help a little extra to spit on him and call him names every other Saturday is David Anders, father of Vanessa Anders. Robert and David, after much side-eye, convene in the tool shed. H.G. and Jane, honoring the time-honored tradition that all shady dealings occur in the tool-shed, follow along to investigate.
Robert Holland is there to sell all the information on something called "Project Utopia," which I'm pretty sure tries to sell me an eco-friendly water bottle outside my office every single day. This particular Project Utopia involves pharmaceutical drugs, stolen materials and, according to David Anders, making an absolute ton of money. Unfortunately, Robert Holland, who doesn't understand the etiquette of selling illegal materials to a rich asshole inside his tool-shed, makes it clear that A) He can't be implicated, and pretty much no one would miss him, and B) He wants the actually-agreed-upon amount of money, not whatever couple thousand Anders could find under his couch cushions. So, naturally, H.G. and Jane watch as Vanessa's father brains a guy to death. H.G., of course, is all like: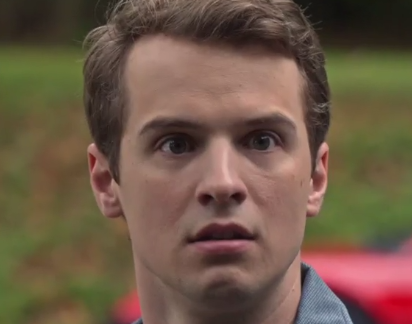 Back in 2017, Jack the Ripper is learning more about his captor. Brooke is indeed a doctor, but she studies "biotechnology research," as inspired by her father. (Spoilers: her father was beaten to death in a tool-shed in front of H.G. Wells, just as I plan to go. But more on that later). Brooke is working on ways to improve human neurological function–creating X-Men, basically–and to achieve this goal she'd like to study the brain of Jack the Ripper. Why Jack the Ripper and not, say, a normal human from the year 2017 with an interesting brain, you ask? Unclear. Super, super unclear. But Brooke does give Jack some key info: The location of the time machine and H.G. Wells, and the fact Jack the Ripper has a son, Henry Ayers. A cursory Google search tells me Henry Ayers is the name of "the eighth Premier of South Australia, serving a record five times between 1863 and 1873." The family resemblance is, quite simply, uncanny: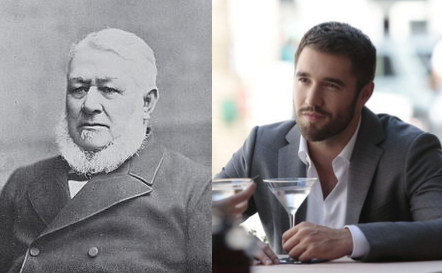 The Ripper responds to this information with two separate escape attempts. The first ends when he runs into some Frankenstein-looking bastard–one of Brooke's test subjects, I presume–who proceeds to beat Jack the Ripper's ass. The second, however, results in Jack overcoming New York's Worst Security Guard, and escaping scot-free when Brooke can't bring herself to shoot her most valuable lab rat. Why is he valuable? Again, unclear. Super, super unclear.
Things come to a head at a current-day Anders event inside the family mansion. H.G. and Jane have returned, unsure whether or not to tell Vanessa her dad is a straight-up murderer. "Sometimes the truth can be hurtful," offers Jane, master of the English language.
Also attending is Brooke, who we learn is not only in cahoots with Griffin, but the two are siblings. Brooke's here to continue the work of Project Utopia, and for that she needs access to the time machine. Unfortch, one Jack the Ripper also wants access to the time machine, and he's here with his Party City Halloween knife to get it.
Important note: At some point, off-screen, Vanessa Anders instructed all of her armed security to deal with Jack the Ripper by holstering their weapons and running at him, arms flailing willy-nilly, before finally being stabbed in the stomach. It's a full-proof plan, and all of Time After Time's security guards have so far followed it to the tee. As such, Jack the Ripper makes his way to the time machine, turns it on, and off he goes. H.G.'s tracking materials tell our heroes the Ripper is in Paris, France, on March 30, 1918.
"Why would he go there?" H.G. gasps, making his H.G. Face of Utter Shock™. Well, H.G., ya dumb-dumb, if Brooke is to be trusted Jack the Ripper has a son in Paris, who would be 17-years-old in 1918. Or, conversely, Jack the Ripper may just be interested in watching the Toronto Arenas winning the 1918 Stanley Cup Finals over the Vancouver Millionaires in a Parisian setting. Did you know there even was a Stanley Cup final in 1918? I didn't, until now! But that's the beauty of Time After Time. It's educational AND fun.
Time After Time after-time: 
When Jane goes to describe modern dating as "casual," H.G. Wells butts in with "routine," because the four-time Nobel Prize for Literature nominee doesn't know those words basically mean the same thing.
Freddie Stroma's reading of "there was more than one?" after someone mentioned Word War 2 was probably the most intentionally funny thing Time After Time has ever done.
I really enjoyed that Jane out-witted Jack the Ripper by surprise-whacking him with her purse. This show's action scenes are 85 percent surprise whackings.