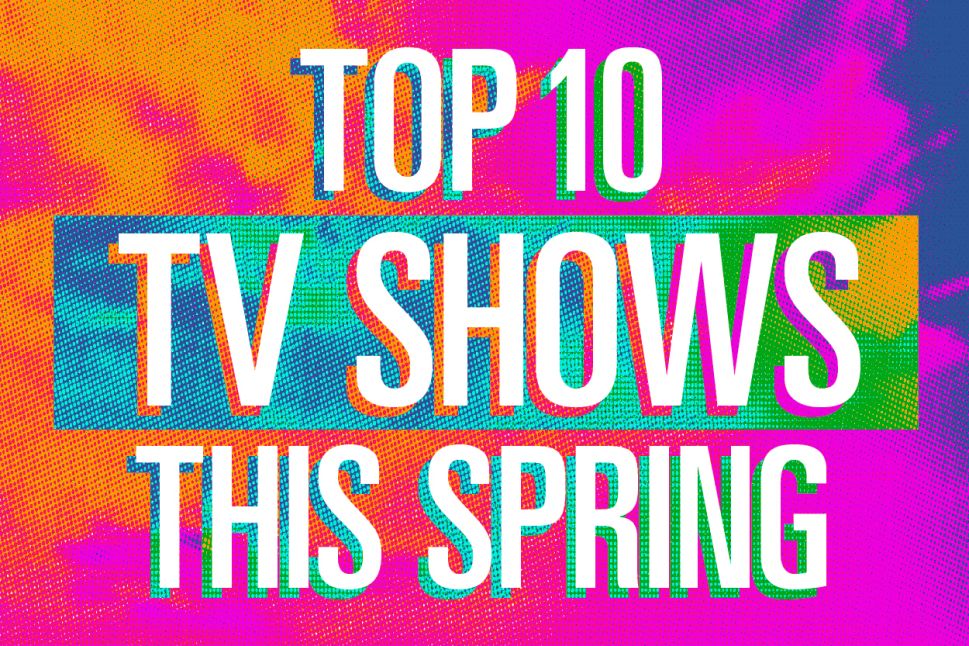 You know the saying: Spring's April showers bring hours and hours…of new TV, that is, a whole host of debuting shows to watch, binge, DVR and swear to your friends you'll "catch up on after this Game of Thrones re-watch." Of course, we all know "catching up" on all the TV in 2017 is impossible, so we've personally hand-selected 10 comedies, dramas and everything-in-betweens guaranteed to rise above the small-screen clutter.
13 Reasons Why (Netflix, March 31)
[youtube https://www.youtube.com/watch?v=JebwYGn5Z3E]
Lock your high school yearbooks up tight before streaming this Netflix series, which admirably boils down every bit of heartbreak and elation you felt between freshman and senior year. Based on the Y.A. novel by Jay Asher, 13 Reasons Why tells the story of Hannah Baker, who sends her classmate Clay Jenson a series of cassette tapes days before taking her own life. The tapes, she explains, chronicle the "13 reasons why." The series is saved from any Gossip Girl gimmickiness by leads Katherine Langford and Dylan Minnette–Baker and Jenson, respectively–that are sure to be breakout performances.
CLASS
(BBC America, April 15)
[youtube https://www.youtube.com/watch?v=y7VsMnTUYwg]
Subtitle this one 13 Reasons Why There's a Tentacle Monster in the Gym, a series for anyone who ever wished Harry Potter was a Time Lord or, perhaps, The Magicians was just a tad more British. Class, the first-ever Doctor Who spin-off, follows the students of London's Coal Hill Academy (a Who staple) as they navigate your typical high-school woes: love, sex, uncertainty, and the fabric of space and time collapsing in on itself.
FARGO
(FX, April 19)
[youtube https://www.youtube.com/watch?v=rkUAOahG9iY]
At this point, Noah Hawley has such unique mastery over the Coen Bros. Fargo universe that I feel confident recommending this "new show" that is in its third season. For this go-around in the snowy American Mid-West, we return to the not-so-distant 2010, when selfies and cell phones were first solidified as the ever-present time-consumers they are today. Ewan McGregor pulls double-duty as a pair of brothers–uber-successful Emmit and out-of-luck Ray–whose longstanding feud over a bequeathed stamp collections turns, in typical Fargo fashion, violent and complex. Keep an eye out for David Thewlis, whose enigmatic villain V.M. Vargas has one, disgusting weakness.
THE HANDMAID'S TALE
(Hulu, April 26)
[youtube https://www.youtube.com/watch?v=PJTonrzXTJs]
Don't adjust your TV set: Hulu's adaptation of Margaret Atwood's The Handmaid's Tale is not a documentary set in 2017, but it's no less jarring. Elisabeth Moss stars as Offred–a "Handmaid" within the oppressive, misogynist theocracy of near-future New England–who intends to escape. Co-starring Samira Wiley and Joseph Fiennes, this 10-episode series is Hulu's most assured shot in the battle for streaming supremacy.
DEAR WHITE PEOPLE
(Netflix, April 28)
[youtube https://www.youtube.com/watch?v=1LzggK5DRBA]
If you canceled your Netflix subscription over the title Dear White People, A) Get your life together, and B) You'll be missing out on a hilarious, biting piece of social commentary that, in the year 2017, might as well be mandatory viewing regardless of race. Sample advice, from Logan Brown's Samantha White in the premiere: "Dear white people, when you ask somebody who looks ethnically different, 'What are you?', the answer is usually 'A person about to slap the shit out of you.'"
AMERICAN GODS
(Starz, April 30)
[youtube https://www.youtube.com/watch?v=3awG5wEE7LU]
What happens when the Old Gods (think Thor, Loki, etc) and the New Gods (think, like, Netflix and your iPhone) go to war? Bryan Fuller (Hannibal) intends to find out with American Gods, adapted from Neil Gaiman's landmark novel of the same name. Any fans of the book can tell you the casting–professional curmudgeon Ian McShane as Mr. Wednesday, actual goddess Gillian Anderson as Media and The 100 star Ricky Whittle as Shadow Moon, to name a few–is so spot-on it's practically divine.
DOWNWARD DOG (
ABC, May 17
)
[youtube https://www.youtube.com/watch?v=ePcQrc1vrqc]
Allow me to try and sell you, and sell you hard, on a talking dog comedy in the year 2017. Downward Dog, which earned raves from the Sundance crowd, has a chance to be the surprise of the year. This ABC single-camera comedy tells the story of Nan (Fargo season one delight Allison Tolman) and Martin, who would fit in perfectly with the cast of HBO's Girls if he wasn't also, you know, a talking dog. Genuinely funny, unexpectedly moving and achingly familiar to anyone who has shared a home with a four-legged friend, Downward Dog is a treat.
TWIN PEAKS
(Showtime, May 21)
[youtube https://www.youtube.com/watch?v=5g8UqfJRJgc]
Who knew that when Laura Palmer uttered the words "see you in 25 years" during Twin Peaks' original 1991 finale, it would be this prophetic? But what else to expect from creator/possible wizard David Lynch, who returns to helm this 18-episode continuation of his small-town, big-murder mystery. In typical Lynchian fashion, we know very little of the actual plot, but with most of the original cast reprising their roles we're thinking this strong black coffee is still just as damn good.
I'M DYING UP HERE
(Showtime, June 4)
[youtube https://www.youtube.com/watch?v=pR0PUkGbuto]
What HBO's The Deuce aims to do for porn, Showtime's I'm Dying Up Here will attempt for porn's exact opposite profession: stand-up comedy. Chronicling the heyday of the form in 1970s Los Angeles, this dark comedy (executive-produced by none other than Jim Carrey) features a cast list as diverse as it is talented: Oscar-winner Melissa Leo stars, supported by Clark Duke (The Office, Hot Tub Time Machine), Ronald Cyler II (Me, Earl and the Dying Girl) and an index of guest stars that reads like the invite list at the Sunset Strip's coolest comedy club.
Jean-Claude Van Johnson
(Amazon, 2017)
[youtube https://www.youtube.com/watch?v=iq5hERuCHdI]
Listen, I could have stuck some show with an actual premiere date in this slot–maybe Amazon's I Love Dick (nope), or AMC's The Son (double-nope)–or even the lost-in-space Star Trek: Discovery, which might never boldly go where no man has gone before (a.ka. CBS All Access). But life's' too short to recommend subpar TV. Did you know Amazon also picked up a series starring Jean-Claude Van Damme titled Jean-Claude Van Johnson? Did you know the '80s action star is playing himself, but also an undercover black ops contractor? Did you know it is, at once, high-octane action-comedy and an impressively self-aware satire that never winks too hard at its audience? Jean-Claude Van Johnson's pilot is streaming on Amazon Prime right now and will debut a full season later in 2017.