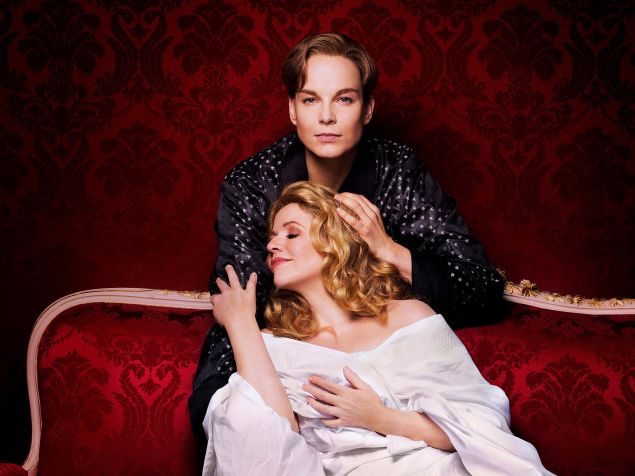 Think you've got spring fever? Well, snap out of it, because upcoming weeks offer a truly dizzying array of operatic events, from classical to experimental. Take a deep breath and get ready to plunge in.
Megadiva Anna Netrebko just enjoyed what was likely the greatest artistic triumph of her career at Italy's Holy of Holies La Scala in that most protean of roles, Violetta in La Traviata. Now (starting March 30) she returns to the familiar boards of the Metropolitan Opera for a revival of Tchaikovsky's moody music drama Eugene Onegin. The fiery diva is here intriguingly cast against type as a shy, bookish girl who falls obsessively in love with a sophisticated playboy. (Baritones Mariusz Kwiecien and Peter Mattei alternate in the title role.) Performances continue through April 22.
Janacek's opera Adventures of Vixen Sharp Ears is a piece difficult to categorize, mostly comic and lighthearted, but climaxing in the murder of one of the main characters. And yet, life in the forest continues in spite of, or even because of, this apparently meaningless death, and the finale of the piece is so radiantly optimistic it's sure to reduce you to tears. Intrigued? Seize a chance to experience this glorious work at Manhattan School of Music between March 29 and April 1.
An opera generally known only by its fascinating title, La Campana Sommersa, continues the New York City Opera season on March 31. "The Sunken Bell" is a fairy tale about a doomed love affair between a human bell maker and a forest elf, and if the story's not enough to grab you, the piece is rich in lavish and colorful orchestration from Ottorino Respighi, composer of The Pines of Rome. International superstar tenor Fabio Armiliato is the hapless bell maker Enrico, and his supernatural opponents include soprano Brandie Sutton and baritone Michael Chioldi. The production runs through April 5 at Jazz at Lincoln Center's Rose Theater.
A much more familiar title, Richard Strauss' Der Rosenkavalier, should show off the Met at its grandest starting April 13. In the company's first new production of this sentimental comedy since 1969, soprano Renée Fleming stars as the Marschallin, a great lady of a certain age facing the inevitable loss of her teenaged lover Octavian, played by mezzo Elina Garanca. The sleek staging by Robert Carsen promises to transpose the action from the 1700s to the beginning of the 20th century, the last gasp of European aristocracy. This opera of renunciation and farewell is, appropriately enough, rumored to include the final Met performances of Fleming, a company star since 1991.
Another veteran Met diva, Joyce DiDonato, graces Carnegie Hall on April 30 in the title role of Ariodante. This concert performance of Handel's richly melodic work surrounds DiDonato with stylish singers including Christiane Karg, Joélle Harvey, Sonia Prina and David Portillo, plus The English Concert conducted by Harry Bicket. Sure to be a highlight will be DiDonato's hypnotic performance of the gorgeously melancholy aria "Scherza infida."
Be ready to settle in for a long evening of nostalgia on May 7 when the Met celebrates its 50th anniversary at Lincoln Center. Promised repertoire includes the first hearing here in half a century of music from Samuel Barber's Antony and Cleopatra, the work that opened the house in September 1966. The roster of soloists ranges from Armiliato (Marco) to Zajick (Dolora), with special emphasis along the way on such blooming Met stars as Michael Fabiano, Yannick Nézet-Séguin and Pretty Yende. Tip: With this much talent on hand, you'd better be ready to call in sick on Monday morning.
The company that puts the "house" in "opera house" returns on May 11 with Mozart's La Finta Giardiniera. On Site Opera begins its sixth season of immersive site-specific performances by offering this opera set in a garden performed in an actual garden, namely the West Side Community Garden. Most refreshingly of all, the performances will be open and free to all on a first-come basis, so you can join the throngs following the company of talented young singers around the gardens while Mozart's romantic comedy unfolds. Performances continue through May 13.
And ending the spring season will be that greatest of all beginnings, Wagner's Das Rheingold, heard in a series of concert performances by the New York Philharmonic. The two-and-a-half-hour, intermission-free work tells of the birth of creation and the origin of evil, as gods, giants and dwarves wrangle over the all-powerful Rhine gold. In performances June 1 to 6, Alan Gilbert leads an all-star cast including Eric Owens, Jamie Barton, Brian Jagde, Christian van Horn and Tamara Mumford.