Ever since President Donald Trump rescinded an Obama administration order that required schools across the country to allow transgender students to use whatever bathroom they choose, many states and municipalities have reaffirmed their support for the transgender community. Tech companies are also joining in—today Yelp introduced a search filter that indicates whether or not an establishment has gender neutral bathrooms.
And now, even scientists are fighting back against transgender trolls.
Last night Facebook user Grace Ann (real name Grace Pokela), a biology teacher at Arlington High School in Lagrangeville, New York, saw this meme posted with the caption "In a sexual species, females have two X chromosomes and males have an X and a Y, I'm not a bigot it's just science":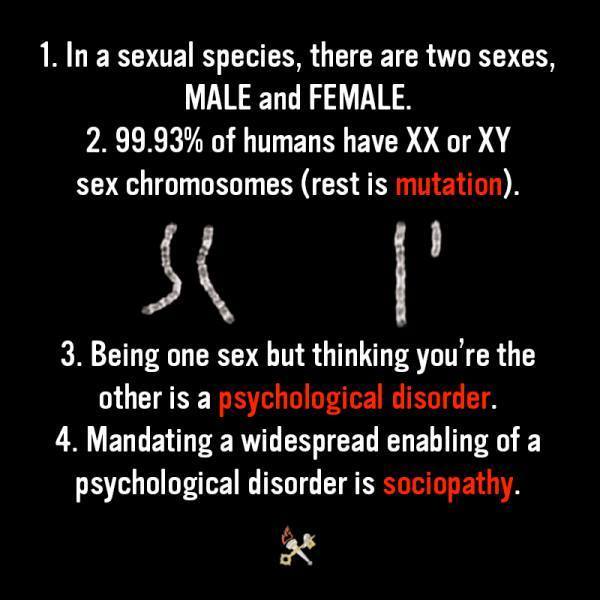 Being a biologist, Grace was well-equipped to respond—so she posted a status poking a bunch of holes in the transphobic meme's logic:
Not surprisingly, each of the scientific principles Grace cites is true:
Humans also exhibit the wide range of sexual behaviors Grace discusses:
The post has already been shared almost 8,000 times and received almost 10,000 likes.
Pokela told the Observer that, like many people, she had become more politically aware after Trump's election, and thus the transphobic post made her angrier.
"Facts have become so nebulous recently," Pokela said in an email. "To see someone spouting such rage towards a truly oppressed group made me very upset. Using falsehoods to promote hate just rubbed me the wrong way."
Fellow members of the science community (which has already marched against  Trump and plans to again) also praised Grace's detailed response. Some of the most notable comments include "I wish this all fit on a bumper sticker" and "If you think XX and XY are the only two indicators of sex… then you are a narrow minded fool."