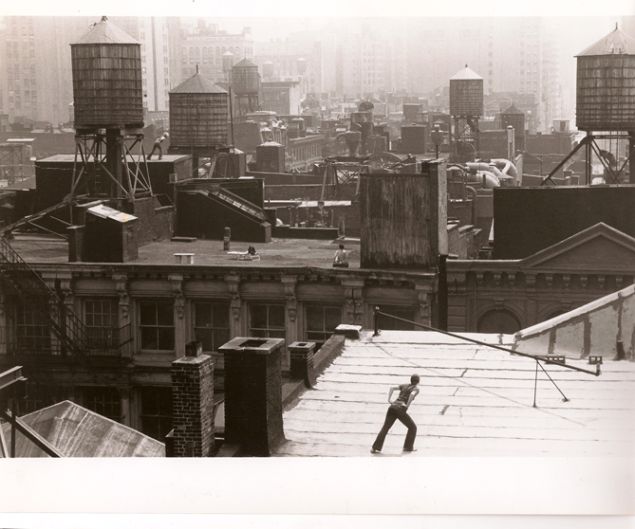 Trisha Brown, the dancer and choreographer who revolutionized performance and helmed an eponymous dance company, passed away at age 80, according to a report from the New York Times.
Brown was a founding member of the Judson Dance Theater, the informal group that pioneered postmodern dance in the '60s. A contemporary of John Cage and Yvonne Rainer, Brown made dance pieces that redefined the idea of "performing," and became known as pedestrian movement, pushing ideas from Merce Cunningham to their logical conclusion.
Her 1971 works Man Walking Down the Side of a Building, which describes the entire performance with its title, Walking on the Walls—also self-explanatory—and Roof Piece were almost immediately historic. She described the impulse for Man Walking Down the Side of a Building thusly: "Gravity reneged. Vast scale. Clear order. You start at the top, walk straight down, stop at the bottom."
Brown's influence on dancers, artists and performance generally has been profoundly felt ever since.
"I was 20," when she first saw Man Walking… dancer Elizabeth Streb once told the Observer. "[Afterward] you had to sit in a room and think, 'How can I possibly make a move after this?'"
In the '80s, Brown collaborated with Robert Rauschenberg, Donald Judd and Laurie Anderson and her work Set and Reset (1983) became another canonical contribution to 20th century dance. With its simple movements that any modern dance student would recognize as foundational to the so-called "release technique," a dance vocabulary still widely seen in new works today, Set and Reset was once deemed "the most beloved and irresistible work of postmodern dance," by the Times.
Brown's career spanned 40 years, with works for the Paris Opera Ballet, her own company and even Mikhail Baryshnikov to her credit. In 2002 she received the National Medal of the Arts.
She is survived by a son, Adam, and four grandchildren, according to the Times.