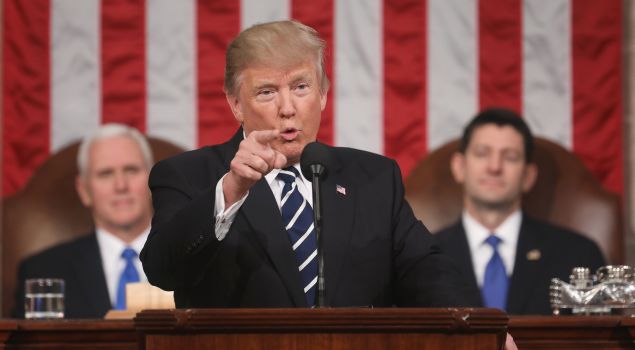 President Trump's recent speech to a joint session of Congress helped turn the page on a rocky first few weeks. The President, who himself acknowledged the failure of his messaging strategy since taking office, is to be commended for his willingness to learn from past mistakes, and to act on those lessons.
If only our colleagues in the national media were so introspective. Unfortunately, the chattering class' hysterical disdain for the President, which is matched only by their self-idolatry, shows absolutely no signs of slowing down.
Nowhere is this more true than in the realm of foreign policy. Here, a treacherous alliance between the media and the administrative "deep" state, having grown fat on self-congratulation for their ability to shame and smear former National Security Adviser Michael Flynn into resignation, has arrogated to itself the unelected right to veto the President's advisers in the court of public opinion. This hydra of anonymous sources and talking heads found a new target last week, in the form of deputy assistant to the President Sebastian Gorka, who they have variously accused of collaborating with anti-Semitic far right forces in Hungarian politics, of lacking expertise in the field he presides over, and of holding the wrong temperament to serve the President.
In other words, Smith is a con man and a troll, exaggerating his resume to gain credence in national security circles where his opinions track closely with the conventional wisdom.
To dismiss these charges should be the work of a moment. Far from having an alliance with Hungarian far-right anti-semites, Gorka spent a large portion of his career in Hungarian politics endeavoring to turn the right away from anti-semitism and toward a robust defense of free markets. His alleged "lack of expertise" appears to be a smear concocted by Washington's absurdly cliquish, cultish, and insular national security establishment, seeing as this "lack of expertise" was apparently sufficient to land Gorka appointments at Harvard's Kennedy School of Government, and at the NATO Defense College in Rome, as well as positions advising other foreign heads of state before working for President Trump.
But it is on the point of temperament where the media truly overplayed its hand, though unfortunately, Gorka also gave them an excuse to do so. That excuse came in the form of a phone call from Gorka to self-proclaimed Republican "counterterrorism expert" Michael S. Smith. On the call, Gorka complained about the contents of Smith's Twitter feed: a call that Smith, acting like a 4th grade tattletale, recorded and passed on to the press. And while Gorka obviously misstepped and let emotion get the better part of judgment in this instance, what really emerged from this ugly incident was the media's willingness to treat any anti-Trump source (or in this case, anti-Gorka) as not only a martyr, but also credible in their self-professed field of expertise.
You see, we studiously avoided validating Michael S. Smith's claim to be a "counterterrorism expert" in the above paragraph for a reason: Because Smith is already on record lying about his qualifications in one very serious respect. Smith claimed to be an adviser to the Congressional Task Force on Terrorism and Unconventional Warfare. This was, as it turned out, laughably false, as Rep. Robert Pittenger (R-NC), who chairs the task force in question, was forced to issue a statement disclaiming Mr. Smith's involvement. In fact, Mr. Smith's only involvement appears to have been a single meeting with Rep. Pittenger in the company of "another trusted adviser." Further statements from Pittenger, his spokesman, and from other members of the task force, paint a picture of Smith as a wholly orthogonal actor at best, and a bald-faced liar at worst.
In other words, Smith is a con man and a troll, exaggerating his resume to gain credence in national security circles where his opinions track closely with the conventional wisdom. He is far from the first person to pull this con: the most infamous example would most likely be Deadspin's exposure of the paranoid, violent, and compulsively mendacious Democrat national security pundit Robert Caruso in early November of last year. But the fact that Smith is not alone is no excuse for the media's lack of diligence. If anything, given what the Caruso case exposed about the lack of vetting enjoyed by national security "experts" who parrot the establishment line, the fact that the media was taken in by another such hoaxer is even more scandalous. In fact, despite the attacks on Dr. Gorka's temperament, the press's willingness to throw any skepticism out the window to permit attacks on the President's aides is what emerges from this quagmire as truly intemperate.
In short, Sebasian Gorka has obviously been taught an important lesson by this whole incident: Don't feed the trolls. When, we wonder, will the media learn the same thing?