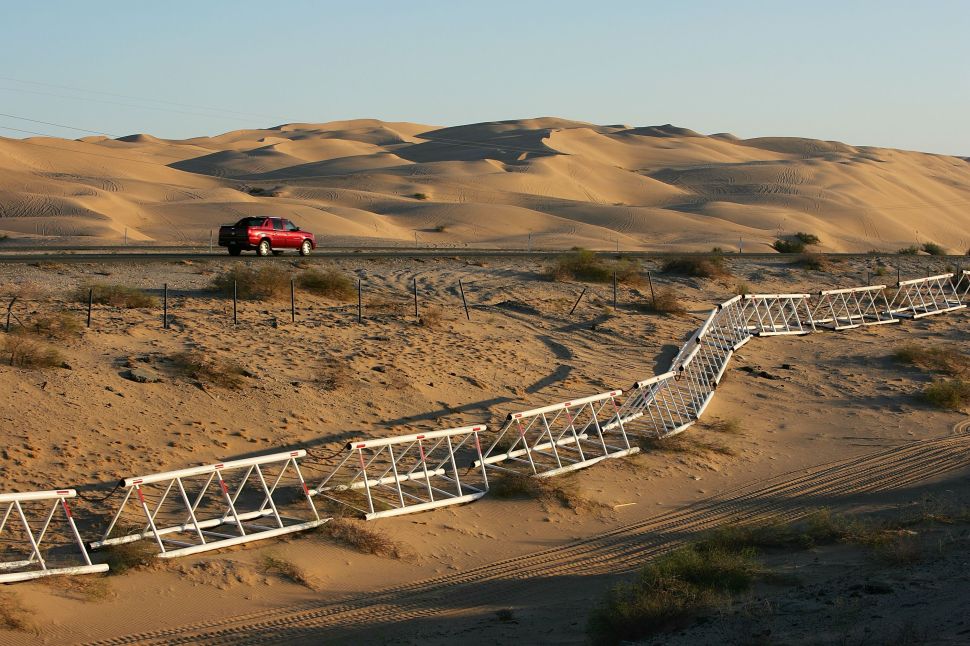 A skirmish has broken out in Tucson as one law enforcement agency has barred another from carrying out its mission. The blue-on-blue battle reflects nationwide concern over just how far various policing bodies will go to enforce the nation's laws and policies toward immigrants.
The row started on Friday when the Tucson Sector Border Patrol reported that a 5-foot-7, 215-lb man had escaped their custody during a visit to Banner University Medical Center, where he'd been taken for evaluation. The man had been arrested for illegal entry near Nogalez, Arizona.
According to a previously unreported posting on the Border Patrol Agency Facebook wall, the Tucson Police not only declined to help Border Patrol but actually evicted them from the Tucson Police Department, where they'd established a task force to try to track down the escapee. The language of the posting reveals the fevered pitch of the animosity growing between law enforcement agencies:
*Breaking News*

As some of you may have heard through the news tonight an illegal alien has escaped custody of Border Patrol while being given medical treatment at the UMC Hospital.

What you may not have heard is that after reports of the escapee Tucson Border Patrol Sector set up an incident command post at Tucson Police Department. Tucson PD is in close proximity to the incident and the command post was setup correctly by policy.

Management within Tucson Police Department then decided that, "due to the current political climate regarding immigration enforcement they refused to assist Tucson Sector Border Patrol."

The incident command post was subsequently evicted from the Police Department and no further assistance was given by Tucson PD.

This is now the times we are living in. Where one law enforcement agency has put politics over rule of law and oath of office. Never has Border Patrol or Border Patrol Agents refused or ignored a call for help from Tucson Police Department.
The posting by the union, NBPC Local 2544, has sparked a fiery debate, with a hundred comments mostly from border agents and mostly saying "shame" or "unbelievable." Tucson resident Jay Dobyns, the legendary Bureau of Alcohol, Tobacco, Firearms and Explosives (ATF) Agent who became well-known for infiltrating the Hell's Angels (and wrote a bestselling book about it), told the Observer, "Let's hope it's not a trend. There's always been agency rivalries. That's the nature of the business. I live in Tucson and I'm concerned about what this will do to the profession. I have never seen this in my 30 years in the business." He added, "Embarrassing for my town. This is going to have lasting effects beyond the incident itself. We have hundreds of BP agents living in and around the Dirty T. Relationships in LE are everything."
Adding a layer of political intrigue to the situation is the fact that the Chief of Police in Tucson, Chris Magnus, is gay, and was thought to be the "first openly gay male police chief to marry." Perhaps predictably in the macho world of law enforcement, this has led some of those who feel that Chief Magnus caved to political correctness in hindering the work of a fellow agency to resort to homophobic language in their private comments.
Adding yet another layer to an already complex situation, Tucson is located just to the south of Pinal County. That was the scene of another high-profile gay law enforcement scandal, and because it's Arizona, border matters were also involved. Sheriff Paul Babeu, who in 2007 became the first Republican to be elected sheriff in that county, at least partly due to his tough stance on border security, was accused by a former lover, undocumented immigrant Jose Orozco, of threatening to have him deported if Orozco revealed that Babeu was gay. At the time, Babeu, who was not open about his sexuality, was running for Congress in Arizona's 4th CD and was serving as a high-profile surrogate for Mitt Romney. Romney relied on Babeu's border-control rhetoric to enhance his own standing among conservatives who feared the Massachusetts moderate was insufficiently tough on border issues. (Babeu was originally from Massachusetts, as well, and had been elected to the North Adams City Council at age 18 and came just a few votes shy of ousting an incumbent Democratic mayor.)
Amid the controversy, Babeu withdrew from the Congressional race. He came out as gay but denied Orozco's version of events and was exonerated of any wrongdoing. He was re-elected as sheriff in 2012 and again ran for Congress last year, this time in AZ1, narrowly losing to Democrat Tom O'Halleran for the seat being vactated by Ann Kirkpatrick, who lost her challenge to longtime incumbent John McCain, who stood by Babeu during the 2012 controversy.
This is not the first time Magnus has encountered controversy.
As chief in Richmond, California, he was sued for $18 million by seven high-ranking black officers who claimed they had endured racial insults and that Magnus had systematically thwarted black officers from assuming leadership roles. (A jury rejected the claims and sided with Magnus and Richmond.)
Then the union members of his own department, the Richmond Police Officers Association, expressed shock and anger when a photo surfaced on Twitter that showed Magnus, in uniform, holding a #BlackLivesMatter Protest Sign sign at a rally supporting that cause. Many police officers consider the Black Lives Matter movement to be anti-police and the union's lawyer told the San Francisco Chronicle that by protesting "in uniform he violated the very laws he is sworn to uphold."
According to law enforcement experts, it is highly unusual for one American law enforcement agency to decline to cooperate with another. But the country is perhaps witnessing a trend, as the debate around immigration heats up. This week, San Francisco, under pressure from groups like CAIR who are concerned about the profiling of Muslims, withdrew from the FBI's Joint Terrorism Task Force. The move won praise among that city's progressives but conservative groups like the Heritage Foundation credit the JTTF with thwarting dozens of terror plots since Sept 11, including stopping attempted Times Square bomber Faisal Shahzad in 2010.
With rhetoric on both sides of the immigration debate reaching fevered pitch, those in law enforcement are dismayed by what they see as a breakdown in the cooperation on which agencies have long relied. According to Dobyns, "It's heartbreaking that politics has come that deep into law enforcement that it comes before supporting each other in the brotherhood."