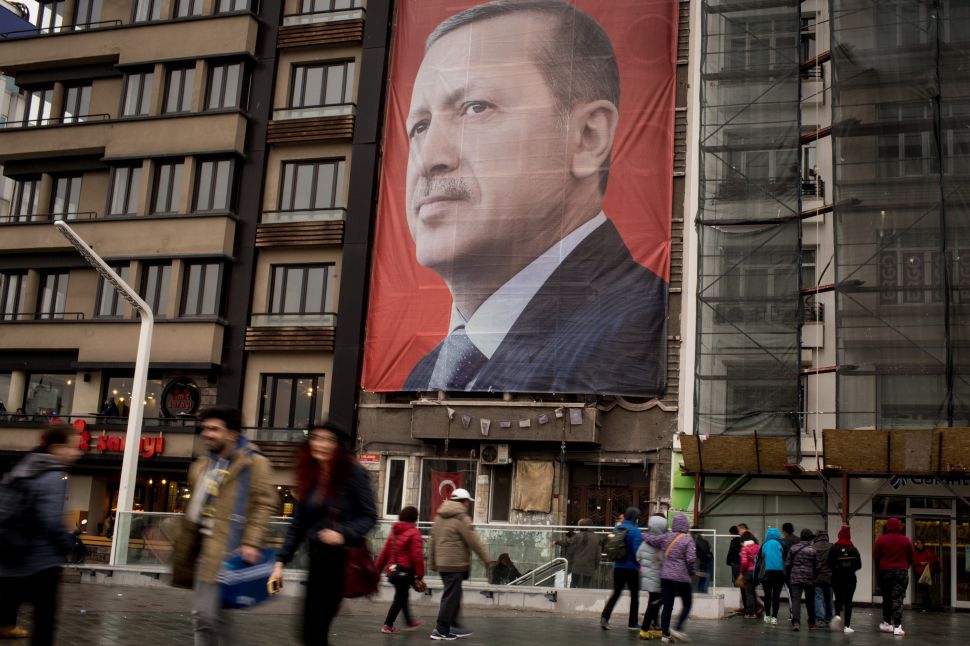 As Turkish President Recep Tayyip Erdoğan demands that he be allowed to illegally campaign throughout Europe for a referendum to give himself more power, he "cries Nazi," whenever some leader stands in his way.  It's an ironic complaint, given how he purges so many at home who are guilty of nothing more than having a differing opinion from the autocratic Turkish president.
A Powerful President Who Wants Even More Power
Erdoğan has just about every conceivable power in his hands.  He's dominated the country since early 2003, first as prime minister in a parliamentary system, and then converting a symbolic presidency into a powerful one, made stronger by declaring a state of emergency which continues today, where he can rule by decree.
But it's not enough for Turkey's strongman. He wants his power to be permanent in a referendum, even as he eases family members into key governing position. Though few have the ability to stand in his way, President Erdoğan wants to campaign in Europe to Turkish ex-patriates—the only people who can read a newspaper that doesn't have the president's seal of approval on it.
Germany refused to allow Erdoğan and his allies to go through on their soil in a bid to make the current president more of a dictator than he already is. The Dutch similarly refused to be a party to such a power grab.
So Erdoğan complained loudly, that the Germans and the Dutch were behaving like 'Nazis' and vowed to retaliate. Here are several reasons why such a statement is ironic.
The Irony Of Claiming Others Are Nazis
First, Erdoğan provided the example of the Nazi system back on January 1, 2016. "Asked on his return from a visit to Saudi Arabia whether an executive presidential system was possible while maintaining the unitary structure of the state, he said: 'There are already examples in the world. You can see it when you look at Hitler's Germany,'" according to The Guardian. Of course, following public outcry, he tried to walk back such claims, insisting he had been misquoted.  It's hard to see how, given that he mentioned Nazi Germany as an example for what he was planning without condemning such a government.
Second, as Erdoğan whines about diplomatic slights abroad, he continues to purge his people at home. More than 125,000 people have been fired, with scores arrested, and even tortured, according to Amnesty International. Most are teachers, policemen, judges and business leaders—military types. Human Rights Watch has condemned the human rights abuses in Turkey. Freedom House, another rights group, contends that Turkey suffered the greatest loss of freedom of any country in the world in 2016.
Finally, it is illegal in the Turkish Constitution for campaigning abroad. Yet that hasn't stopped Erdoğan from doing what he wants.
To the West, Erdoğan's governing party has played up the incident as an "us vs. them" moment.  Already, the Turkish President and his supporters continue to falsely claim that the United States was behind the coup. Erdoğan justifies his domestic purges on the alleged coup, claiming his countrymen were killed and he was in mortal danger—that's why his words that the coup was a "gift from God" only make sense if it was personally orchestrated.
European countries should continue to exercise their sovereignty and use their judgment on whether to allow a tyrant to use their country as a base to empower himself further. And, if Turkey was truly democratic, more power would be flowing to its citizens instead of its president.
John A. Tures is a professor of political science at LaGrange College in LaGrange, Ga.  He can be reached at jtures@lagrange.edu.