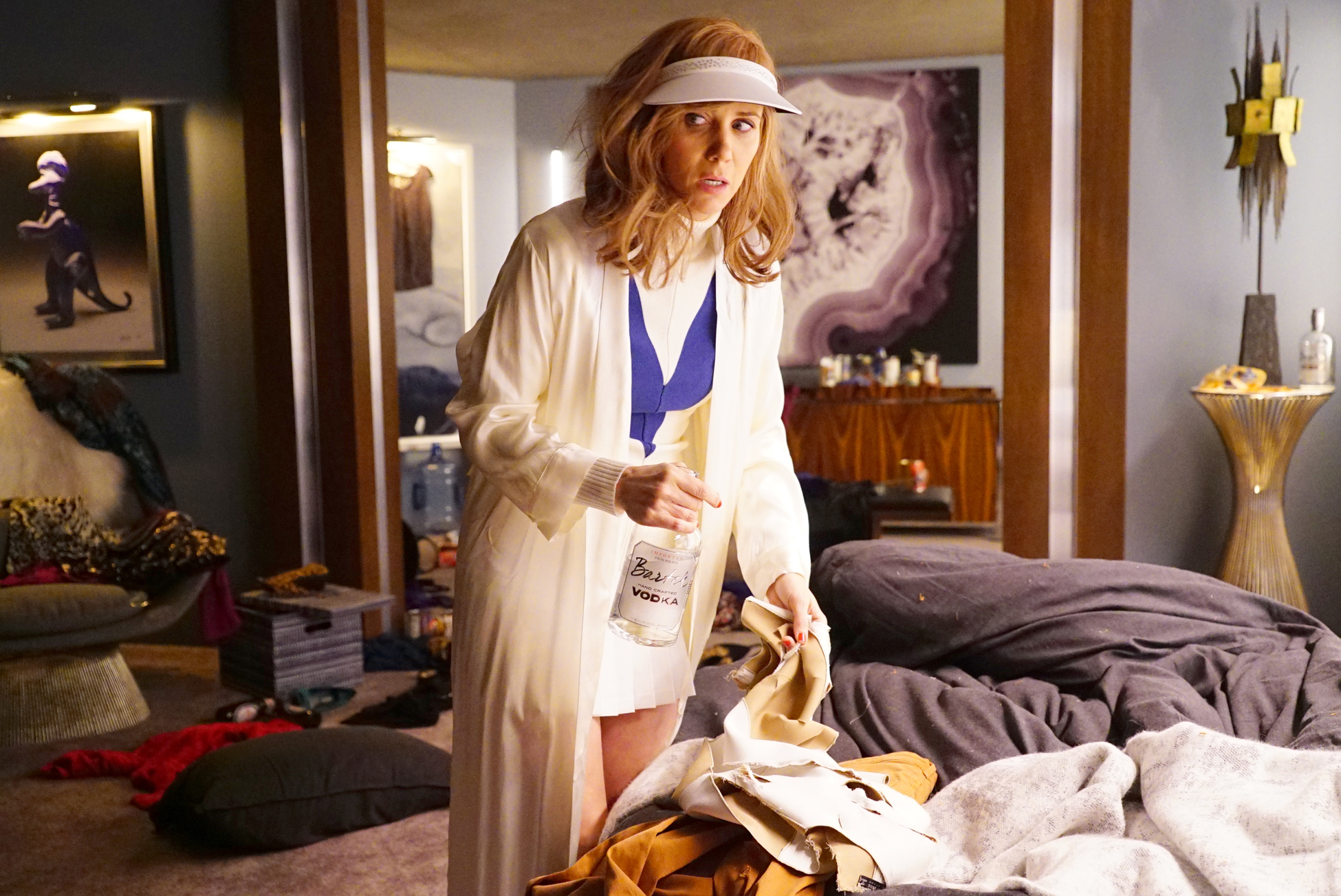 Welcome to our TV Fashion column, where TV Ate My Wardrobe's Emma Fraser discusses the trends in television apparel. This week: The Last Man on Earth and The Walking Dead teach us what to wear when the world is ending. 
When shops are no longer open for business and houses are empty besides the belongings left behind they become scavenging grounds for those still fighting to survive on shows such as The Last Man on Earth and The Walking Dead. The color-soaked costuming of Last Man is in strong contrast to the neutral and earthy toned infused wardrobe of those trying to survive an apocalypse of a different kind on The Walking Dead, but both go a long way in explaining the hopelessness of the task at hand and why existential dread is not the way to go.
The Last Man on Earth introduced another survivor in last week's excellent standalone episode "Got Milk?" which tracked Kristen Wiig's journey from philanthropic socialite hosting fancy galas in her backyard to the inhabitant of a very well stocked bunker. Like a post-apocalyptic version of Grey Gardens, instead of a daughter/mother duo her sole companion is her dog Jeremy. Wiig's character Pamela wears a lot of white with oversized shoulder ruffles and expensive looking jewelry so it isn't a surprise that she fashions a garbage bag jumpsuit complete with sleeve puffs to match the kind of blouses she wears.
Protecting yourself against the virus that is killing off everyone doesn't mean you can't be stylish, and Pamela looks like she has taken part in Project Runway hardware store challenge to make the chicest look that doubles as a protective gear. The look is complete with goggles, mask, purple rubber gloves, a designer handbag placed over her arm as if she was taking a regular shopping trip and heeled ankle boots. What better way to venture to a now deserted supermarket for vital supplies; especially when a run in with a frenemy is all but guaranteed. As established in the opening scene Laura Dern as Catherine–crushing it in this brief role–is everything Pamela isn't; she wears red to Pamela's white, she's a cat person and people laugh at her jokes. In the supermarket desperate times don't make them friends and passive aggressive comments and one upping the other is still on the menu.
Catherine lacks the preparedness of Pamela as her only form of protection is a face mask; the dog food might be the snack that allows her to survive for now and yet soon she is face down dead in her own bed. Taking this opportunity to save herself, Pamela takes the key to the emergency bunker that Catherine and her husband never got to. What follows is three years of Pamela in solitude aside from her canine pal Jeremy who can't even be bothered to try and say the word "milk" and who runs off at the first opportunity.
Luxurious clothes are in abundance where human company is lacking and it has been established in the pre-solitude scenes that Pamela has a penchant for white and expressive jewelry. To break up the boredom other trends slip in, from the futuristic gillet to leopard print and turbans. There's celebrating Christmas in sparkles, an outfit ideal for tennis complete with visor, a white lace dress for slow dancing with Jeremy that could be from a wedding to ultimate comfort in wine cardigans and silk pajamas. As the wine switches to vodka I am reminded of Natalie Portman's drunken dress up sequence in Jackie as she tries on all of her iconic Camelot outfits while chain smoking and drinking into oblivion.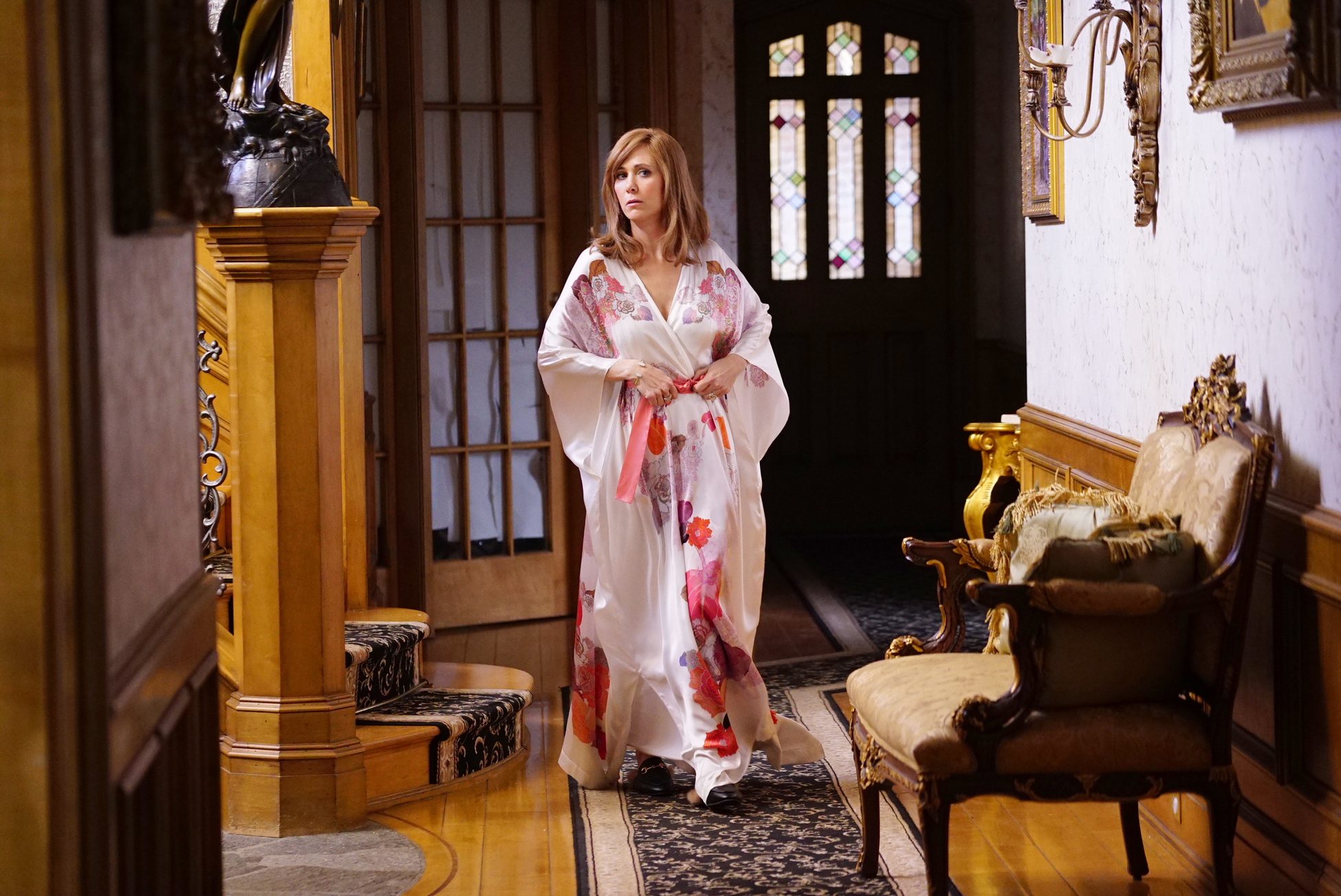 There's not much to stave off isolation and hopelessness when there is no one around to appreciate the simplicity of a bedsheet ghost Halloween costume or a fancy expensive outfit. The Last Man on Earth is a comedy, but it isn't afraid to dance to the tune of the morbid missed opportunities. The drone that Gail first saw wasn't a potential threat after all and instead it is from Pamela's bunker, but before she can establish contact Melissa shot it out of the sky. Pamela has two options; to spend the rest of her life playing dress up by herself or head out into the world to find these other survivors. She chooses the latter and ditches her trusty garbage bag ensemble that has seen her through so much for an outfit she is more accustomed to.
Last Man on Earth  is good at quickly establishing character in this not so inhabited world and I have a feeling we will definitely see more from Kristen Wiig as Pamela in the future. Even if she is heading to the now vacated Malibu location. This show is also not afraid to kill characters and the landscape might not be as full of immediate dangers as The Walking Dead, but it can be just as fraught.
In the same way Pamela clings to her clothes as a way to provide entertainment for herself, Carol does the same with a glue gun and a whole lot of bedazzling. From the Oklahoma shirt at the start of season 2 to the boots she makes for Melissa as part of their Secret Santa, Carol's entire look is about the bold. If she was to suddenly start wearing all black it would be an instant signal that something is up. Even during a funeral scene in this week's episode her somber ensemble is still  low key striped and floral. As costume designer Sandra Burns put on Instagram "Can Carol have too many patterns in one outfit? Nope." Carol's not met a floral, heart, abstract, stripe or polka dot she doesn't love and despite this colorful outlook and how often they play their crisis for the absurd there is still a sense they are walking the tightrope of despair.
Carol, along with Tandy, has the brightest outlook and this is also represented in his wardrobe. His collection of T-shirts that tend to come from Threadless (and wouldn't look out of place on Community's Abed) are often whimsical on wordplay like his recent "piece of meat shirt." This is one reason why they make so much sense as a couple as they both appreciate a good clothing visual. Erica's boho styling masks a lot of her pain and also works well for maternity wear and Melissa's cool girl stripes, neutrals, jeans and leather jacket can't hide her recent descent. Especially when she burns all of her clothes post break up with Todd earlier this season and declares she wants to have his baby. While locked in a room for her own safety the white T-shirt and flared jeans looks the picture or serenity, but as the group loses members just as quickly as they gain them something has to break.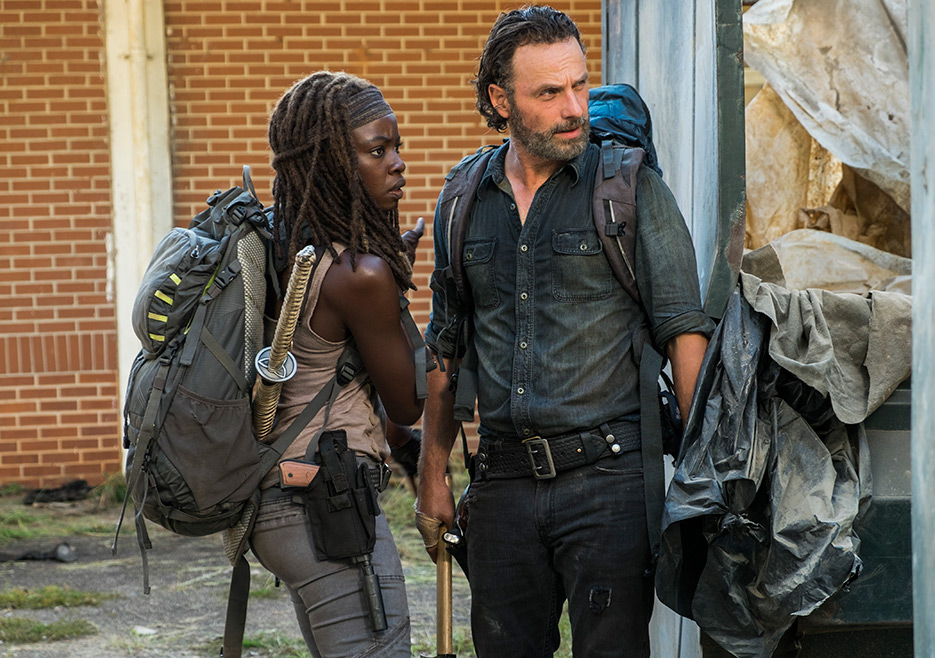 Clothes are far more functional on The Walking Dead and part of this is down to how often they get covered in walker blood and guts. There is already too much to worry about than getting a stain on your favorite shirt after all. Color and pattern are muted and this makes sense because you don't want to draw attention or act as beacon for the humans and dead who might want to kill you. But this doesn't mean that all sense of personal style is lost and there is still a sense of attachment in this world; Daryl's poncho, Rick's hat and the cap that was once Glenn's and is now worn by Maggie. Even in a world that is this desperate we still need these items to act as reminders. That they are still the people they were even as the world turns to shit.
Crisis can come in many forms and sometimes an old garment can be just the thing to kick-start that fighting spirit. The same can also be said for the new, and when Rick wore a chambray shirt after his time away with Michonne in "Say Yes" it instantly stands out because a) it is clean and b) the light color. This would be a terrible choice against a group of walkers as I'm sure it is impossible to get those stains out no matter what wash you put it on. But it does make for a great negotiating look and there is a physical lightness to Rick post gun-scavenging trip with Michonne thanks to the weapons/food haul and some all important life affirming chats (oh and a whole lot of sex).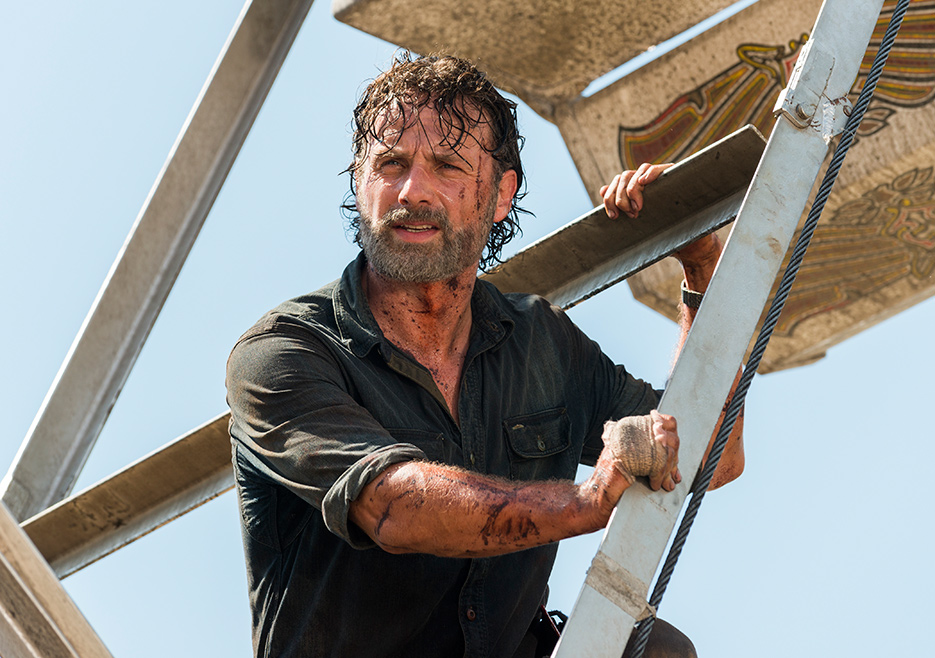 Denim is a Rick Grimes staple and this look is entirely in his wardrobe wheelhouse; Rick is still the same guy style wise whether making stirring speeches or sliding into the despair of their situation with a few ingrained dirt caveats. Right now he is very much in positive outlook/fighting back mode hence the clean shirt and I find the crusty levels of his attire often mirrors how desperate matters are.
Maintaining a sense of self is important and clothes have a way of aiding this. Certain aspects of outfits are for practical reasons; sturdy boots make sense because you want your feet and legs protected as much as possible and they're all the better for kicking with. Sneakers just aren't going to cut it. Strong material such as leather is another smart choice and Michonne's leather zip up vests that she layers over a tank not only add to how badass she looks, but also serve as clothing defense as it is hard to rip. It isn't all just earthy tones to match their surroundings and Michonne has worn rusty colors such as orange and burgundy. This isn't quite the level of some of Carol's bold ensembles on Last Man on Earth and yet it does give a similar sense of individuality.
On TV, fighting against the end of the world comes in many different forms and there's no one specific right way to dress as you battle foes both seen and unseen. What both The Last Man on Earth and The Walking Dead demonstrate is that your personal style can be a boost for moral and if you can also fashion a garbage bag protective suit worthy of a runway challenge then this is a skill to hold onto as you never know when you might need it.
Emma Fraser is the creator of TV Ate My Wardrobe and spends most of her time writing about TV, fashion and costuming; Abbi and Ilana's Broad City style, the wigs on The Americans and Mindy Lahiri's pajamas are just as vital as talking about '90s, '00s teen shows. Emma has a MA in film and television, and she probably holds Angela Chase responsible for this path. You can find her on Twitter @frazbelina.