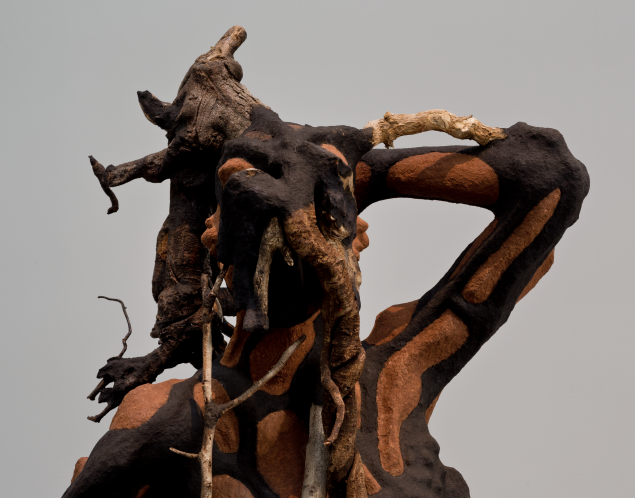 I was expecting to see three-dimensional versions of Wangechi Mutu's creepy cyborgian women in her recent sculpture exhibition at the Barbara Gladstone Gallery. So I was surprised when I saw her new installation of works.
For one, a pared down earthy vocabulary has emerged. Gone are her colorful sci-fi hybrids that evaded categorization. Instead, we are greeted by prayer beads made from red soil, gourd, paper pulp, wood glue, and acrylic shoes that are piously laid out on the floor. Mutu's current work is inspired by nature, and most of the sculptures in the exhibition are made of red soil that is referenced in her title Ndoro Na Miti —translated as mud and trees in the Gikuyu language spoken in Kenya.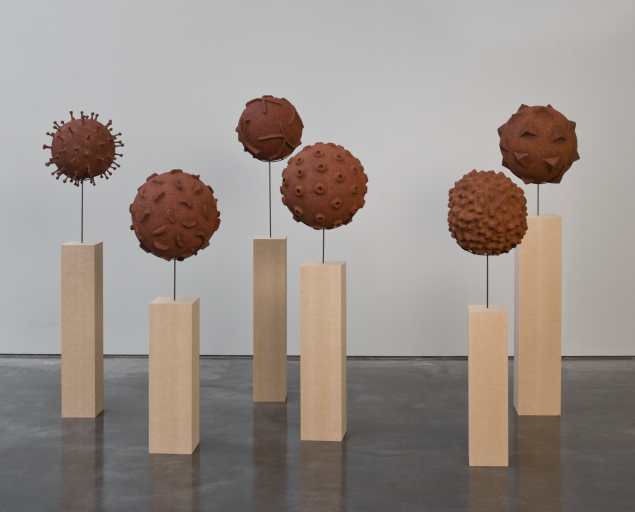 Mutu's relocation from New York to her native Kenya in the last year or so seems to have propelled a completely new direction in her practice. Organic materials from her new surroundings not only become components of her work, but there appears to be a softer, less edgy aspect to her female figures. Devoid of the grotesque savagery that gave them power, both Giver, 2016, and Tree Woman, 2016, fall short of Mutu's previously invented female figures that she made by boldly vandalizing contemporary images from various magazines to present visually challenging forms. In the Giver, a woman sits comfortably with her feet tucked under in the Japanese style of sitting seiza. A tree sprouts from her head, and she is covered with numerous hives that appear to shield her naked body. She looks away as she stretches out an arm, which could suggest the gesture of a selfless giver, or of one seeking alms. Tree Woman on the other hand stands tall and poised like a mannequin. Her naked body is covered with meticulous patterns made up of a black viscous substance that adorns her like a body suit and makes her look exotic through the labyrinth of wooden branches and twigs that surround her like a cage.
But what does one make of these female forms? Neither daring, nor endlessly interpretable, these figures, made with red soil, paper pulp and wood glue, are uniquely one-dimensional in a way that Mutu's prior collaged feminine shapes were not. The Giver and Tree Woman seem to be icons of female virtuosity that are born from the earth. Harking back to traditional African sculptures that were conceived with natural materials, these forms attempt to inhabit a place that looks backwards to a world of innocence. Yet, as much as Mutu aspires to evoke some sort of spiritual significance, these highly stylized figures, including her bronze sculpture Water Woman, 2016, of the mythological East African mermaid Nguva, evade such a sensibility. Still vaguely reminiscent of the ultra modern characters from her 2013 exhibition The Fantastic Journey, the three female sculptures are suspended in a place that neither embodies their former defiant stance, nor captures the purity of primeval forms.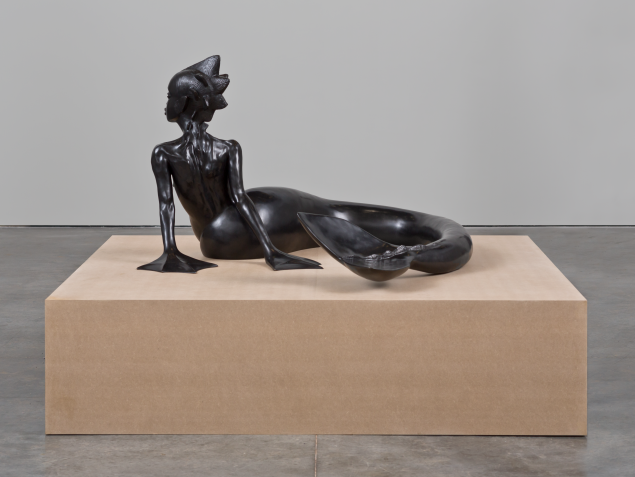 In this respect Mutu's three busts Dream Catcher, 2016, Rose Quartz, 2016, and Black Pearl, 2016, come closest to representing the essence of ancient forms. These smaller, static, roughly hewn sculptures resemble African deities from primordial times. While Dream Catcher and Rose Quartz have fairly elaborate headdresses, Black Pearl's amorphous configuration filled with knobs, bulging shapes, and breasts might well be representative of the goddess of fertility. Alongside these busts we also see a display of untitled spheres on pedestals referred to as "virus" by the artist. Also made with red soil, the spheres are beautifully decorated with patterns in the tradition of Kenyan Makonde carving, and recall the planets that orbit in space like stars.
But Mutu's new work is disappointing. As much as she would like viewers to "enter a place and re-think themselves," in response to her work, this new alternative mode of embracing nature and the origins of civilization, as it were, leaves little room for our imagination to soar. Her technically perfect somber shapes are a marked departure from her original dynamic creations that exploded with paradoxes and challenged us with issues of sexuality, beauty and aesthetics. Instead of continuing her journey that lured us to witness the permutation of identity bombarded by the influences of globalization, nationalism, and migration, Mutu slows down and reverts to the simplicity of ancient beliefs and practices that fail to entice. One can only hope that this diversion will eventually realize new work that combines her use of nature with the refreshing unexpectedness of her former images.
"Wangechi Mutu: Ndoro Na Miti" is on view until March, 25, 2017 at Barbara Gladstone Gallery.
Welcome to Closing Time, a new feature where Observer Arts alerts you to shows you can catch before they're gone.