Welcome to Weekend Stream, where every Friday, Darian Lusk—comedian and writer living large in Brooklyn—will gently recommend something new and exciting to stream, listen to or play over the weekend. Follow him on Twitter @eatpraylusk to send suggestions for future installments.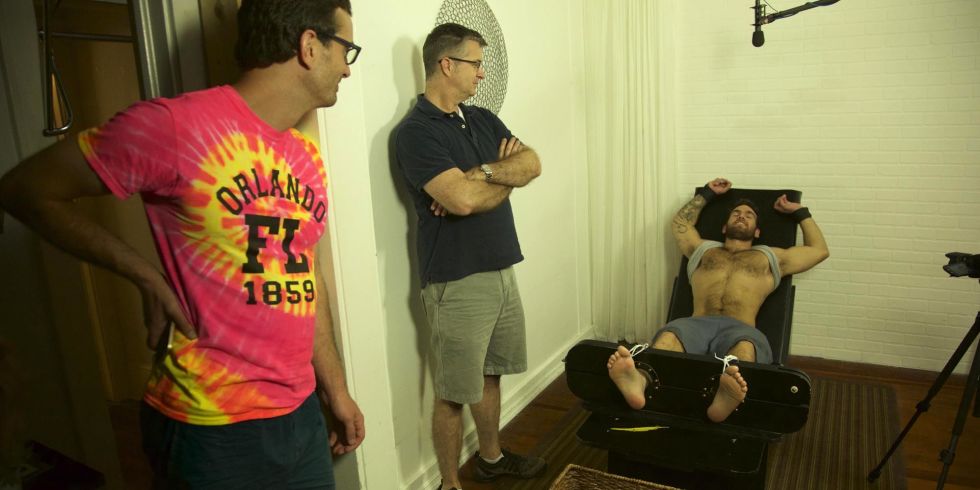 It can be frustrating when a great documentary doesn't quite offer closure, and the filmmakers behind one of the most controversial movies of the past few years knew that was the case.
No, they didn't make "Blackfish 2: Tilikum's Revenge." I'm talking about 2016's Tickled, and its sequel may be just as fascinating — and enlightening — as the film.
Allow me to catch you up. Tickled (currently on HBO Go) is narrated and co-directed by David Farrier, a New Zealand-based human interest journalist who, in his own words, has "made a career looking at the weird and bizarre side of life." Naturally, when he stumbles upon a "Competitive Endurance Tickling" website — hundreds of videos of agile young men tickling other clothed, bound men as a sport — he is intrigued.
He reaches out to the production company behind the shoots, thinking he has another fun, clickable story on his hands (like this one). But the response he gets from the company is stand off-ish, to say the least. In fact, it's homophobic, explaining they don't want to be interviewed by a gay journalist. On a lark, he and co-director Dylan Reeve fly to Los Angeles and quickly discover that as long as these athletes keep doing tickle shoots, money and gifts from an undisclosed source keep pouring in. But the consequences of quitting are more sinister than expected.
This is not a film about an unorthodox sport that's been snubbed from olympic consideration ("it's not THAT different from Greco-Roman wrestling!"), or even a look at a fetish that's been taboo for too long. Instead, it's something darker. Lives have been ruined, tears have been shed and people have been tickle tortured.
Some storytellers get lucky (well, sort-of lucky) when a scoop turns out to be hotter than they thought. Call it the Nev Schulman effect. Or don't. In this case, filmmakers Farrier and Reeve are in for much more than they expected. The shocking truth is uncomfortably pursued to its fullest, and the result is a riveting piece of investigative journalism.
That being said, when Farrier (who has great graphic tees, by the way) comes face to face with the (spoilers) lone reclusive man behind all of this mischief, we're left with more questions than answers. Like, seriously, why this? Will this man be brought to justice? And what is the most ticklish part of the body?
On February 27, we were gifted with The Tickle King, which can be found at the bottom of the film's HBO Go streaming page. I personally have never been more excited for a documentary sequel in my life. I can't even name another one. Things get even crazier for us and definitely for the filmmakers in this 20-minute follow-up.
The Tickle King is an equally baffling collection of footage from festival screenings of Tickled across the country. Reviews of the film were widely positive. Except, that is, for David D'Amato –the villain of Tickled — who literally shows up to his own screening with a bone to pick.
Remember the ending of Blazing Saddles where Richard Pryor and Gene Wilder go to the screening of Blazing Saddles? This is like that, but less overused as an example in Intro to Sketch Comedy class. Along with a private investigator and one of his loyal right-hand men we've met before, it seems as though D'Amato is trying to derail the film's rollout. Talk about a Sundance to remember.
There are a few things about this that make Tickled even better to watch now. Like how rare it is to get a documentary sequel. Also, when does the antagonist of a film get to make a case for themselves?
Though D'Amato tries to dismiss the facts, he quickly resorts back to the threats and hate speech that were peppered into the angry emails to begin with. It becomes clear that this is one sad, lonely man with too much time — and money — on his hands. I have to say, this is pretty much the worst use of inheritance money I can think of. You could have invested in Snap stock, funded Zach Braff's next movie or gotten into Civil War memorabilia. Actually there's one worse political example I can think of, but let's not go there. It's Friday!
The third strange piece of this puzzle — and sadly, perhaps more closure — came this week. At the age of 55, David D'Amato — the eponymous Tickle King himself — passed away. Filmmakers reportedly felt very bittersweet about this, and I have to say, we will miss him. We're also left not really ever knowing why he chose to do all of this. Luckily, I got the chance to have some personal closure as well. I coincidentally went to sit Shiva on the upper east side the same day D'Amato died. As I ate Zabars and sat with my own thoughts, I knew who I was mourning.
Other great things to stream this weekend:
On Youtube:
The Four Incredible Tracks Gorillaz Just Blessed Us With
On Thursday, Gorillaz — Damon Albarn and Jamie Hewlett's beloved virtual supergroup — announced their first official album in six years, Humanz. Along with that, they released four, yes four, new videos. Three are "art tracks," songs with visual aids to go along — and one pretty insane short film. Directed by Jamie Hewlett, Saturn Barz in 360 degrees and has a mild amount of cartoon nudity. (Added March 23)
On Netflix:
Who Framed Roger Rabbit: Everyone's favorite live-action/animation whodunit is now available to your streaming enjoyment. Directed by Roger Zemeckis and starring Kathleen Turner as our cartoon heartthrob, if you haven't seen this excellent take on film noir, now's your chance. (Added March 24)
On Amazon:
Chicago: Rob Marshall's take on the delightfully campy Bob Fosse musical may not have deserved its Best Picture Oscar (let's just say it) but it is really fun. Starring Catherine Zeta Jones and Richard Gere, there's a ton of great songs, and all that ja — stuff. (Added March 1)