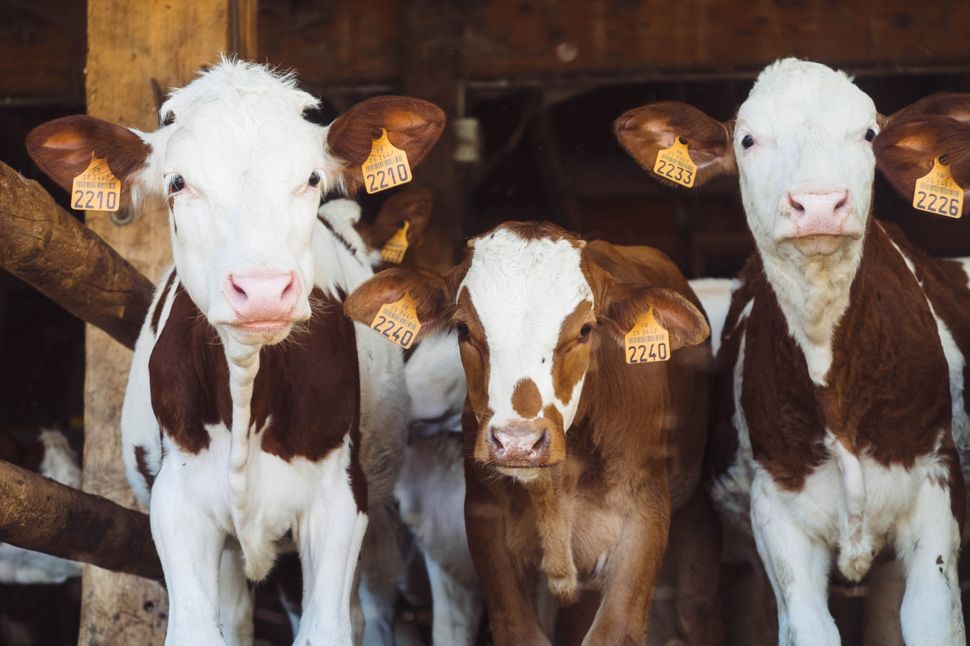 In 2014, filmmakers Kip Andersen and Keegan Kuhn released Cowspiracy, a documentary that brought to light the environmental impact of the meat industry and provided evidence that a drastic reduction in meat consumption is necessary to mitigate climate change and the destruction of the environment. On top of the ethical concerns posed by livestock production, it's the single largest driver of habitat loss and emissions. The methane gas produced by the 1.3 billion to 1.5 billion cows on the planet outpaces the entire global transportation sector in greenhouse gas emissions. The emissions from this industry are estimated to increase by 80 percent by 2050.
In their new documentary What the Health—which they describe as Cowspiracy and Forks and Knives on steroids—Andersen and Keegan expose the health risks associated with the meat industry, exploring its connections with the government, pharmaceutical industry, medical industry and health organizations. Processed meats are carcinogenic, meaning they are grouped in the same category as cigarettes and asbestos by the World Health Organization. Yet, the American Cancer Society recommends eating processed meats on their organization's website. And even though several studies have shown that meat consumption is a leading cause of diabetes, the American Diabetes Association continues to recommend it as part of a healthy diet. Eating meat is also a leading contributor of heart disease, but that hasn't stopped the American Heart Association from advertising consuming it on its website.
Despite the health risks that meat, dairy and fish pose, the animal agriculture industry has heavily lobbied and donated to the leading health organizations. Big pharmaceutical companies join their efforts because they make a massive amount of money from agriculture, both through selling antibiotics and other pharmaceuticals for animal industry use and treating the diseases that the industry causes, like diabetes. Just as Cowspiracy caused people to rethink their dietary choices based on animal agriculture's severe impact on the environment, What the Health provides harrowing insight into the damage meat consumption does to Americans' health and how big corporations cast doubt to protect their industries.
"When we were researching Cowspiracy, once we started getting really deep into the information and studies, a lot of the things that kept popping up was about diet as well, and it seemed like the same story was being played out," said Kip Andersen, the director and star of Cowspiracy and What the Health, in an interview with Observer. "We were thinking about putting it into Cowspiracy, but there was so much information. It was uncovering a whole other can of worms so to speak, and we realized there was a whole other film. So, while we were making Cowspiracy, we realized the exact same story was being played out not only on the health of the environment, but on the health of humans."
Throughout What the Health, as was the case in several segments of Cowspiracy, people and organizations that Andersen tried get information from became defensive, which is a tendency that many people who are vegan experience from meat eaters. Andersen explained that this defense is rooted in the ethical concerns that people are faced with by eating meat and dairy: "That's the thing. When you talk about sugar, you say you shouldn't eat sugar, people are like 'yeah, okay.' But I think when people start talking about meat and dairy, at the core we know it's wrong. We know its not a part of who we are as compassionate human beings. I really think that's it. You know when you do something wrong, someone calls you out, and you get defensive. You only get really defensive if it triggers something. I truly believe that we all know deep down—just like our 6-year-old, 7-year-old self knows—that we shouldn't be eating animals. It's just not right. We're not designed for that mentally, physically or emotionally. So, when you tell someone this, they get defensive because I think they actually know it's wrong."
Toward the end of What the Health, Andersen speaks with several people who have experienced total reversals of their health problems after adopting a vegan diet. Though removing animal products from one's diet may seem overwhelming, Andersen advises having fun with it. "It's more of an adventure of finding new things that you can eat and finding a whole new world of food and how to eat that opens up. The big tip is to have fun with it, and try it for at least 40 days to see how good you feel. There are so many blogs, books and YouTube channels. Just make it like it's a big adventure, and research because the more information you know, the easier it is," he said. "Being vegan is the most liberating feeling. That's why I think everyone gets excited when they are vegan. You just never realize how good you feel mentally, physically and emotionally. It's not just physical. True health is really mind, body and spirit. When you go vegan you really just liberate the health of all three facets."
What the Health is now available to stream and download for purchase on whatthehealthfilm.com