Welcome to "Weekend Stream," where every Friday, Darian Lusk — comedian and writer living large in Brooklyn — will gently recommend something new and exciting to stream, listen to or play over the weekend. Follow him on Twitter @eatpraylusk to send suggestions for future installments.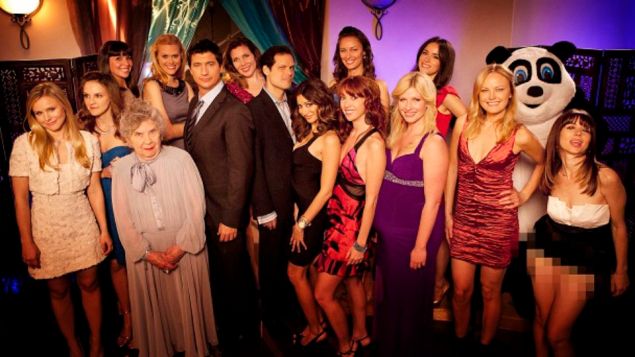 It's kind of crazy how popular The Bachelor is now. The steamy emotional rollercoaster of rose ceremonies, poolside drama and everlasting love seemed only mildly relevant just ten years ago. Today, the ABC show is an institution. Like Game Of Thrones, but with somehow more wine.
If you're still reeling from last week's shocking season finale and (spoilers) Midwestern charmer Nick Viall's choice of reluctant Canadian Vanessa Grimaldi (the aftershow was, let's say, tense), here's something wonderful to tide you over until the next season: Burning Love.
Burning Love is an immaculate 2012 satire that doesn't just mock reality dating shows, but celebrates them to a painfully funny extent. It originally aired on Yahoo's now-defunct streaming service Yahoo! View but currently streaming in full on Hulu. Though parodies of this sort are nothing new, Burning Love gets the details right. Its creators Ken Marino and Erica Oyama as well as producer Ben Stiller (who makes a great cameo as the winner of the previous season) clearly did their homework, watching more trashy TV than any of us would like to think about (or publicly admit.) But it paid off.
The first season follows firefighter Mark Orlando, played by Ken Marino, who physically fits the part quite well. With a square jaw, underwhelming intellect and slightly one-track mind, he searches for televised love. And he never shies away from the chance to tell the contestants how they're doing.
"You're going to make it down to the final two or three," Mark tells one starry-eyed cast member. "No promises after that."
Fifteen ladies arrive at the mansion to compete for Mark's coveted "hose" awards. And they capture some almost-too-familiar archetypes, like the obsessed one, the privileged diva and a contestant that literally doesn't wear pants. Kristen Bell is a devout Christian, Malin Akerman is secretly homeless. Leslie Chow from The Hangover wears a dress, and looks beautiful. Natasha Leggero makes her second Bachelor parody appearance, playing an equally inebriated character in the A+ second season of "Joe Schmo." I highly recommend it, though it's not "Weekend Streaming" anywhere so sadly I'm not at will to discuss it.
Mark Orlando goes from contestant to contestant, his obliviousness being the perfect backdrop for their over-the-top quirks to shine. And the cast is way more star-studded than it needs to be given the high caliber of writing.
Michael Ian Black is unsurprisingly solid as the show's stern host. He's a hilarious foil to Marino's cluelessness. And on a technical level, Burning Love seamlessly blends Erica Oyama's sharp script with on-set improv done expertly well by the cast. It's clearly not their first rodeo, especially Leggero, who spends a lot of time on a mechanical bull in episode three.
Though you don't have to be a Bachelor fan to enjoy this send-up, sometimes it's hard to tell the two shows apart. Which show revealed that a cast member was getting intimate with multiple members of the crew? Which had a bizarrely sleazy leading man named Juan Pablo? On which one did someone show up in a full mascot-level costume? Both!?
Yes, this past season of The Bachelor saw an aspiring dolphin trainer introduce herself in a dolphin costume (though it looked more like Left Shark, #tbt). Meanwhile, on Burning Love, a Friends star played a character hidden in a panda costume.
Burning Love is a grand celebration of dumb entertainment by a crack team of comics who were doing great things in the mid-aughts. Members of Children's Hospital, the Upright Citizens Brigade and The State join forces, like the U.N., but for people who were into something nerdier than politics in college.
Stay tuned for season two, which sees Mark's therapist (Adam Scott) as a contestant, and season three when the cast competes for a cash prize of 900 dollars. The stakes have never been higher. Finally, comedy nerds and reality show buffs can unite as one under one weird umbrella, together at last.
Other great things to stream this weekend:
On Netflix:
Coraline: Tim Burton's sinister stop-motion film, based on a Neil Gaiman novel of the same name, is wonderfully immersive adventure that did "Stranger Things'" upside-down world first.
It even features a jingle by They Might Be Giants. (Added March 16)
This is Spinal Tap and Tenacious D: The Pick of Destiny: Two great rock comedies for the price of one. The former is the extremely quotable Rob Reiner rockumentary that invented the term, and the latter is a kooky pilgrimage to the Rock and Roll Hall of Fame, with Jack Black and just as many comedy songs. (Added March 1)
On Amazon:
Charlie Bartlett: One of late Anton Yelchin's finest roles is in this high school coming-of-age comedy. He plays a private school student a-la Max Fisher, who finds a way to thrive after being thrust into the unforgiving public school world. (Added March 1)
On Beats 1:
Blonded Radio: For the past couple weeks, Frank Ocean has been shining a light on the world by premiering new singles on his new Beats 1 radio show. When he's not debuting heavenly new tracks, he's running through a top-notch playlist of tracks that range from Aphex Twin to Nina Simone.