Welcome to "Weekend Stream," where every Friday, Darian Lusk — comedian and writer living large in Brooklyn — will gently recommend something new and exciting to stream, listen to or play over the weekend. Follow him on Twitter @eatpraylusk to send suggestions for future installments.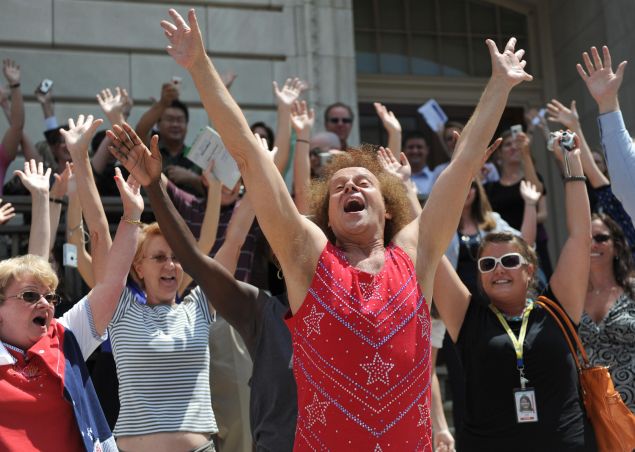 It seems like we're always searching for "the new Serial," the hugely popular investigative podcast hosted by Sarah Koenig. Could it be the Oscars best picture scandal? Or the Oscar Pistorius scandal? Or the behind-the-scenes drama on the hit ABC show Scandal!? One thing's for sure: Serial Season 2 was not "the new Serial."
Well, a new gripping and buzzed-about podcast may be the successor we've been waiting for. In fact, it may be even more compelling. Because this time we're not investigating a person, but a celebrity. That celebrity is Richard Simmons.
Missing Richard Simmons has set out to discover why, on February 15, 2015, the 68-year-old fitness guru who needs no introduction — literally disappeared. Yes, Richard Simmons is missing. He stopped teaching his regular exercise class, cut off his dearest friends and vanished from the public eye completely.
This isn't the kind of ghosting one pulls every so often with doomed college flings (sorry "Jon" but when you told me your two favorite movies were The Fault In Our Stars and Syriana, we both knew.) We're talking full radio silence. Who does that? And why? Can't he just let someone — anyone — know that he's okay? This is some Gone Girl level stuff.
Missing Richard Simmons is lovingly hosted and produced by Dan Taberski, a former Daily Show producer and friend of who many perceive as merely an 80s caricature. He starts with the familiar: "Sweatin' to The Oldies" and its 60 sequels, outfits that put most birds of paradise to shame and the roughly 30 appearances on Letterman. But this podcast aims to show us the Richard Simmons we don't know. And there's a lot.
Like almost too much.
Such as "Slimmons," Richard's insane open-to-all Beverly Hills exercise class that took place every week for $12 until his disappearance. Every class, Richard would tell stories of his fabulous past, forcefully ask men to remove their shirts and dance with them (all in good fun..!?) and like clockwork, fully break down in tears.
The podcast makes the smart choice of focusing on each of Simmons' highly protective and colorful friends. There's Allee Willis, a recording artist responsible for the bar-mitzvah banger "September," a woman from Iowa who phoned him weekly for years, eventually losing 200 pounds, and Mauro, a "personal masseuse" who is selling a frankly perplexing $30 e-book about Simmons' housekeeper and companion. You see, the last we've heard of Simmons was in 2016 when the LAPD got a tip that he was being held hostage in his own home by said housekeeper. Some are concerned, some think he's earned his right to ghost us. Others (Mauro) think literal witchcraft may be involved.
After listening, I ventured down a Youtube hole of Simmons' old interview appearances and returned with a newfound respect. Though often shrilly pitching a new product, he's a sincere advocate against childhood obesity (the proto-Michelle Obama) and clearly cares about people's health and well-being in spite of his own admitted struggles with depression.
With Missing Richard Simmons it becomes clear that the fame and success were never as important as his relationships with normal people. He would wake up early in the morning and literally call dozens in need of some kindness and motivation. And their compassion was just as important to him, as he frequently said in interviews he had no social interaction outside of these calls. So what changed? When a friend disappears from your life it oftentimes means they need you more than ever. As we listen, we feel Simmons' friends wishing they could help. They're missing their personal J.D. Salinger in short shorts. But he's stopped returning their calls and won't go outside.
What was lacking in Simmons' life that made him seek out these relationships and what caused him to turn his back on them? With all these voices expressing concern, why can't he return to those who are missing Richard Simmons?
Whether or not you listened to Serial, like to aerobicize or have any interest in bizarre celebrity mysteries, you'll find something to latch onto in this highly human story. It's a well-told character study that will make you feel things for every character involved. Much like Serial, Missing Richard Simmons transcends the format by being gorgeously well-produced and painting a compelling picture of a situation no one's taken the time to examine. But unlike Serial, no one is obviously guilty (Seriously Sarah, you got played like a FIDDLE).
Other great things to stream this weekend:
On Netflix:
American Crime Story: The People Vs. O.J. Simpson, in which O.J.'s murder trial gets the full Ryan Murphy treatment. Starring Cuba Gooding Jr., Sarah Paulson (who is ready to break past Ryan Murphy shows) and David Schwimmer, who says "Juice" a lot. And while you're at it, O.J. Simpson: Made in America is on Hulu and it just won the Oscar for Best Documentary. (Added March 1)
Superbad, Judd Apatow's hugely formative (at least for me) high school movie that launched the careers of Jonah Hill and Emma Stone. Since the latter just took home an Oscar, now's as good a time as ever for this one. (Added March 1)
On Amazon Prime:
10 Cloverfield Lane, the top-notch 2016 thriller that serves as the loose prequel to "Cloverfield." John Goodman really should have been nominated for his performance in this. (Added March 1)
Everybody Wants Some!! Two exclamation points, you say? This is Richard Linklater's latest movie and he definitely took a step back intensity-wise after Boyhood. But this is as good as his other flicks, starring a bunch of unknown male actors finding themselves in the first few days of college. Nothing wrong with that, you guys. (Added March 1)
On iTunes:
On Doug Loves Movies this week, Benson had to kick two guests off his show including Anne Heche (lol). All that remained was poor Sandra Oh, and she's the only one listed on the episode. This is a great exercise in catastrophe. (Added Feb. 22)