Welcome to "Weekend Stream," where every Friday, Darian Lusk — comedian and writer living large in Brooklyn — will gently recommend something new and exciting to stream, listen to or play over the weekend. Follow him on Twitter @eatpraylusk to send suggestions for future installments.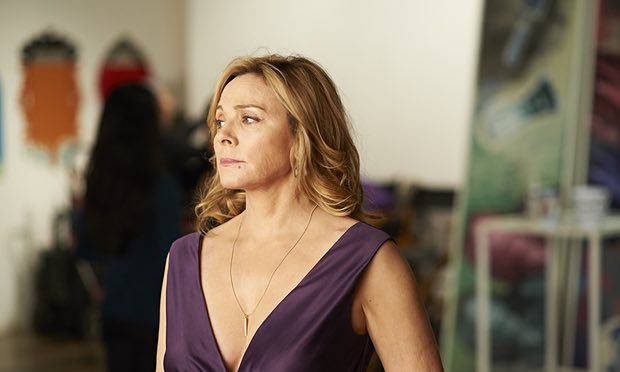 When is it too late to reinvent yourself? Switch career paths, move to a different state, turn your regular blog into a food blog? On HBO Canada's Sensitive Skin, and subsequently, as an actress, Kim Cattrall proves that it never is.
Sensitive Skin is a BBC remake helmed by Bob Martin, the very underrated writer of the sitcom Michael Tuesdays and Thursdays and Broadway's The Drowsy Chaperone. His casting of Cattrall adds another layer to the reinvention narrative; that it's never too late to play a second great role.
In its two seasons, the second of which hit Netflix this December, this touching and slept-on comedy centers on Davina (Cattrall). She's a wife and mother who regularly looks in the mirror and sees a stranger. Davina began her career as a model and actress but winds up killing time in a mostly empty art gallery, and her goofy husband of thirty years, Al (a fantastic Don McKeller, who also directs), was a novelist but now writes pithy pop culture columns. No shame in that. Davina wonders if this is it for her. Is this the legacy she'll leave behind before spiraling towards "the inevitable?"
It's no secret that Samantha Jones was fierce. I've known that ever since hiding Sex And The City DVDs in weird nooks in my room so my parents wouldn't find them. Whether it be Queer as Folk or Aly McBeal (less risque but still) a lot of LGBTQ kids have one of these shows. And there's NOTHING wrong with that. But for anyone who sees Cattrall as the Cartman of Sex and The City and not a serious actor, this will rewrite the history books. In lieu of the sex-positive icon who always gets the last word in at brunch, we're given Cattrall's most serious, almost unrecognisably nuanced role yet.
Meanwhile, the faithful Al (McKeller) is extremely likable as our tragic B-plot, going through a minor (well, major for him) crisis of his own. He tries new hobbies and even makes friends with an unexpectedly scholarly drug dealer (a smart drug dealer? Groundbreaking, well, maybe for Canada).
To spice things up, the Toronto couple moves to an ultra-modern apartment in a hip part of town and purchases a ridiculous couch that looks like both the dog statue from Friends and the top of a wisdom tooth. These updates don't do the trick. As it turns out, some of us are more capable of changing than others. As those truths reveal themselves, so do these characters.
Samantha and Davina are essentially opposites. While Samantha is anything but subtle, Davina keeps everything inside. Her character is so buttoned up that it feels like the buttons could burst at any moment. Like the suburban mom who seems to have it most together until she winds up on local news for starting an infant fight club. It's heartening to see Cattrall, who was in her 50s when the first Sex and The City movie wrapped, be given the chance to play such a different and complex character.
Martin and McKeller's previous show Michael Tuesdays and Thursdays, is a delightful buddy comedy with similar themes. Both principals make appearances in Sensitive Skin. It's about a therapist and his longtime patient who bond as that patient faces and overcomes his greatest phobias one by one. Whether it be overcoming a fear of crowds or of heights, each is a small victory we share with the characters. It's a really lovely show and also a fantastic portrayal of modern anxiety and depression. Five years after Michael aired on CBC, it's been miraculously brought back to life with Michael Everyday. You can watch the first season of that on Hulu.
Much like Sensitive Skin, Michael Tuesdays and Thursdays is subtle in a Canadian way, until you find yourself overcome by emotions four episodes later. Both offer rewarding character journeys that involve overcoming your fears. For one, it's distinct phobias, and for the other, it's the fear of mediocrity and subsequently, mortality. With each, the main characters leave things behind that were never meant for them in order to become their true selves. Whether they're ready to let those things go or not, sometimes, reinvention is thrust upon you. These shows are both deeply moving and reminders that it's never too late to change.
Other great things to stream this weekend:
On Netflix:
Love: Season 2 — You'll fall in Netflix's Love (I'm sorry) with this Los Angeles-based comedy starring comedy podcast favorites Paul Rust and Gillian Jacobs. Some may call it a pessimistic, but let's just say realistic, portrayal of modern love. (Added March 10)
Blazing Saddles — Mel Gibson's satirical Western comedy is still as hilarious and audacious as it was in 1974. Co-written by Richard Pryor, it's the perfect film to bring together 20-somethings who read Splitsider religiously, and their dads. Not that I would know. (Added March 1)
On Amazon Prime:
W. — Oliver Stone's stoic take on the Bush Jr. presidency will make you laugh and what with our current political climate, actually feel nostalgic (for a time before I made that joke). Stars Josh Brolin doing a killer GWB. (Added March 1)
On Hulu:
Michael Tuesdays and Thursdays — Just a gentle reminder that the first season of Bob Martin and Don McKeller's previous show is available to stream. This is your chance to get really into Canadian comedies, which is always cool at parties. Trust me.