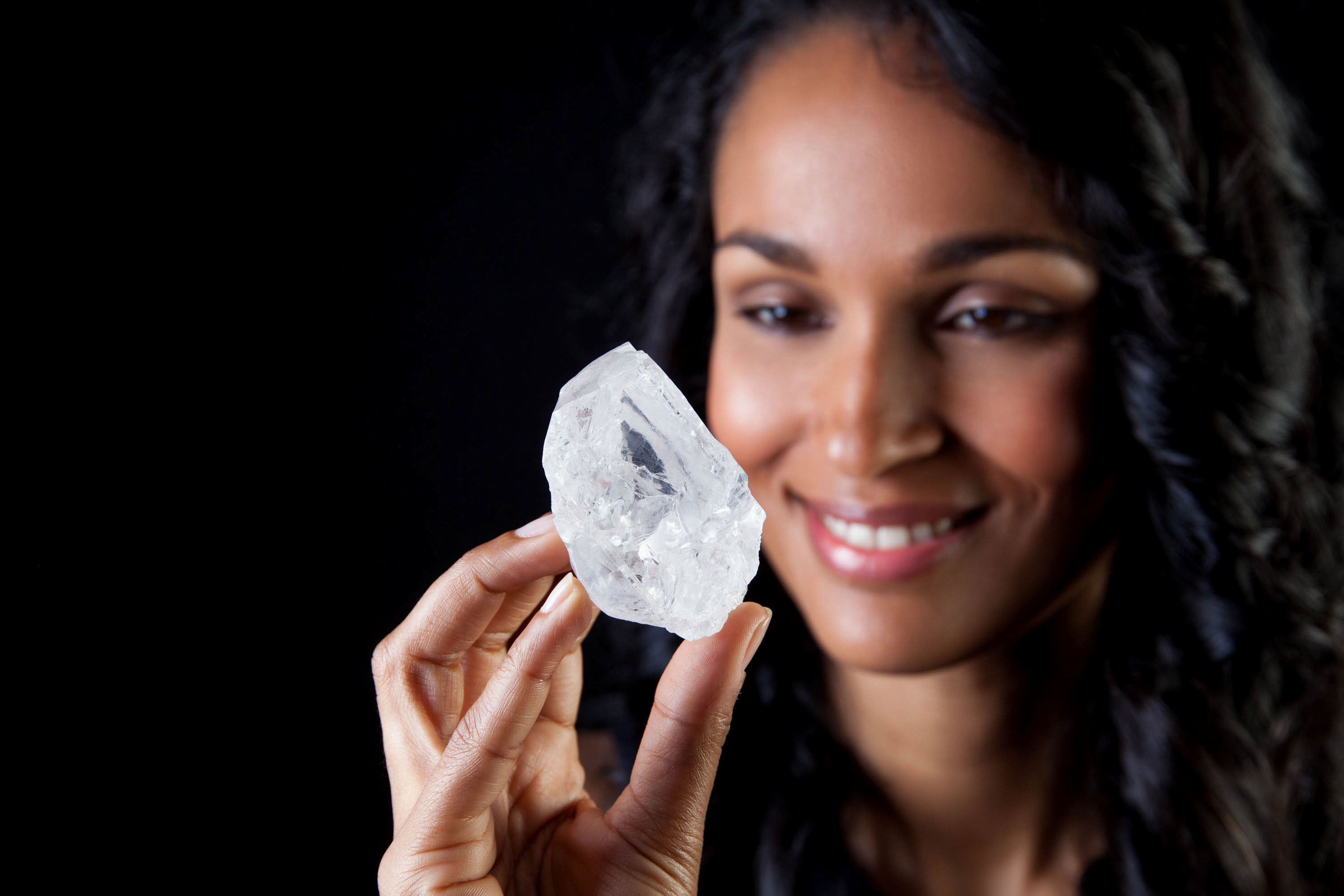 When the hammer fell at Sotheby's London on June 29, 2016, after bidding for the show-stopping 1,109-carat rough cut diamond known as the Lesedi la Rona reached $61 million but failed to surpass the house's $70 million reserve, the stunning stone was without a buyer. The event was hyped by media, and the diamond was put on display for people (mostly prospective buyers) to marvel at. But in the end, Sotheby's big bet that the open market would embrace the sales of super-size stones—just as it had so many other luxury assets—didn't pan out.
Today, the Lesedi la Rona still has yet to find its forever home, and Sotheby's, along with gem industry insiders, has discovered that buying and selling the world's biggest diamonds remains an insider's game, according to a report on the burgeoning market from the Financial Times.
"I don't think they'll have a problem selling it at the right price, some of our buyers would love to buy it," Gem Diamonds group sales and marketing executive Brandon de Bruin told the FT. "The reserve on the auction was high, which is why it didn't get over. We have never had an issue [selling a big diamond]—the larger, the better. When we find a diamond over 200ct, my phone starts ringing immediately."
On the consumer market, diamond prices can vary wildly. The price per carat increases based on the size and rarity of a stone. Take for instance the $70,000 per carat achieved for a white rough cut diamond by mining company Gem Diamonds compared with the approximately $1,745 for a white polished stone at the consumer level, according numbers from the FT.
While the Lesedi la Rona is certainly a unique and desirable stone—the only other rough cut diamond that compares is the 3,106-carat Cullinan Diamond which was unearthed in 1905—the market for big diamonds is still relatively new and working out its kinks.
"I can still vividly recall bringing the first cut diamond over 100ct to auction—that was back in 1990 and it was unheard of in those days," said Sotheby's worldwide chairman of Jewelry. "Since then, I have sold seven diamonds over 100ct…."
One of the most frequent buyers of large diamonds has been jeweler Laurence Graff, who snapped up the 31-carat blue Wittelsbach-Graff in 2008 and the 24.68-carat Graff Pink in 2010, setting a new world record for the priciest diamond ever sold at auction.
Buyers like Graff and top jewelers like De Beers may be more well suited than the average diamond enthusiast, either because they retain in-house experts in cutting and polishing (to cut a stone like the Lesedi la Rona can take years of research in some cases) or oversee their own mines. Most commonly, stones will be sold directly by mines to a group of select buyers with the proper resources.
"It is pretty much a closed circle," Caroline Scheufele, co-president of the jewelry company Chopard, said to the FT. "We need the expertise. I am an expert on cut diamonds but not rough diamonds. It is a different business altogether. Rough diamonds don't get bought by private people. It is really a very confidential business, with only a very few big companies, some that have been in the diamond business for more than 100 years."
Lucara Diamond, the company that attempted to sell the Lesedi la Rona at Sotheby's last year, oversees the Letseng mine in Lesotho, where it has discovered several large diamonds in the past, such as the 342 carat Queen of Kalahari. (That stone was eventually bought by Chopard, cut into 23 smaller stones and set into six pieces of jewelry). But while the market has seen an increase in large stones for sale, pulling big diamonds from the Earth is still relatively rare and difficult. One reason for Lucara's recent string of successes lies with its use of advanced technologies, such as X-ray transmission machines that are able to detect buried stones that may otherwise be broken during the extraction process.
The takeaway for big rock enthusiasts: there may very well be more big diamonds entering the market in the future, just don't expect to see them at auction. Bennet says Sotheby's currently has "no plans at present to offer more rough diamonds at auction."