Today, Yelp announced a new initiative for the LGBTQ community.
Now whether or not an establishment has gender neutral bathrooms will be listed on every page, right under the hours. There will also be a new search filter that will allow users to specifically look for places with non-gendered restrooms.
"We believe it's important for the business community to speak up when our nation's values are threatened," Rachel Williams, Yelp's head of diversity and inclusion, told the Observer. "Yelp thrives on inclusion and acceptance, and it's always the right time to reaffirm this with our community.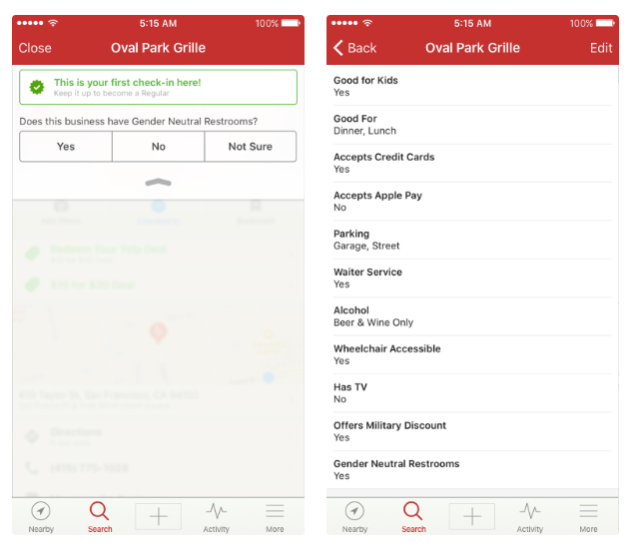 Williams also told the Observer the update is a response to the "recent public policy assault on the LGBTQ community."
Recently, President Donald Trump and his administration rescinded an Obama-era order that guaranteed transgender students the right to use bathrooms based on the gender with which they identify. Trump's executive order taking away that right boosted bathroom bills in 12 states.
It's also timed with another initiative. Yesterday, Yelp announced its participation in an amicus brief supporting trans student Gavin Grimm, who filed a lawsuit against his local school board for denying him use of the school boy's restroom. More than 100 other companies signed as well.
The new updates will roll out over the next few weeks, as business owners begin updating their pages to indicate they have gender neutral bathrooms. Yelp will also begin asking users who check into a business if it offers restrooms that are gender-neutral.