Moda Operandi isn't the only fashion destination offering the (almost) instant gratification of pre-ordering clothing directly from the Fall/Winter runways. This morning, Balenciaga sent out a swan song, in the form of a tweet, letting its faithful followers know that they can now purchase those off-kilter coats and draped stilettos, fresh from Paris Fashion Week.
So gird your wallets and wade into these (financially) dangerous e-commerce waters with us.
For a mere $10,500, you can take home an asymmetrical black silk opera coat, simply adorned with round gold buttons. Perhaps the fact that you can wear it two ways―draped askew over your right shoulder or regular, with those golden buttons on display―can justify that five figure price tag.
Alas, it seems your pricey jacket order will come seeped in a bit of history. "I went through almost 30 years of photographs of Cristóbal's lookbooks, and in many of them the models were clutching their coats like this," creative director Demna Gvasalia explained to Vogue, of the placket skewing styling. He was referring to the way that one pulls a jacket closer to your neck, to keep a bitter wind from creeping in.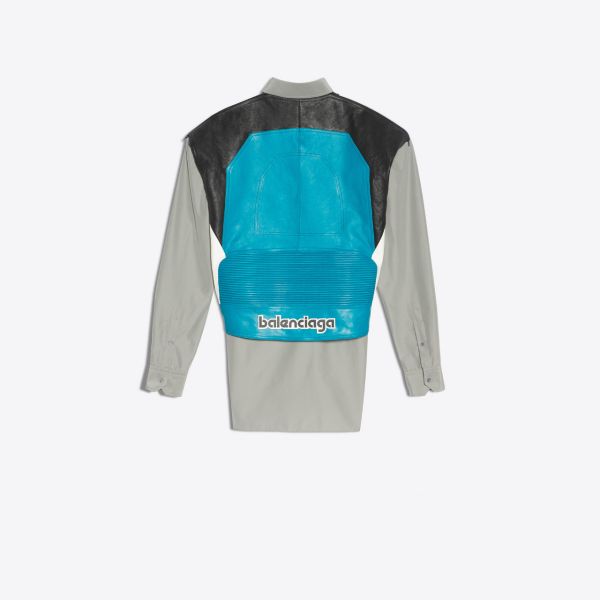 What else can you order on Balenciaga.com today? A chubby turquoise turtleneck sweater, which comes with a pair of rather confusing knit strings at the hip. Tie them as you will, for a mere $1,150. Might we also recommend the grey button down shirt that comes with an electric blue plastron (this is protective fencing gear, in case you didn't know). Balenciaga's leather take on the protective accessory crawls up the front ribs and covers the entire back with a splashy Balenciaga logo. It's removable, bien sûr, and it will cost you $2,990.
Our shopping spree would not be complete without a skirt inspired by the rubber floor mats you put in your car. Balenciaga's version are made from leather and can be all yours for $2,495. We'd also recommend scooping up a "semi-fitted dress" that's a cape in the front and a belted frock in the back. Live your best life in this muted floral Polyester/Elastan blend for just $5,450.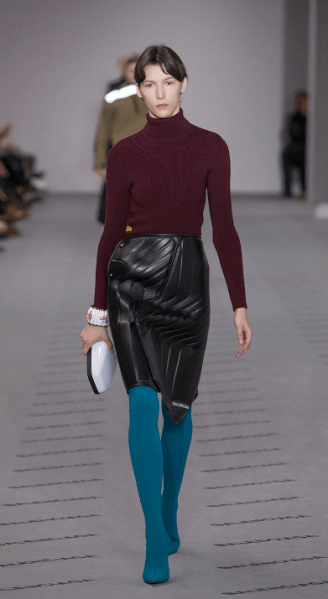 On the accessories front, you must scoop up a pair of stilettos ($995) brandished with the Balenciaga logo, as seen through Bernie Sander's slightly rounded rectangular spectacles. There's also a rather clever two-for-one leather handbag ($2,990) that looks just like two purses glued together. We're also partial to the oversized nylon tote, which is called Wash Bag XL ($2,550), but will probably hold your personal and your work laptops very nicely.
Those on a budget will adore the singular square ear clip ($280), made from brass and crystals. The superbly futuristic rectangular sunglasses ($370) are a good bet, too.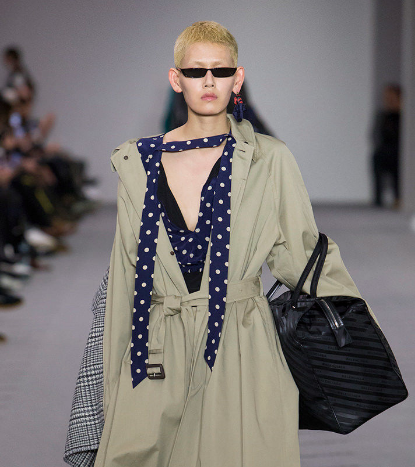 Now that your shopping spree is complete, you just have to wait until September 30, 2017, when the whole haul ships out. Happy waiting!