Zendaya bought this gorgeous house.
Zillow
There are multiple fireplaces throughout.
Zillow
The Disney Channel star paid $1.4 million for the two-story home.
Zillow
The actress and singer provided a home tour on her app.
Zillow
A peek into Zendaya's new home.
Zillow
The private terrace off the master.
Zillow
The master vanity.
Zillow
The marble master bathroom.
Zillow
The patio is accessed through French doors.
Zillow
The home sits on 0.4 acres.
Zillow
Marble backsplash in the kitchen.
Zillow
The outdoor pool and spa.
Zillow
Zendaya is only twenty years old, but she's already reached the very impressive milestone of home ownership.
The K.C. Undercover actress, who is making her cinema debut in the upcoming Spider-Man: Homecoming, gave fans a peek into her newly purchased house in north Los Angeles a few weeks ago, when she provided a home tour on her app. And now we have an even better look at the $1.4 million manse Zendaya will call home, per Trulia.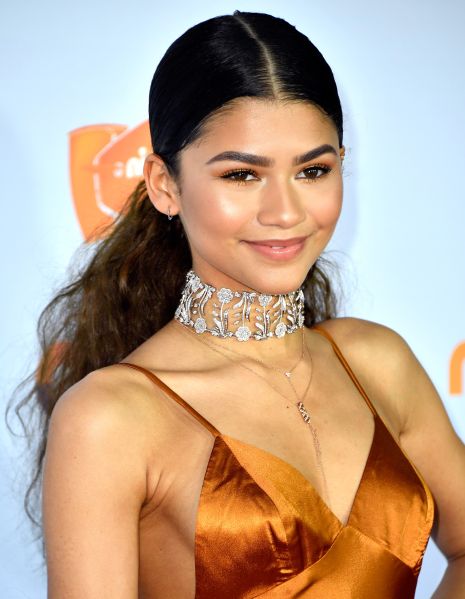 In the app tour, Zendaya walked through the five-bedroom, five-bathroom house and told viewers her favorite part of the abode is the stairs.
"Guys, I've always wanted stairs like this like literally since I was a little girl," she said in the app. "Because you know, I'm from Oakland, humble beginnings, I have two parents as teachers so I've never lived in a two-story house or a house with air conditioning or a house with a pool so this is crazy. I have a staircase, it's like the Cinderella spiral staircase."
The 4,155-square-foot Mediterranean-style residence boasts much more than just nice stairs, though. There's the gourmet chef's kitchen, complete with a center island and Calacatta marble, as well as separate dining, living and family rooms. The luxe master suite is fitted with a custom fireplace and access to a private balcony. There's also a dressing room and vanity, while the opulent marble bathroom has an enormous standing tub. There's also plenty of closet space for the plethora of slip dresses she'll surely stock the place with.
Not to mention the outside area, which includes a patio, swimming pool and spa. Shortly after she purchased the home, Zendaya apparently filled the pool with floats like a frosted doughnut and big white swan, and told Allure, "It's the ghetto off-brand swan, not the fancy one that was all over Snapchat and Instagram. I don't have the Rihanna swan—but I'm getting there!"
Indeed, a $1.4 million home at the age of twenty is definitely "getting there." Perhaps Zendaya and her former Disney co-star Bella Thorne can shop for pool floats together—Thorne purchased her own $2 million manse in Brentwood last year.