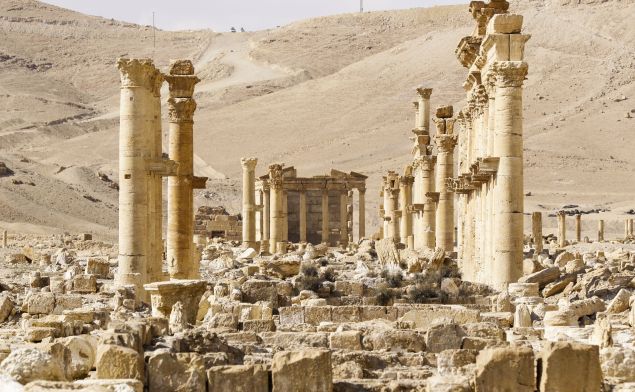 In times of war, one strategy continuously used by invading groups to eradicate an existing culture's ways of life is the destruction of cherished cultural artifacts and historical sites. You may remember that ISIS' barbarism toward Syria in 2015 included the destruction of several UNESCO world heritage site temples at the ancient site Palmyra, including leveling one of the area's best preserved ruins, the Temple of Baalshamin. Several other treasured historical sites, such as Nineveh and Nimrud in Iraq, Bamyan in Afghanistan, and Timbuktu have also been ransacked and destroyed in recent years.
On Monday, at Athens' Ancient Civilizations Forum, a ten-country strong coalition—which includes Iraq, Iran, Egypt, Greece, Italy, China, India, Bolivia, Mexico and Peru—united to form a coalition dedicated towards protecting culture heritage sites in danger of being damaged or destroyed by ISIS, according to artnet News. The coalition, headed by Greek and Chinese governments, has not announced any specific details around its efforts to preserve ancient sites, but Greek Foreign Minister Nikos Kotzias promised joint projects from different countries would be carried out to encourage "dialogue in the face of fanaticism, and culture in the face of terrorism."
The Greek Foreign Ministry says that the group will reconvene in Bolivia next year, reports GMA News. Iraqi Foreign Minister Ibrahim al-Jaafari says that the project stood in contrast to the idea "put forward by several intellectuals of a clash of civilizations," and that "We support dialogue between civilizations against the intolerance of which Daesh [ISIS] is a symbol."
Other efforts to preserve these historic sites have been set in motion previously, including a conference at the Louvre hosted by French President Francois Hollande, during which he announced that $75.5 million (€70 million) had been pledged for a UNESCO-backed fund to protect sites all over the world from war and terrorism. The funds were given by seven countries, including France and Saudi Arabia, along with U.S. philanthropist and art collector Tom Kaplan. The Geneva-based International Alliance for the Protection of Heritage in Conflict Zones plans to raise $100 million for the cause by 2019.