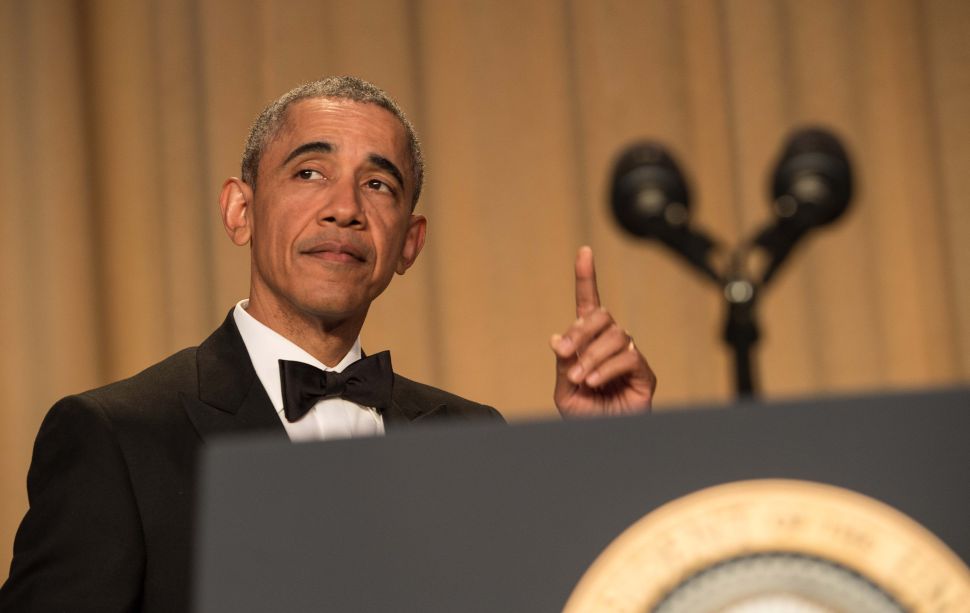 Tonight, the famed Washington Hilton will host the annual White House Correspondents' Dinner, an event known to many as "Nerd Prom." Officially, the dinner is meant to honor the work of journalists and support scholarship programs for aspiring journalists. In the company of attendees including the DC media establishment, celebrities-cum-political activists and politicians, a much-covered highlight of past dinners has been the tradition of the media and the administration to roast one another.
This year's fête, however, will feature one less political figure than it usually does: the president. This makes Donald Trump the first president to voluntarily skip the dinner since President Jimmy Carter in 1980. In solidarity with their boss, Trump's White House staff will not attend the dinner, either.
To Trump, all the world is a stage, so in a way it does seem odd that somebody so comfortable hamming it up at high-brow events—he famously performed "Green Acres" with Megan Mullally at the 2006 Emmys—would decline an opportunity to roast Fourth Estate on their turf. Ever the showman, he built his campaign on his unique ability to dominate news cycles, generating earned media whose value has been estimated at $5.6 billion between July 2015 and November 2016. The return on this pennies-on-the-dollar investment? The Presidency.
The media has also benefitted tremendously. The New York Times saw subscriptions double in 2016, logging their best quarter in five years in the months following Trump's election. TV shows that Trump is known to watch recently hiked their ad rates in response to advertisers harnessing commercial breaks to use the airwaves to lobby the president.
Despite their clear mutual benefit, the president and the media have a contentious, if not outright hostile, relationship, with Trump going so far as to declare the press the "opposition party." It is that reality that makes his choice to skip the dinner unsurprising. As Former White House Press Secretary Ari Fleischer put it in a February interview with Newsmax TV, "Why would he want to go—and why would the press want to invite him?"
In a coincidence that could not have been planned better, the White House Correspondents' Dinner also coincides with President Trump's 100th day in office. To commemorate that, Trump will hold a rally in Harrisburg, PA—a state that went red for him, despite President Obama winning it by a decisive 5.4 percent in 2012. His choice to hold this event during the Correspondents' Dinner is a clear finger in the eye of the media establishment, intended to reinforce the principle articulated by White House Deputy Press Secretary Sarah Huckabee Sanders that "This wasn't a President that was elected to spend his time with reporters and celebrities." It is also a strategy that is clearly trying to reinforce the narrative that the people and the media are two separate and distinct constituencies, with often competing interests.
Trump won't have a difficult time achieving that goal for two important reasons. First, confidence in the media sits at historic lows, with the most recent Gallup poll tracking the issue showing that just 32 percent of Americans trust the media a great deal or fair amount—a record in the 44 years they have asked this question. Second, the White House Correspondents' Dinner suffers from the same sort of optics problems that plague entertainment industry awards shows, and the increasing number of celebrities in attendance—and the introduction of red carpet arrival coverage—only amplifies an image of fancy, out-of-touch elites who don't care about regular people.
Though many Americans like to watch these types of events on television, they are quick to recoil when things get too preachy. This year's Oscars ceremony saw its ratings sink to their lowest levels since 2008, and though a clear reason hasn't been identified, it is worth noting that the coverage leading up to the Oscars focused a great deal on what the political overtones of the event would be. It's perfectly reasonable to suspect that part of this decline can be attributed to viewers finding it unconscionable to have to sit through lectures from people in gowns and tuxedos that are worth more than their cars.
The White House Correspondents' Dinner has been subject to a great deal of criticism over the years, and is often described as embodying the tongue-in-cheek classification of Washington as "Versailles on the Potomac." Trump's snub of this year's event has renewed such criticisms. There is even derision among reporters inside the beltway—Andrew Beaujon, senior editor of The Washingtonian said of the dinner that "if Trump manages to kill it he will have finally accomplished something of substance."
Perhaps some of the most ironic comments on its excess and lack of seriousness came from vocal dinner critic Tom Brokaw, commenting in 2013, "Why do we think to have a successful evening, you have Donald Trump as your guest of honor, for example, or Lindsay Lohan?" In an even more comedic plot twist, Brokaw praised Trump in February, saying his first Congressional address was "easily the most presidential he's been."
Whether it's because Trump isn't attending the dinner, or because he is president in the first place, White House Correspondents' weekend here in DC will look a lot different than it normally does.
A number of high-profile outlets such as Vanity Fair and The New Yorker are declining to host the lavish annual parties they've thrown in years past, with Vanity Fair editor Graydon Carter succinctly explaining this decision as "Trump…and the fish." Also missing from this weekend's party circuit is the event normally co-hosted by Time and People.
For their part, the White House Correspondents' Association is working to create the impression that this year's ceremony is about getting back to the basics. The evening's host is Hasan Minhaj, a senior correspondent with the post-Jon Stewart incarnation of The Daily Show and a relatively new name in entertainment and the media. On hand to dispense with the business of handing out awards for achievements in journalism will be Bob Woodward and Carl Bernstein, who famously broke the Watergate scandal nearly 45 years ago. All involved seem concerned about making sure the public knows it won't be an evening of comedy or backslapping self-congratulation, but rather about "the First Amendment and the importance of aggressive, but fair reporting." In other words, a very serious evening for very serious adults.
We will have to wait until the Sunday morning hangovers to see how well this plan works. All indications right now are that the lavish excess of the White House Correspondents' Dinner and weekend here in DC have hit a breaking point—but, as anybody in this town knows, all bets are off once the champagne starts flowing.