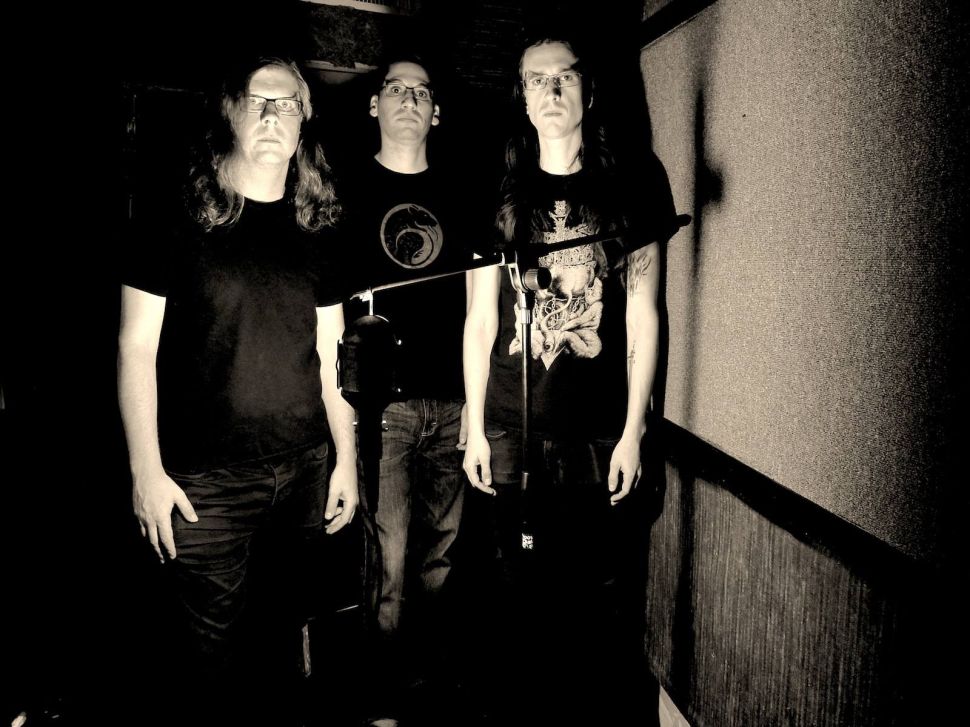 The vast cauldron that is the New York City metal scene features a diverse array of forward-thinking, foundation-shaking musicians that refuse easy classification beyond the palpable, undeniable sense that this is the purest definition of heavy.
With the epicenters of NYC's metal landscape in Greenpoint, Brooklyn, at heavy-music hub Saint Vitus and in Woodhaven, Queens, at Colin Marston's Menegroth, The Thousand Caves (a host of the records detailed here were recorded in the studio run by the Dysrhythmia and Gorguts member), the ever-mushrooming scene—led by the likes of Mick Barr, Krallice, Kayo Dot and Toby Driver, Pyrrhon, Behold The Arctopus, STATS, Ava Mendoza and John Zorn: Simulacrum—continues to evolve and challenge the way we define modern metal.
From black metal, to tech, death, prog, noise, and jazz, there's just way too many amazing NYC bands to fit into this space, but lord knows we tried.
Here below, we've rounded up a choice and lengthy selection of the best NYC bands at the moment crossing metal's boundaries, essential records and upcoming shows. If you feel a sudden urge to give yourself whiplash, don't worry, that's a good thing.
[bandcamp width=100% height=120 album=2776226345 size=large bgcol=ffffff linkcol=0687f5 tracklist=false artwork=small]
The careening-off-the-rails, primitive rumble that GRID dredges up on their self-titled debut, released last month (via NNA Tapes), is a tasty doom metal-cum-free-jazz combo.
Sax/electronics shredder Matt Nelson and bassist Tim Dahl summon hypnotic Sunn O))) death-drone from their instruments shepherded by a firestorm of free-improv cymbal and snare strokes from the school of Rashied Ali (courtesy of New Firmament/Feast of the Epiphany chief and STATS vocalist Nick Podgurski).
GRID's cacophonous wasteland is the unofficial soundtrack to the world imploding.
Akin to GRID's use of saxophone-as-weapon in its scorched-earth doom-jazz, The Gate also go the left-field route: the trio may be the only band in the vast doom metal pantheon whose primary instrument is the tuba.
Any similarities with GRID's noise-covered splatter end there, though. Led by tubist, effects-master Dan Peck and augmented by bassist Tom Blancarte and drummer Brian Osborne, The Gate cake their minimalist, funereal-paced crush with the sludgiest of low-end-fueled slow-crawling burn.
Peck and company perfectly belched out that pummeling, nightmarish precision on the late-2016 release and criminally overlooked Island Virus, a toxic stew of Melvins' Bullhead and Lysol-like pummel, chamber-doom and Noise.
Dysrhythmia / Sabbath Assembly
Tech-metal legends Dysrhythmia (still riding a complex high from last year's Veil of Control) and dark and brooding '70s-influenced medieval rock/metal outfit Sabbath Assembly come together on a stellar bill. Next month, Sabbath Assembly returns with their sixth album titled Rites of Passage via Svart Records.
Dysrhythmia, Sabbath Assembly and Desertion Trio play Saint Vitus on Thursday, May 4
The hot-wired and spazzy punk-metal warfare Cinema Cinema has been blasting out since its inception nearly a decade ago has infamously cleared out rooms (warning: these guys are hellishly loud) while earning fandom from across the spectrum.
In 2014, SST Records polarizer-in-chief Greg Ginn snagged the cousin duo of guitarist/screamer Ev Gold and drummer Paul Claro for the opening slot on his tour of the reconstituted—and much vilified—Black Flag, and nearly tapped them as his backing band.
Meanwhile, Gold and Claro count super-producer to the noise-rock stars Martin Bisi (Sonic Youth, Swans, Helmet, Unsane) and avant-garde saxman Matt Darriau as brothers-in-arms and both contribute mightily to Cinema Cinema's upcoming fourth LP, riff-heavy flamethrower Man Bites Dog.
An aggro-metal gut punch of proggy time signature mayhem, old-school punk rock intensity and arena-ready grunge bark doused with downtown jazz skronk, Man Bites Dog is a batshit-crazy beast.
Blind Idiot God / AZONIC
https://www.youtube.com/watch?v=yN8rZGJckU8&t=1773s
Two years ago, Bling Idiot God, legendary purveyors of pulverizing doom metal and downtown dub, returned after a 25-year hiatus with Before Ever After, a 74-minute epic that showed the power-metal trio (guitar god Andy Hawkins, bassist Will Dahl and Khanate drummer Tim Wyskida) teaming once again with bassist/producer Bill Laswell on a set of paint-peeling Herculean riff-hero anthemry.
With records released by SST during its '80s heyday and John Zorn, BIG's cred as pioneers of outsider-metal is undeniable. Not content with just resurrecting BIG, Dawkins—with Wyskida stepping in for original BIG bassist Gabe Katz—are bringing their orchestral drone-metal duo Azonic back from the proverbial dead.
In 1994, Dawkins and Katz formed Azonic in the wake of BIG's Zorn-released Cyclotron (1992) and unleashed Halo, a volume-shattering storm of crashing, clattering, screaming and distortion-laden rumble that sounds as if Dawkins, upon jacking up his towering stacks of amps to 10, left his guitars dangling for maximum feedback.
The comeback show on April 14 is no one-off either: this October, Dawkins' Indivisible Music label will release a brand new Azonic LP.
AZONIC (members of Khanate, Blind Idiot God), FRKSE, Final Boss, BLANKO & NOIRY plays Saint Vitus on Friday, April 14 
Ever since his genre-smashing stint in Zs, guitarist/vocalist Charlie Looker has been on a classification-defying mission, slicing and dicing folk and pop into otherworldly weirdness in bands like Extra Life and Seaven Teares.
In Psalm Zero, Looker disembowels metal, industrial and post-punk into brutal yet glittering pop-hook-tweaked anthems. 2016's Stranger to Violence (the follow up to 14's The Drain) crystallized Looker's singularly corrosive pop-infused industrial-metal: clenched-fisted and twisted ragers and infectious, as if Godflesh colliding with 1980s-era Manchester synth-pop.
Psalm Zero plays Sunnyvale with Street Sects and Field on Saturday, April 15
[bandcamp width=100% height=120 album=3996424620 size=large bgcol=ffffff linkcol=0687f5 tracklist=false artwork=small track=3861242331] 
Extreme-music composer-of-all-trades Mario Diaz de Leon has been obliterating the fringes of drone, noise, electronics and contemporary classical works in envelope-pushing groups like his own one-man-operation Oneirogen and in Bloodmist with Jeremiah Cymerman and Kayo Dot's Toby Driver.
But it's the just-released Charismata EP by Luminous Vault—de Leon's blackened bruiser duo with Artificial Brain's Samuel Smith—that may be his most sonically menacing trip into the bleakest and darkest belly of the underworld.
As they did on 2015's Communion, Luminous Vault unleash a drum machine-pummeling industrial/black metal hell of ear-wrenching noise and electronics, symphonic metal-screeching and guitar crunch and bloodcurdling growls.
Luminous Vault plays Saint Vitus Bar with Reg Bloor, Falls Of Rauros and Obsidian Tongue on Tuesday, April 18
[youtube https://www.youtube.com/watch?v=NQlwJx-jJTM&w=560&h=315]
Like Krallice's Mick Barr, the magnitude in which guitar shred overlord Reg Bloor burns the fretboard clean off with a notes-dizzying onslaught is a feat to be marveled at.
A veteran of Glenn Branca's ensembles (and also wife of the no wave pioneer and symphonist), Bloor's speedballing magic manifested itself on the composer's The Ascension: The Sequel and in under-the-radar outfit, The Paranoid Critical Revolution.
As it turns out, she slays solo just as well, if not better, than under Branca's stewardship—Bloor can outplay one of his 100-strong guitar armies. On her 2015 solo debut titled Theme from an Imaginary Slasher, Bloor thrashed out a hair-raising noise-fest of speed metal fury and no wave'y nails-on-chalkboard scratch.
Reg Bloor plays Saint Vitus with Falls Of Rauros, Obsidian Tongue and Luminous Vault, Reg Bloor on Tuesday, April 18
After stints in no wave-inspired noise-punk provocateurs Cellular Chaos and Sam Garrett's orch-metal outfit Voice Coils, virtuosic pianist/composer Kelly Moran has emerged as a top freethinking electroacoustic voice in Brooklyn's experimental orb with her mangled and majestic mind-meld of black metal, classical and electronics music.
On the darkly melodious Bloodroot, the quick follow up to 2016's Optimist, Moran paints coiled, arresting and cinematic beauty from her keys, and via "prepared piano" techniques, she pokes, scrapes and plucks the piano's internal strings with a stash of contraptions, producing a beautiful noise. Envision Sonic Youth sticking screwdrivers inside a piano instead of through guitar strings.
Kelly Moran plays the record release show for Bloodroot at Joe's Pub on Saturday April 29 at 11:30 p.m., doors at 11.
Artificial Brain / Pyrrhon / Couch Slut
Luminaries of all walks of metal, including death, technical and noise meet head on in this schizoid bill as Long Island's Artificial Brain (touring in support of Infrared Horizon), Pyrrhon and Couch Slut join forces. There's a new slab of Couch Slut's noise-rock-inspired, scum-metal on the horizon (the follow up to 2014's My Life as a Woman) so stay tuned.
Artificial Brain plays its Long Island hometown with Pyrrhon on April 23 at Shakers in Oakdale, as well as Saint Vitus on May 14 with Pyrrhon, Couch Slut, and Shredded
Brandon Seabrook's Die Trommel Fatale
[youtube https://www.youtube.com/watch?v=ZOPP–uWF30&w=560&h=315]
Freak-fingered, notes-firing guitar maestro Brandon Seabrook takes his shred cues from D. Boon, Eddie Van Halen and Robert Fripp and in his own Seabrook Power Plant, Needle Driver, Tanks, SEE?, CP Unit and solo (just to name a few of his projects), he's played eviscerating conqueror of metal, jazz and prog.
It's been a few years since Sylphid Vitalizers but Seabrook is finally following that banjo terror trip with his most ambitious and gloriously bonkers work he calls Die Trommel Fatale, an ominous sprawl that features a two-drummer attack, cello, electronics, voice and upright bass.
A classical music-bent, prog-metal opera of sorts, Seabrook and his large ensemble—Marika Hughes (cello), Chuck Bettis (vocals/electronics), Eivind Opsvik (bass), and drummers Sam Ospovat and Dave Treut—have created a densely layered labyrinth that requires multiple listens to absorb its weird patterns, mind-numbing riffs, operatic wails and cymbal-less beats.
Brandon Seabrook's Die Trommel Fatale plays The Stone as part of Chuck Bettis' residency on April 26 at 9 p.m.; the record release show take place at Joe's Pub on June 8
[bandcamp width=100% height=120 album=1377018084 size=large bgcol=ffffff linkcol=0687f5 tracklist=false artwork=small]
Carrying the geeked-out and surgically-precise torch of all-instrumental mathy metal titans like Battles, Zs and Don Caballero are brainiac two-drummer, two-guitar assault crew, Happy Place.
From the deep mind of heavy-hitting, octopus-armed drummer and bandleader eclectic Will Mason, the mad professors in Happy Place spew a bottomless pit of serrated riffs and dueling beat salvos that ostensibly are never on repeat.
On last year's Northfield (and on 2015's Beams Of The Huge Night under the Will Mason Ensemble), Mason anchored its scientific and taut mind-fuckery through the lens of freaked-out contemporary classical, extreme-prog and noise-metal with nods to the slow-building symphonic dissonant histrionics of Glenn Branca.
Happy Place and Kid Millions (Oneida, Man Forever)/ Sarah Bernstein duo at Threes Brewing (333 Douglass St, Brooklyn) on Wednesday, May 3
[bandcamp width=100% height=120 album=379944147 size=large bgcol=ffffff linkcol=0687f5 tracklist=false artwork=small]
The awesomely named Reina Terror—the brainchild of demonically operatic and dreamy vocalist/keyboardist Anais Blondet with Windhorse guitarist Jon Lipscomb and Celestial Shore drummer Max Almario—are merchants of Latin prog-metal chaos.
Just like one of the titles found on its scorching 2016 debut, Reina Terror is indeed a "Peruvian Lighting Bolt." Blondet hacks up her roots with an organ-drenched tribal-metal mash of animalistic Afro-Peruvian psych-thrash over singing, bellowing and chanting in Andean dialects.
Reina Terror play Our Wicked Lady in Bushwick on Sunday, May 7
[bandcamp width=100% height=120 album=3127807810 size=large bgcol=ffffff linkcol=0687f5 tracklist=false artwork=small]
Stern, the art-metal brainchild of Chuck Stern, marries his self-proclaimed "alien pop" with the tangled, ethereal avant-goth webs spun by Kayo Dot (fittingly both bands share members).
In 2018, Stern follows up Bone Turquoise (2015) with Missive: Sister Ships, an eight-track set (featuring Toby Driver, Keith Abrams, and Tim Byrnes) he describes as "dense, volcanic, and tortured. A lot of spaghetti western and doom, and an emphasis on family/harmony."
[bandcamp width=100% height=120 album=2253472755 size=large bgcol=ffffff linkcol=0687f5 tracklist=false artwork=small]
Joining GRID and The Gate in touting members who are ensconced in the Brooklyn DIY jazz and experimental movement, monumentally heavy extreme-metal trio Bassoon features a couple of major players culled from those scene hotbeds: bassist Stuart Popejoy and guitarist Sean Moran.
Teamed with drummer John Mettam, Bassoon's blackened instru-metal doom crush and stoner metal boogie recalls Harvey Milk and Music Blues. Fitting parallels considering Bassoon's origins: Popejoy and HM/MB bassist Stephen Tanner were the band's original architects.
With Tanner long out of the picture, Popejoy, Moran and Mettam have soldiered on.
It's been a minute since the sludgy decay of its 2012 eponymous debut but good news for avant-metal seekers craving doom and gloom heaviosity: Bassoon is prepping a new LP as they hit the studio in late May/early June and on May 2, the trio will be previewing what will surely be heavier-than-hell new jams.
BASSOON with FATAL FILM, HORNS OF OMUS, HOLY GOLDEN at Gold Sounds on Tuesday, May 2