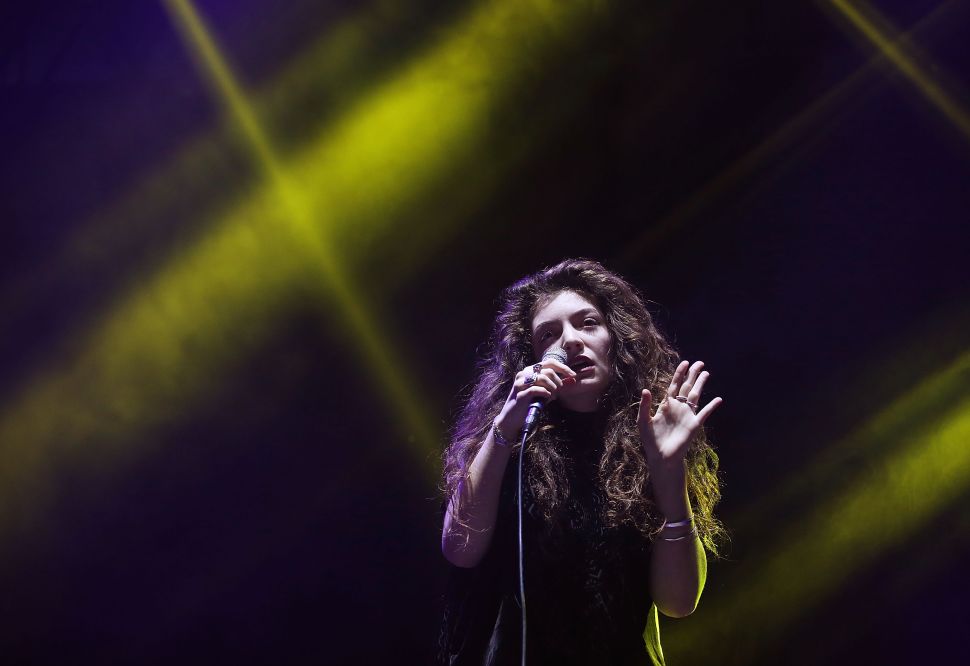 Let's be real: There are over 100 artists performing at this year's Coachella music festival, how can you possibly plan to see them all?
If you've got tickets and are already packed for the desert trip you surely already know the big acts you're going to see. So now that you've picked the highlights for each day, it's time to comb through the seemingly endless list of shitty DJ's and boring indie-rock bands, right? Wrong. We've got you covered with our own list of the 20 must-see acts at this year's Coachella.
20) Preservation Hall Jazz Band
This is the type of show you just don't see very often at most musical festivals, especially not Coachellas. For a refreshing change of pace from a weekend of popstars, DJs and indie rock, take advantage of the rare opportunity to catch this New Orleans-based, classic Jazz ensemble that's been rotating its members since the '60s. This is straight-up jazz. Head, repeat, improvise.
When they're playing: Fridays, April 14 and April 21 (3:30 p.m. – 4:20 p.m.)
19) Show Me The Body
On their website, the description reads, "Show Me The Body is an NY hardcore band." Yes, they operate out of Brooklyn and have taken over the punk scene, but aside from that it's tough to hammer home what this band is really all about. Lead singer Julian Cashwan Pratt sports a banjo and sometimes raps. Whatever you want to call it, it's certainly aggressive. If you came to Coachella to mosh, this is the act for you.
When they're playing: Sundays, April 16 and April 23 (4:15 p.m. – 4:55 p.m.)
18) Lee Reynolds
If you're going to one DJ set at Coachella, make it Lee Reynolds, the oldest DJ at the festival. A c0-founder of Desert Hearts, a Southern California festival and label, Reynolds has been at it since he moved from the U.K. to SoCal in 1988. He has a fascinating backstory, too: The man began his career in the '80s as a BMX rider. Hopefully he regales us with tales of yore between sets.
When he's playing: Sunday, April 23 (TBD)
17) The Interrupters
Punk rock isn't dead, but what about ska? L.A. punk queen Aimee Allen formed The Interrupters in 2009, and has been creating catchy punk/ska hybrid tunes ever since. Evocative of classics in both genres, their newest record Say it Out Loud is worth a listen before jumping into the pit and yelling along at this year's festival.
When they're playing: Fridays, April 14 and April 21 (7:15 p.m. – 8:00 p.m.)
16) Kehlani
https://www.youtube.com/watch?v=xDZEXDw3jbM
Singer-Songwriter Kehlani is an R&B up-and-comer who already has her fair share of successes. At 21, she has already ascended beyond teen pop groups, and gone on to do features with Chance The Rapper. Her debut album SweetSexySavage dropped earlier this year and is poppy, yet personal. For those disappointed Rihanna didn't replace Beyoncé, you'll want to make sure you check out Kehlani.
When she's playing: Sundays, April 16 and April 23 (9:05 p.m. – 9:50 p.m.)
Looking for something fun and special at Coachella? A grassroots show that will make you jump up and down, but won't leave you with scars and bruises? Shannon and the Clams is a must, if you checked either of those boxes. The indie group, fronted by Shannon (duh) Shaw, mixes garage rock with Buddy Holly doo-wop. Taking their aesthetic from the '60s, they have an immediately striking image, but Shannon and the Clams are worth hearing just as much as they are worth seeing.
When they're playing: Fridays, April 14 and April 21 (6:00 p.m. – 6:50 p.m.)
14) Skepta
Skepta shows are wild. The DJ/rapper/producer at the forefront of the London's grime scene has gone international in the past few years. And we can't deny it: there's something pure and infectious about Skepta's frenetic, anthemic energy. If that doesn't convince you, just watch the video above to see what you're in for.
When he's playing: Sundays, April 16 and April 23 (3:20 p.m. – 4:10 p.m.)
A bit of an enigma, this light show is certain to be the biggest audio-visual spectacle at Coachella. The British-born and Canadian-raised electronic musician Richie Hawtin is bringing his experimental new project to the festival. We don't know much more  about the performance aside from that it's a mix of a DJ set and a music visualizer. If you're the type to consume certain, ahem, substances before a fest, you won't want to miss this.
When he's playing: Fridays, April 14 and April 21 (8:05 p.m. – 9:05 p.m.)
12) Crystal Castles
The band that led the latest synth-pop renaissance of the past two decades has changed. Frontwoman Alice Glass left the group in 2014 to pursue solo work. Since then Edith Frances has replaced Glass. The duo, now Frances and founder Ethan Kath, haven't played many shows since their 2016 release Amnesty (I), so Coachella will be a proving ground for the new Crystal Castles. This one's worth checking out for the intrigue alone.
When they're playing: Fridays, April 14 and April 21 (6:00 p.m. – 6:50 p.m.)
11) DREAMCAR
How does an AFI/No Doubt new wave supergroup sound? It works much better than that sentence might imply. DREAMCAR is No Doubt minus Gwen Stefani, fronted by Davey Havock of punk/emo/rock band AFI. They have released two singles thus far and both kick ass. It's surprising how well Havock's eerie pitch fits the Flock of Seagulls-esque arrangement. Coachella will be the group's first performance, and there's no telling exactly how it will go. But if the music they're released so far is any indication, this could go down as one of the most surprisingly great sets of the festival.
When they're playing: Saturdays, April 15 and April 22 (7:15 p.m. – 8:00 p.m.)
10) Thundercat
Stephen Bruner, the singer and bassist known as Thundercat, has mastered the art of not staying tied down to one specific genre. While generally referred to as Jazz fusion, the soulful musician brings the funk on all his tracks. There's no telling which mix of songs you will get at a Thundercat show, but I assure you there will always be room for bass solos and freaky dance moves.
When he's playing: Saturdays, April 15 and April 22 (5:30 p.m. – 6:20 p.m.)
If you're a fan of The Strokes and The Killers, Car Seat Headrest are the rock band to see at Coachella. The stand-out indie rock group from Virginia were given more attention after last year's brilliant Teens of Denial made critical waves. Part pop-rock, part prog, Car Seat Headrest is an indie band with no qualms about writing songs in the five to 10-minute range, full of expansive melodies and time changes. There really isn't anything quite like them.
When they're playing: Saturdays, April 15 and April 22 (4:15 p.m. – 5:05 p.m.)
8) King Gizzard and the Lizard Wizard
Certainly the strangest band on this list, King Gizzard and the Lizard Wizard are pure psychedelia. Trippy and ambitious the Australian rock band just announced their second record release of the year, following February's Flying Microtonal Banana. Go to this set and you're certain to hear plenty that sounds like Magical Mystery Tour, but plenty of new and innovative techniques as well.
When they're playing: Fridays, April 14 and April 21 (4:10 p.m. – 5:00 p.m.)
7) D.R.A.M.
Rap wunderkind D.R.A.M. broke out in 2015 with "Cha Cha" and went on to create one of 2016s catchiest tunes in "Broccoli." Beneath the rolling verses and auto-tuned hooks, what D.R.A.M. truly brings to the table is his attitude. Like Chance the Rapper, D.R.A.M. isn't concerned with being hard. He shares music for the joy of music. Accompanied by a beautiful voice and strong songwriting, D.R.A.M. wins the award for most infectious smile at Coachella.
When he's playing: Fridays, April 14 and April 21 ( 12:10 a.m.)
Looking for the next rapper-turned-actor phenomenon ala Donald Glover? Well, here's Riz Ahmed for you, already a Star Wars star, rapping about TSA discrimination in Swet Shop Boys. Ahmed, alongside rapper Heems, brings his Pakistani roots to the underground rap scene with style and a sense of humor. This is not just a chance to see a celebrity's side project—Swet Shop Boys stand apart as a singular hip-hop group in their own right.
When they're playing: Saturdays, April 15 and April 22 (1:00 p.m. – 1:40 p.m.)
5) Lorde
Based on "Green Light" Melodrama is going to be an intense experience. I'm not a huge pop fan, but Pure Heroine was a great album and I count myself on Lorde's team at this point. The New Zealander is not even 21 yet and knows how to give a rich, emotionally charged performance. If that's what she can do on SNL, who even knows what Coachella will look like.
When she's playing: Sundays, April 16 and April 23 (8:45 p.m. – 9:40 p.m.)
4) Sampha 
The British singer-songwriter is known for featuring on tracks with Drake and Kanye, but Sampha is an incredible solo act. The man has a heavenly voice and his discography ranges from etherial pop to nostalgic ballads like "No One Knows Me Like the Piano." This may not be the most high-energy show at Coachella, but it's sure to be a tearjerker.
When he's playing: Fridays, April 14 and April 21 (4:20 p.m. – 5:05 p.m.)
https://www.youtube.com/watch?v=JuHdHARdcmg
Of the three capital H headliners, Kendrick is the one to stay for. With a new album dropping this week, anyone (and everyone) at this show will hear a great deal of new music. There isn't much more I can say about one of the most outspoken and well-regarded rappers alive.
When he's playing: Sundays, April 16 and April 23 ( 10: 25 p.m.)
2) Bon Iver
Ugh. I'm jealous about this one. If you are going to Coachella and don't see Bon Iver, you are making a huge mistake. 22, A Million is a bizarre masterpiece, one whose cacophony must only be heightened by seeing it performed in person. Bon Iver's music is some of the most complex, layered pop that exists and it would be a shame to pass up the opportunity to see how that sausage is made.
When he's playing: Saturdays, April 15 and April 22 (9:00 p.m. – 10:00 p.m.)
1) Hanz Zimmer
You will never be able to get up close and personal to a Hanz Zimmer concert the way you will at Coachella. Those tickets run for a face value of hundreds of dollars, the price of an entire weekend at the festival. The legendary film composer is known for bringing together huge orchestral and choral arrangements of his most popular selections. Even if you aren't a fan of classical music, Zimmer has most certainly composed on of your favorite movies. An experience of this scope is unheard of at a festival like Coachella and is utterly unmissable.
When he's playing: Sundays, April 16 and April 23 (7:55 p.m. – 9:00 p.m.)