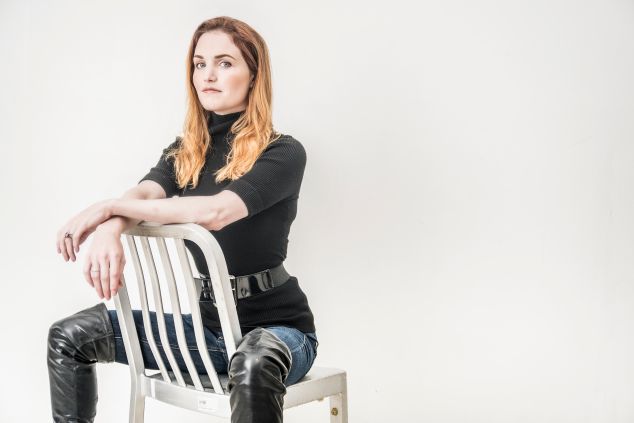 There's something special about Jenny Nordbak. She's a petite redhead who exudes the charm and confidence of a polite receptionist—her day job at a children's hospital, by the way, while she worked as a dominatrix. It takes a minute to register that this seemingly innocent woman once secretly cracked whips at a Hollywood dungeon, under the name Mistress Scarlett. Now, happily married and mother to an adorable baby boy, she is revealing all about her time serving below stairs in the sex trade in her new book Scarlett Letters: My Secret Year of Men in an LA Dungeon.
Thigh high, black pleather boots are the only visible hints of Nordbak's wild side. Fresh faced and a natural beauty without an ounce of makeup, she was full of energy despite having just flown in on a delayed red eye from California. Her eyes had a hint of mischief, the good kind. You can tell she can keep a secret, and didn't budge when asked if she would consider revealing her list of client superstars. With a firm, but sweet "no," I caught a glimpse of Nordbak's alter ego, Mistress Scarlett.
Just out of an unfulfilling relationship, and wanting to explore a more wild side of herself, Nordbak began her journey through the intriguing underworld of dungeons by responding to an ad in a paper. No experience was required and as Mistress Scarlett, she found an element of fun in the job that started out as an experiment. She found herself to be a natural at doling out orders to her submissive admirers. As tight-lipped as the ex-dominatrix remains about the identities of the prestigious clientele she once tortured, she was more than open about what a lot of the men wanted who paid her a visit. The dungeon had been in business for over 20 years. Nordbak never noticed anything out of the ordinary. No shady characters or mobsters, no police raids. The only handcuffs involved were the ones that clients begged for.
The most popular fetish? Feet. "It's amazing how many men just want to worship a woman's foot but can't tell their partner," she confessed. Ranging from men wanting to massage, smell, or touch a dominatrix's dirty foot. Nordbak discussed more of the unusual thrills turned on her male clients.
"I saw a lot of men who were interested in seeing what they weren't used to…when they were being completely honest, they weren't looking for a woman with a perfect body. They wanted curves. They were into more visceral things you wouldn't expect someone to be attracted to, down to stinky armpits." Many "fetishes," revealed Nordbak, are just the simple things that make a man's perfect woman seem closer to reality and very human.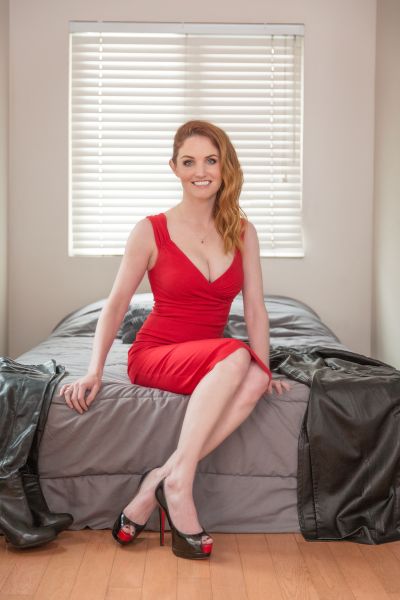 Nordbak's most famous client had a fetish for being spanked and adored a piercing he had in a very intimate area. Most surprising? The superstar also craved a very specific type of penetration procedure that would make most gentlemen squirm. He brought in his personal collection of urethral rods in different widths for insertion. The A-lister couldn't get enough of it.
How far did the fantasies really go? Nordbak says that Fifty Shades of Grey barely scratches the surface. Her new memoir, The Scarlett Letters, gets down to grit and reality of what it's really like to work in a secluded and secret community.
With strict rules of no sex in the dungeon and absolutely no removal of panties, inappropriate behavior from clients was not tolerated. As Mistress Scarlett, the new author had the talent to not only dominate, but to play the role of the submissive. Capable of this double duty, she was known as a switch. The longer she stayed in the business though, the more possible the chances that her secret life would bleed into her real one. Once she encountered a former client who she did not like personally attending a meeting at the children's hospital where she worked. They both kept their cool, despite the intense awkwardness.
The incident was the first step in the excitement beginning to wear off. "If I went out with friends and a guy was rude to me, I thought it was perfectly O.K. for me to kick them in the balls! That's not normal."
As with any job, Nordbak explained, she just began to tire of her routine. "Spanking, bondage and yelling stopped being thrilling." Then she experienced something of a revelation in The Black Rock Desert in Nevada at the legendary Burning Man festival. She was with a group of like-minded, wild sexual friends, and her boyfriend at the time when Nordbak realized that she had become the fully experienced sexual woman she had always wanted to be.
"There was nothing left to explore. The thought of any more S & M adventures just didn't hold the same excitement. It felt hollow and empty." She exited her role as Mistress Scarlett quietly, not telling even her best clients, as she went back to her day job and put her focus there. A few months after, Nordbak began dating the man who is now her husband. They had been working together for a while, she just hadn't noticed him before. She originally thought of him as extremely "vanilla"—sex-worker lingo for sexually bland and a bit dull but clearly the spark between them fueled a fire. "My husband knows about my past, and he didn't bat an eye. He is my everything," said Nordbak, smiling.
When asked if she ever plans to return to the dungeon, she doesn't hesitate in saying no.
"I've tried everything I've ever wanted to sexually." Nordbak has no black book of clients to sort through, she keeps in touch with some of the women she once worked with, but rarely will encounter a client. She seems happy in her role of mother, wife and writer. When she sees her former megastar client on television, of course she has a laugh about it with her husband.
For this woman, her personal experience working in the dungeon was nothing but positive and empowering.
"I feel like a lot of memoirs about women in the sex industry are based on addiction to drugs and alcohol, and the road back to recovery. Not all stories go that way." I asked if she would be comfortable allowing a daughter to step into the same role she once held? Nordbak paused. "No one has asked me that…I would be open to her considering it. I would want her to know what to expect, since it's something I did myself."
For now she has her hands full with her husband and son and being able to share a part of her life that she kept secret for so long. After being terrified about telling her family, she found that her mother's reaction wasn't what she expected, Mom was more intrigued than concerned when Nordbak confessed about her scandalous occupation. "It feels amazing to be liberated and free, it's not a secret anymore. Everyone knows."
The Scarlett Letters: My Secret Year of Men in an LA Dungeon from St. Martin's Press/Macmillan.