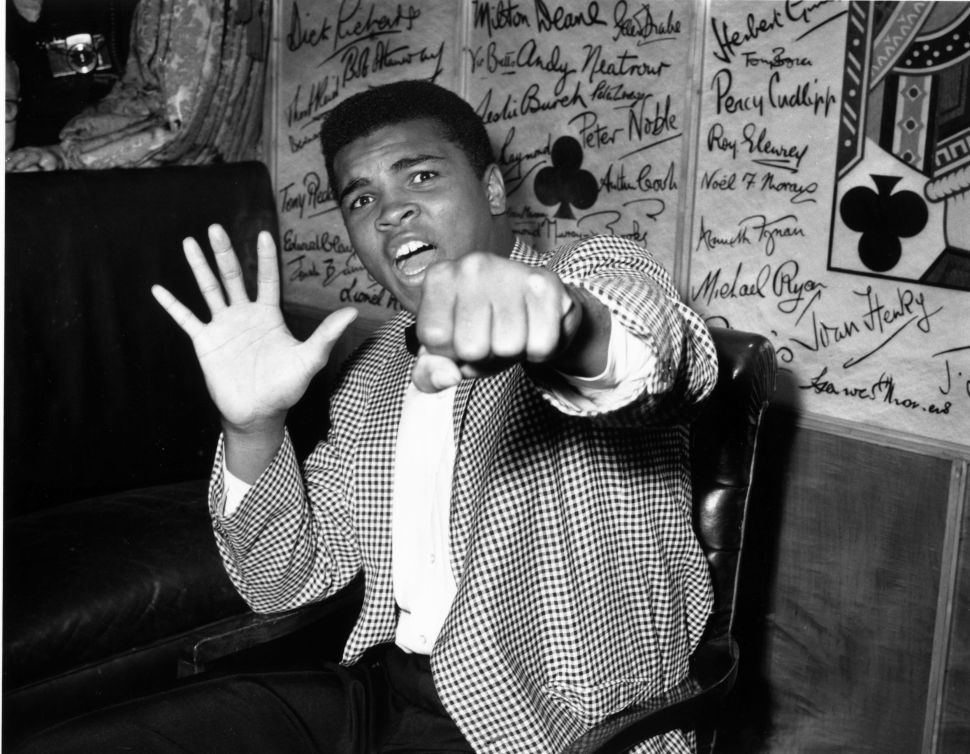 In the fuzzy, old color news film, the image of Dr. Martin Luther King Jr. is a bit faded, but the voices are clear.
A reporter off-camera asks Dr. King about heavyweight champion boxer Cassius Clay, who refused to join the United States Army when drafted during the Vietnam War.
"He's doing what he's doing on the basis of conscience," Dr. King says. "He's absolutely sincere. I will strongly endorse his actions."
In another clip from the same ABC newscast, Muhammad Ali—no longer "Cassius Clay"—says he is a conscientious objector to war because he is a minister of the Nation of Islam.
In words that resonated differently on April 28, 1967, than they do today, Ali speaks of Allah, infidels and the Koran as reporters explore the "Black Muslims" he represents.
"No, I will not go 10,000 miles from here to help murder and kill another poor people simply to continue the domination of white slave masters over the darker people of the Earth," Ali says. "The real enemies of my people are right here—not in Vietnam."
Today is the 50th anniversary of Ali's refusal to serve. Immediately, he was stripped of his championship title and suspended by boxing authorities.
Ali was 25 years old then and would miss more than three years in the prime of his career. Less than a year later, Dr. King would be murdered. It was an angry, violent time with Ali a major player, blending race, religion, sports and politics.
"Man, I ain't got no quarrel with them Viet Cong," Ali said. "No Viet Cong ever called 'Nigger.' "
If your idea of a politicized athlete is NFL quarterback Colin Kaepernick refusing to stand for the national anthem, consider what occurred after Ali took his stand.
Five weeks later in Cleveland, an extraordinary group of black athletes gathered alongside Ali in support.
They included the pro football player Jim Brown, the pro basketball player Bill Russell and the college basketball star Lew Alcindor, later known as Kareem Abdul-Jabbar.
"At a time when blacks who spoke up about injustice were labeled uppity and often arrested under one pretext or another, Muhammad willingly sacrificed the best years of his career to stand tall and fight for what he believed was right," Abdul-Jabbar said last year on Facebook following Ali's death. "In doing so, he made all Americans—black and white—stand taller. I may be [7-foot-2], but I never felt taller than when standing in his shadow."
Ali's defiance inspired other black athletes. A year later, the American Olympic track medalists Tommie Smith and John Carlos thrust black-gloved fists upward in a Black Power gesture during the playing of "The Star-Spangled Banner" in Mexico City.
The Ali-draft issue was but one wave in a tsunami of cultural change in 1967. Just weeks after Ali took his stand against the draft, the Supreme Court legalized interracial marriage in Loving v. Virginia and the Beatles released Sgt. Pepper's Lonely Hearts Club Band. Among those on the album cover was Sonny Liston, Ali's predecessor as champion.
In the months that followed, the Summer of Love took root in San Francisco, and 43 people died in a race-based riot in Detroit. The popular film In the Heat of the Night showed the young, black actor Sidney Poitier slapping the face of an old, white racist.
When Ali refused to step forward, the oldest baby boomers were 21 years old. The youngest had just learned to walk and talk while their older siblings learned to march and chant against the war.
Ali gave some men of draft age the courage to protest and to seek deferments as conscientious objectors. Now, those same boomers are over 50 and aghast at how time flies.
When Ali died last year, he was sincerely mourned as a dynamic and popular champion, a folk hero and a representative of interracial harmony. But the tone was far different after he refused the draft in Houston.
One who spoke up was Jackie Robinson, the retired baseball player and iconic American hero who had integrated Major League Baseball only 20 years before.
Robinson criticized Ali.
"He's hurting, I think, the morale of a lot of young Negro soldiers over in Vietnam," Robinson said. "And the tragedy, to me, is Cassius has made millions of dollars off of the American public, and now he's not willing to show his appreciation."
And that was from what was then called the "Negro" community. Some whites were much harsher. An editorial in Sports Illustrated said, "Without his gloves on, Ali is just another demagogue and an apologist for his so-called religion, and his views on Vietnam don't deserve rebuttal."
His trial revealed Ali's voice recorded on FBI wiretaps of Dr. King and Elijah Muhammad, who led the Nation of Islam from Chicago. After Ali was convicted of draft evasion and sentenced to five years in prison, he was denounced by David Susskind, an American television personality.
"He's a disgrace to his country, his race and what he laughingly describes as his profession," Susskind said. "He is a convicted felon…He is out on bail. He will inevitably go to prison, as well he should. He is a simplistic fool and a pawn."
Susskind was wrong. As the American public turned against the war, Ali got his license back and returned to the ring in 1970. His conviction in Clay v. the United States was overturned by the Supreme Court in 1971. He won back the title in 1974, a year after the draft was abolished.
The war ended, the boomers aged, and Ali grew feeble in his later years. In one lifetime—beyond his athletic prowess—his persona had morphed from poetry-spouting jokester to controversial "black militant" to beloved grandfather figure of American sports.
And, finally, a word across generational lines. Millennials must forgive their baby boomer ancestors for wallowing in half-century milestones like the anniversary of Ali versus the draft.
We are approaching multiple anniversaries of events that shaped a generational consciousness that endures today. Soon will come the 50th anniversary of Robert Kennedy's assassination followed by those of the first moon landing and Woodstock and Kent State and Richard Nixon's resignation as president.
I once asked a colleague at a newspaper if we wrote too much about the past.
"You can never write too much about the past," he said. "A lot of people live there."
Joe Lapointe spent 20 years as a sports reporter for The New York Times and worked as a segment producer for Countdown With Keith Olbermann. Recently, he has taught journalism at New York University, Rutgers and Long Island University-Brooklyn. Follow him on twitter: @joelapointe