Bobby Conte Thornton has only been involved with A Bronx Tale: The Musical for about a year and a half, but he's had the story in his bones since he was 10 years old.
"Every Italian American has seen that film at some point," the 24-year-old California native told the Observer, referring to the 1993 movie of the same name.
The story of Calogero, a young man coming of age in 1960s New York City who's torn between the father he loves and the gangster he'd love to be, has certainly shown remarkable staying power. Actor Chazz Palminteri first performed A Bronx Tale as a one-man show in 1989 and wrote the screenplay for the film version (he also played Lorenzo, Calogero's father) before writing the book of the hit Broadway musical, which is playing at the Longacre Theatre.
Thornton found that Calogero's story stayed with him as well, even after he didn't get the role in the show's out-of-town tryout at the Paper Mill Playhouse in Milburn, N.J., in early 2016. He kept exploring and engaging with the material, which worked to his advantage when it turned out actor Jason Gotay couldn't follow the Paper Mill cast to Broadway. Thornton got a second chance at Calogero—on the Great White Way no less.
"The role hadn't left me at all," he said. "It was actually far more ingrained in my body and soul."
Given that Palminteri based A Bronx Tale on his own life story, Thornton thought he might be reticent to let another actor make it his own.
"I can't imagine what it must be like to watch someone else play you nightly," Thornton said.
It turned out the opposite was true, however—Palminteri actually brought Thornton to the Bronx and had him sit on his childhood stoop.
"It gave me a tangible awareness of what I'm singing about every night," Thornton said, before (perhaps inadvertently) quoting the Broadway hit Hamilton. "Chazz wrote himself out of his situation, and working with him has been the most graceful process. It's a mentorship and relationship for life."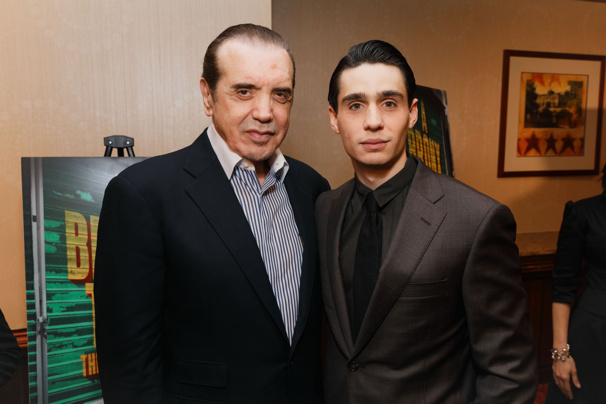 Palminteri feels the same way.
"Bobby has an edge, but inside he is a gentle soul," he said in an email. "That is a hard quality to find in an actor. When we walked through the neighborhood, the gleam in his eyes said it all. He was the perfect Calogero."
The creative firepower doesn't end there, however: Two-time Oscar winner Robert De Niro, who played Sonny the mobster in the Bronx Tale movie and also directed it, has taken the reins once again on the musical, co-directing with four-time Tony winner Jerry Zaks.
Thornton said that while De Niro has a reputation for being intimidating, he was actually incredibly helpful, especially with the details of daily life in a devout Catholic community like the Bronx. He made sure every actor wore some religious article to make this world more tangible for them—in Thornton's case, it was a necklace engraved with a picture of St. Michael the Archangel.
De Niro also helped Thornton with Calogero's physicality—the character's father is an amateur boxer, and De Niro wanted it to look like he had taught his son a few moves.
"When Raging Bull is giving you boxing lessons, that definitely informs how you move on stage," Thornton said, laughing.
Zaks, on the other hand, had directed A Bronx Tale as a one-man show and so helped balance these intimate moments with musical comedy. This is particularly important because Calogero narrates the show, so he's onstage even when the action is focused on another character.
"Jerry helped me find humor even when there's crap going down," Thornton said. "I had to balance where the narration sits between the songs."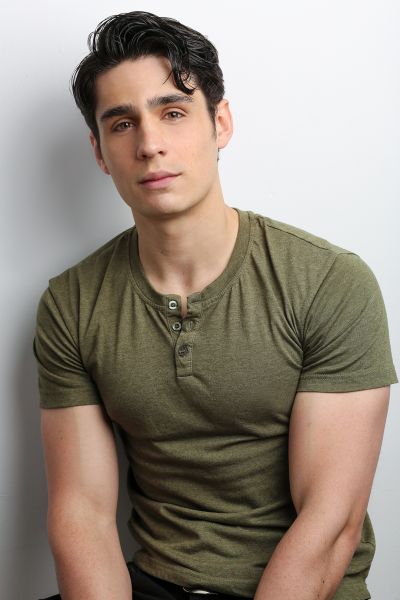 Those doo-wop-inflected songs, by the way, were composed by eight-time Oscar winner Alan Menken with lyrics by three-time Tony nominee Glenn Slater. Thornton had two more A-listers who could help him find his voice.
"I'm an old soul who grew up loving Frank Sinatra and Dean Martin," Thornton said. "That structure is in the show but with a contemporary musical theater flair. There's both intimacy and profound gravitas."
That gravitas comes in handy in act two, when Calogero's romance with a black girl named Jane leads to threats of violence against both of them. In a moment of passion, Calogero even calls Jane's brother a "nigger"—but, in a change from earlier versions of the story, he eventually apologizes.
"It's incredibly cathartic to play a character who's aware that he screwed up," Thornton said.
One group agrees that Thornton did not screw it up: Bronx residents. "They always say we got it right," he said.
And even though he took a roundabout journey to Broadway, Thornton conceded that this is the right time for him to be telling this story with this creative team.
"They hired a 24-year-old no-name actor to lead their Broadway show and spread this joyous, powerful message," Thornton said. "It's so out of control."