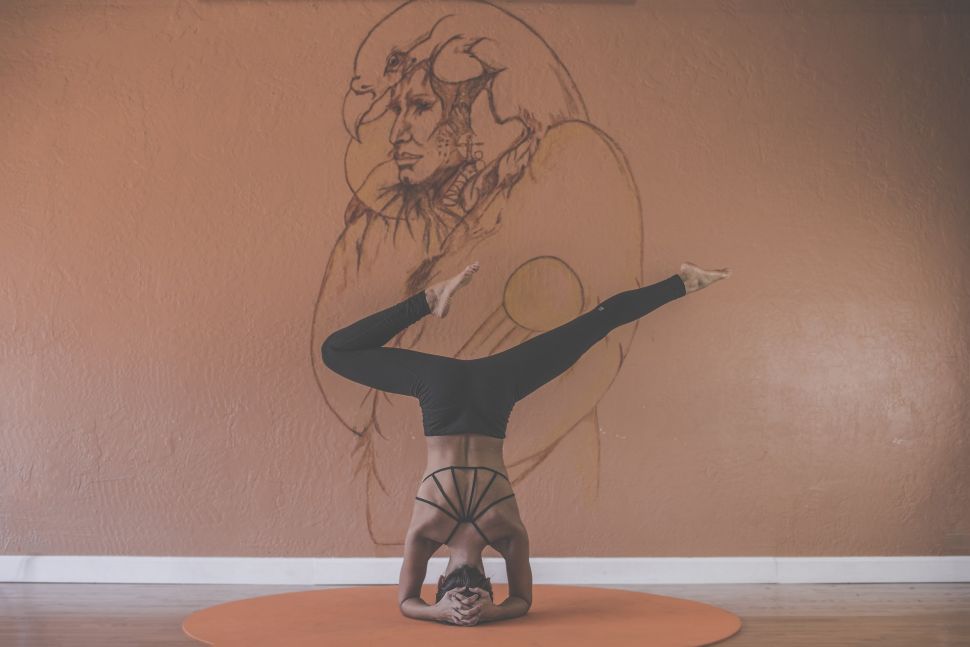 With wellness and travel thriving, it's refreshing to see that airports are catching on to the trend. Now found in over nine airports worldwide, you can down dog, meditate, or just find a quiet space to clear your mind in the dedicated yoga spaces before you fly.
While the words "stress" and "airports" go together like "avocado" and "toast," are airport yoga rooms the answer to stress-free air travel?
"I think having a space to unwind and move is incredibly useful for layovers or times where you just don't want to be stuck at your gate," shares Detroit-based yoga instructor Bre Nourse. "I have been loving some of the airports that offer outdoor space after going through security, which I found great during a layover."
Frequent travelers know all too well that layovers and delayed flights can lead to long, wasted hours of sitting and waiting that add to already high stress levels. With such little time in our lives for exercise, making the best use of one's time in these spaces can be beneficial when combined with stress-relieving tools such as yoga and mediation.
Yoga for Athletes Instructor Amanda Mestre agrees: "More and more people are practicing yoga and using it as a tool to unwind, get centered and reduce stress. Knowing there is a yoga room at an airport can help people feel more comfortable practicing or meditating and use their downtime wisely while reducing stress and feeling better."
The idea to explore this topic was inspired by a recent trip to Spain leaving out of Miami International Airport, about 20 minutes away from where I live in Miami Beach. As someone who typically just busts out their yoga mat at the gate, rolling it on to the carpet, or sans-mat begins a flow anywhere my body is asking for it, I was excited to hear MIA had adopted this evolving trend.
I was pleasantly surprised by the size of the room, the decor (featuring opposing walls of faux bamboo greenery wallpaper, one wall as a full length mirror, and the fourth a canvas divider wall), and the props available for public use, which included a yoga mat and a block in the corner. "I normally take my travel mat with me [but really] I just need lights that dim and a quiet room," says Mestre.
Props are nice to have but not a make-or-break variable. But does the location of the Yoga Room in the airport make a difference?
International yoga instructor Rene Martin says, "Anywhere indoors I think is great…and noise-free." A very good point, given that airports are notoriously noisy. Nourse adds, "Having access in the terminal your flight is in would be preferred, as there often isn't time to get between terminals on connecting flights."
I second that. Something I found interesting in the Miami International Airport Yoga Room was its location outside of the TSA check-in in the far off, distant cousin Terminal H. It was not an easy haul from my American Airlines terminal. Perhaps, however, I'm getting a bit picky, and the principle that something is better than nothing applies here.
The pioneer was San Francisco International Airport, which opened up a dedicated yoga space in 2012. Similar to O'Hare, Burlington and Miami Airport, there is an enclosed room for noise reduction and privacy while practicing. Dallas-Fort Worth's stretching space is more of a public area secluded by dividers and plants (creative, nonetheless). Heathrow and Hong Kong have exclusive lounges with yoga and spa privileges for their elite members and those willing to pay an entrance fee. It may be worth it, depending on how long your layover is.
But say you're not a yoga teacher, or practicing on your own is completely strange to you. How can you take advantage of some time to stretch, de-stress and unwind? Three suggestions come to top of this yoga teacher's mind:
Download a reliable app (which is great for meditation). Check out Insight Timer and Aura.
There are unlimited amounts of yoga videos you can watch from your phone—all for free. Here's my personal YouTube channel, which has many different offerings for yoga and travel related practices.
Do your own thing! Who care's if it's not even yoga. Just move your body and breathe. You'll instantly feel better, regardless of the flow. The best part? You're at the airport, and you'll probably never see these people again anyway!
There are nine airports now offering a designated space for yoga within their airports, including:
San Francisco International Airport (SFO)
Dallas/Fort Worth International Airport (DFW)
Chicago O'Hare International Airport and Midway Airport (CHI)
Burlington Airport (BTV)
London Gatwick Airport (LGW)
London Heathrow (LHR)
Hong Kong (HKG)
Helsinki Airport and Jet Blue at JFK Airport (HEL)
Miami International Airport (MIA)
As a 13-year cancer survivor, Sara fell in love with yoga for its self-healing properties and has been practicing yoga since 2008. Graduating with honors and a BFA in Boston and succeeding as an Art Director and design professional, she left the corporate world in 2013 to commit to educating others about the benefits of wellness and traveling.