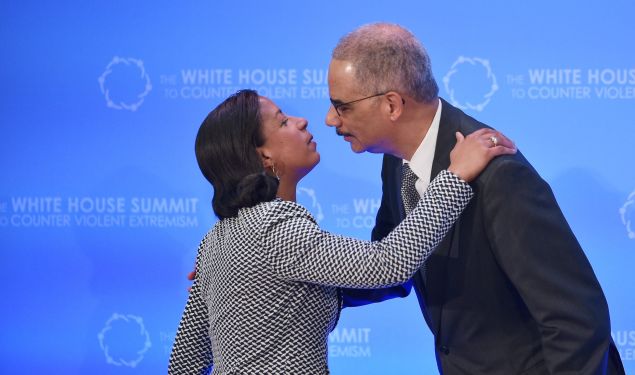 Rev. Al Sharpton claimed this weekend that former National Security Advisor Susan Rice is just the latest victim of a Republican campaign of calumny against influential African-American females—an effort the black activist argued has already targeted California Congressman Maxine Waters and journalist April Ryan.
Reports arose last week that Rice—who served under ex-President Barack Obama—requested the names of Americans citizens caught discussing President Donald Trump on surveillance recordings with Russian government agents prior to the inauguration in January. GOP Sen. Rand Paul of Kentucky and Sen. Tom Cotton of Arkansas have pointed to as proof the former White House aide was behind recent leaks to the media about Trump advisors and associates who had contact with Kremlin officials, while South Carolina Sen. Lindsey Graham and North Carolina Sen. Richard Burr have called for an investigation.
Rice has denied these insinuations and assertions, and Sharpton declared during his weekly rally on Saturday that the allegations are part of a pattern of conservative attacks on black women.
"Same time we saw that they want to jump on Susan Rice. Now, how many black women are ya'll gonna try to demonize?" Sharpton told an applauding crowd at the Harlem headquarters of his National Action Network. "We are not going to stand by this litany of our women being the target practice."
The controversial civil rights leader tied the scrutiny on Rice to a February confrontation at the White House between Trump advisor Omarosa Manigault and Ryan, a correspondent for American Urban Radio Networks—both of them African-American women. He also linked these incidents to Fox News host Bill O'Reilly's mocking of Waters, the California congresswoman, for her "James Brown wig."
"You start by this fighting with Omarosa and April Ryan. Then you go from that to you going to jump all over Maxine Waters. Now this week it's Susan Rice," Sharpton said.
Sharpton revealed that National Action Network personnel would join Public Advocate Letitia James at a protest Wednesday evening outside Fox News headquarters. Demonstrators will call for O'Reilly's firing amid mounting allegations of racial discrimination and sexual harassment against the television and radio personality.