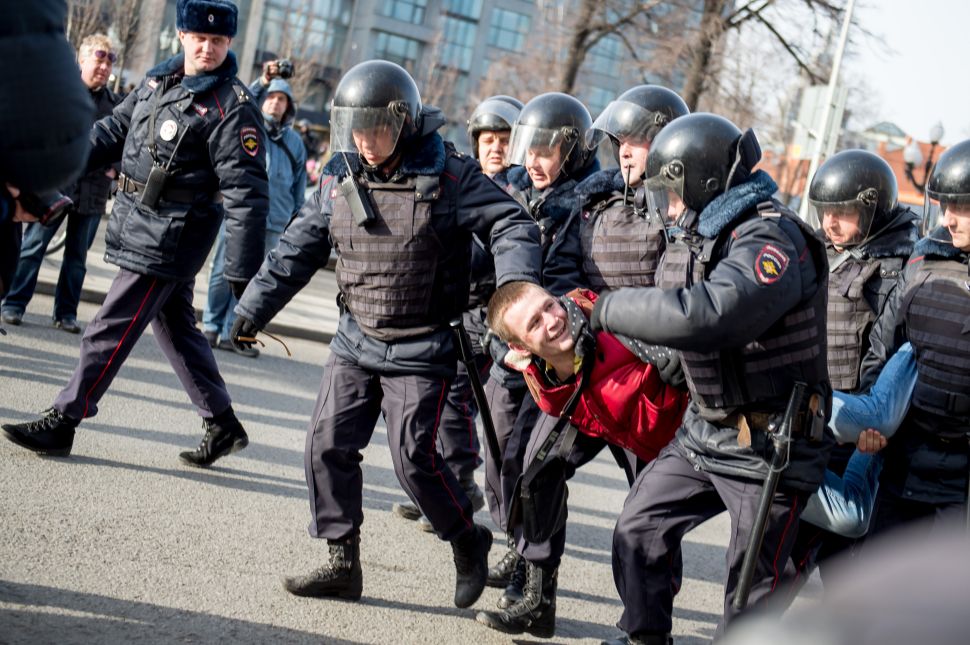 After 15 days in prison, 40-year-old Russian opposition icon Alexei Navalny was set free last Monday. Upon his release, a prison official took him to the nearest subway station and paid for his ride.
Navalny later admitted that, during his first moments of freedom, he felt like a bum—without money or a cell phone.
Little did he know, being whisked out of prison in a police car, that he was about to be greeted by a less-than friendly crowd of supporters.
Schoolboys held placards that read "Where is the dough, Alexei?", "When will we receive our 10,000 Euros?" and even "You promised—you cheated!"
It was not immediately clear that these were Vladimir Putin's young stooges there to embarrass the anti-corruption activist.
On March 26, mass rallies organized by Navalny's Anti-Corruption Fund rolled over Russia. Political observers paid attention to the fact that, for the first time in the rich history of Russian protests, the messages and paraphernalia used to gather demonstrators had been directed toward very young potential participants.
Organizer calls to bring a yellow rubber ducky to the rally as the symbol of one's personal belonging to the anti-corruption campaign—or to bring used sneakers to decorate wires and trees—were interpreted as openly targeting a new group of anti-Kremlin protesters: Russian teenagers.
Moscow authorities denied the organizers permission to conduct their anti-corruption rally in the heart of Moscow, offering two other sites instead. But, in a show of defiance, Navalny's unsatisfied followers had a mass "people's stroll" in the center of the city.
This was, of course, done with the yellow rubber ducky above their heads, and sneakers were left hanging from lamp posts around town.
According to an official police count, 8,000 people flooded the streets of central Moscow. Organizers claim there were between 25,000 and 30,000 protesters across the Russian capital. It was the biggest gathering of the opposition since the famous protests of 2011 and the opposition claimed that the number of people protesting throughout Russia approached 100,000 people.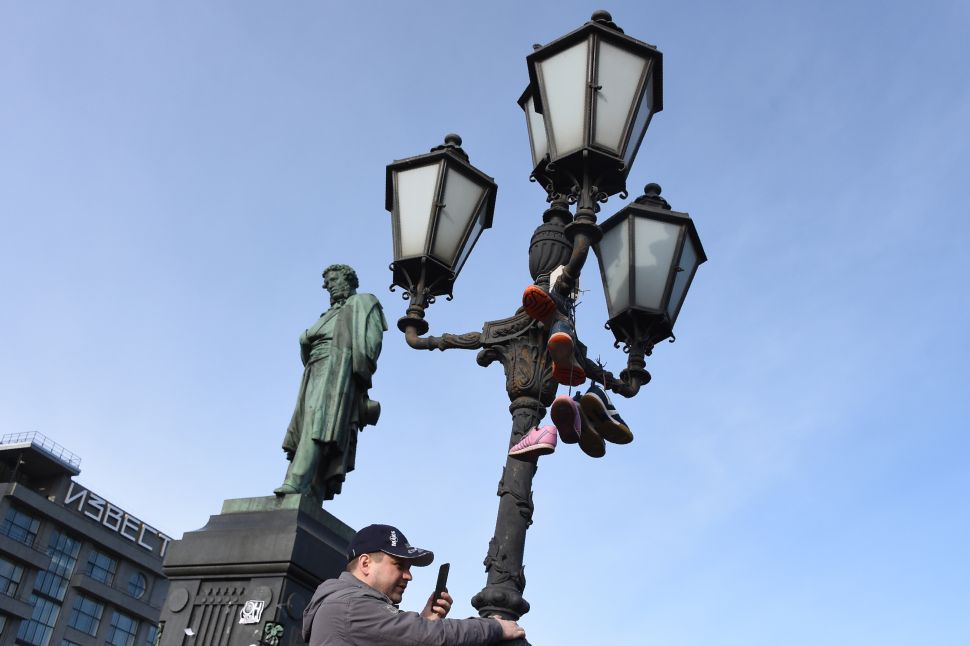 There were a lot of very young faces in the crowd this time. About 20 percent of participants were under 18 years old—meaning that if the opposition's numbers are correct, 20,000 protesters were middle- and high-schoolers, and at least half of them were 16 or under.
A 12 year-old fifth-grader from the Siberian city of Tomsk took to a soap box and was allowed to speak to the crowd of protesters. He quickly became an unwanted, ironic star and comic face of teenagers driven into the anti-corruption movement by Navalny's appeals.
"Good day, my name is Gleb Tokmakov, and I am a fifth-grader," he introduced himself.
("Go, Gleb, go!" roared the sympathizing crowd.)
"Almost everybody [before me] are people who fight corruption, people who have to do with newspapers, people who study at the institutes, at the universities—but I, generally speaking, want to put forward a proposition. One who criticizes should offer [something as well]. Somebody here said that 'Power to the millions, not to the millionaires.' Yes, that's the right slogan; I agree with it."
("Yes, yes!" the crowd cheered.)
"But, in a huge country, power to the people is not possible," the boy continued. "Everyone wants something for himself. It is not important who is in power—Navalny, Putin…" 
(Shouts from within the crowd, "It is important!")
"No, it is not important," the fifth-grader stubbornly disagreed. "What is important is to change the system of power itself, the educational system, the health care system. I am a schoolboy, and I am puzzled about why school is so politicized. For not drawing some picture about our authorities they can give you an F-mark! This should not be! At the top of the power there are corrupt officials (loud applauds). The Constitution must work for us—not for them. Why is it that in our country the Constitution is against criminal code, against legal code. The Constitution must be changed together with criminal code. That's all [I have to say]."
("What a boy!" loud round of applaud by the crowd.)
The boy's father, Sergei Tokmakov, did not approve of his son's speech—or that he attended the anti-corruption rally in the first place. According to Mr. Tokmakov, his son watches YouTube all the time, and this is how he found out about the rally. He is not an A-student, the father admitted, and he does not like to read books. He does not know a lot about politics, although he looks advanced in comparison to his peers. But he loves public speaking, that's true.
"Gleb dragged himself there [to the rally] only because I had to go to work that day," the boy's father said in the interview with Moskovsky Komsomoletz newspaper. "I knew that he was going to go to the rally, but all my admonishments to leave this idea did not work. The only way to stop him was to tie him up. But I did not want to use such a method. As a result, he ran to the rally after a scandal."
The boy's laments about the "politicization" of the art assignment in his school was simple, the father said. The boy did not want to draw a picture on the theme of WWII, refused to fulfill it, and got the F-mark.
Despite supporting his anti-corruption drive, many in Russia—like prominent filmmaker and Oscar winner Nikita Mikhalkov—find the techniques Navalny used to attract schoolchildren to his (unsanctioned) rallies to be questionable at best.
Some say that, in appealing to young and inexperienced children, Navalny has crossed a line and will find himself in a self-made trap that will be used by his Kremlin foes to its full extent.
Critics say Navalny skillfully hinted to young participants that there is money to be made at his rallies.
On March 22, Navalny tweeted: "Some will say what if I am detained? And my answer is: if you are detained, you will make money. You know that all [cases of] my detentions I took to the ECHR [European Court for Human Rights]. And now the [Russian] Government pays me a lot of money… You are a human being and have the right to stay at the street peacefully. What is the problem?"
He then posted a video on YouTube, in which he said: "To everyone. If the policemen will be so careless that they will detain you on March 26, I promise to receive for you through court procedures 10,000 euros. And I can promise that for everybody—for everybody who will be unlawfully detained all over Russia for our meetings on March 26 and against whom the charges will be brought by the courts—I will file a complaint to the European Court—even if there will be hundreds, even thousands of such people. And I promise that we will win every case of the complaints and everyone will receive compensation."
Nikita Mikhalkov believes Navalny consciously used deceptive techniques to attract inexperienced teenagers to his rallies, tacitly promising them money for participation.
In the TV program he hosts, Mikhalkov presented a video filmed inside a police bus in which a detained boy, who looked no more than 15 years-old, explained with happy enthusiasm his reasons for being inside the police bus on his way to the detention center: "Navalny will support us, he writes that everyone will get 10,000 Euros. So everything is cool, because they give you always 10,000 Euros—the European Court for Human Rights always makes a decision to give 10,000 Euros for unlawful detention, and the Anti-Corruption Fund promised, to everyone who will be detained today, to defend them [in court] and to file claims to ECHR. So, it's cool."
"10,000 Euros each?" a suspicious—and older—voice asked the boy on the video.
"Yes! You can start planning what you are going to spend [the money] on," the boy confirmed.
http://www.youtube.com/watch?v=mqZTFNGqMq0
Dmitry Peskov, Putin's press secretary, qualified the police acts during the protests as "absolutely highly professional." He added that "the Investigative Committee of the Russian Federation has operative information about the offers of monetary compensations in case of their detention during not-sanctioned mass action on March 26 not only to adolescents but to the other participants of the action."
"Where is the dough, Alexei?" pro-Kremlin propagandists caustically asked Navalny on pro-Kremlin media. "There will be no dough—because the protests were unlawful."
Across Russia, between 600 and 700 people were detained by police during the anti-corruption rallies organized by Navalny on March 26. According to estimates of Life.ru media site, he now "owes" the detained protesters some 433.5 million rubles, or $7.6 million.
The exact number of teenagers that were detained is unknown.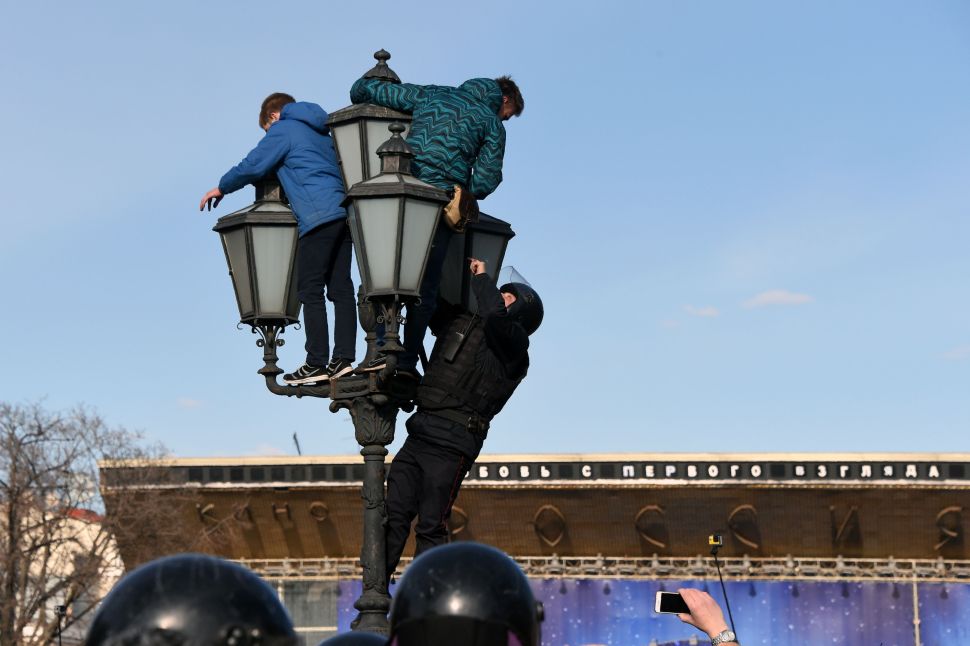 Following his release from prison on Monday, an unbroken Navalny went directly to Facebook. He promised a new wave of anti-corruption rallies for Russia in the near future. He did not mention the picketing youths with posters asking "When will we receive our 10,000 Euros, Alexei?"
"Super," he wrote to his supporters, "you are beautiful and beautiful."
To those arrested, he just said "thank you."
This time, there was no mention of money to be rewarded by the European Court for Human Rights for those "hundreds unlawfully detained"—be they adolescents or adults.
Playing to the naïveté of young participants is not a serious long-term strategy for Navalny, his critics warn. Temporary gains, measured in increased numbers of young participants, can alienate parents who took part in the mass anti-Kremlin demonstrations that shook Russia to its core in 2011.
"For many, my boy looked funny during the rally," the father of 12 year-old Gleb from Tomsk said to the reporter. "I do not think so. It's not funny to me because I know how enforcement agencies disperse crowds of protestors. He could have been arrested, since he looks older than his age. And in our country, they disperse rallies first and think only later. After the meeting, we had a conversation, and he realized that it was dangerous for him to be there. He realized that he was being used. Who benefited from his speech? Think for yourself. He was surrounded by [adult] people, they started to cheer him, to applaud, to push him to the mic. Was it the right thing to do?"
On Wednesday, Vladimir Putin again swore never to allow "colored revolutions" in Russia.