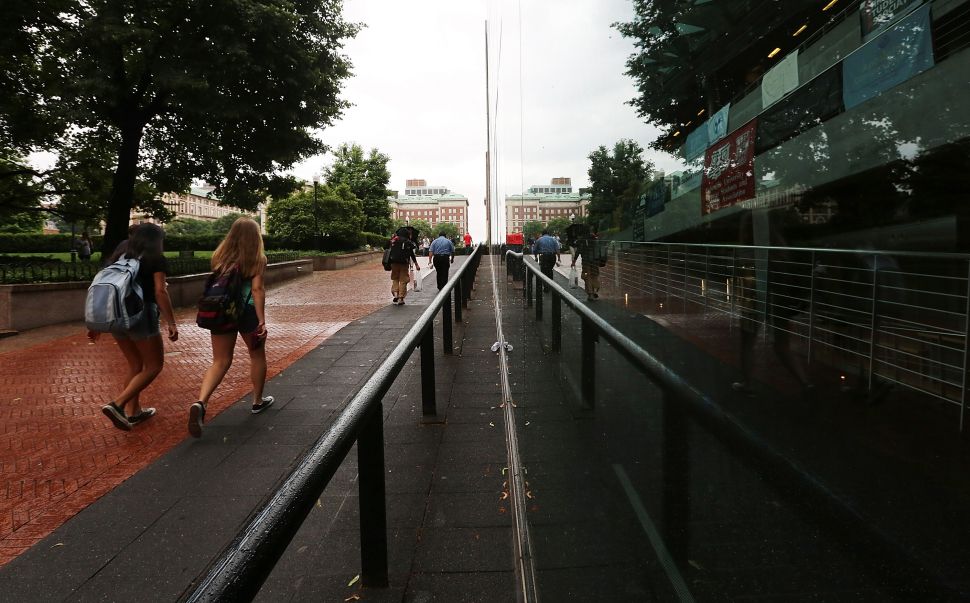 A new study released today revealed that anti-Semitism on America's college campuses increased 40 percent last year and genocidal expression doubled in 2016.
Conducted by the anti-Semitism watchdog group AMCHA Initiative, the study reviewed acts of anti-Semitism at 113 public and private colleges and universities with the largest Jewish undergraduate populations. Last year, 433 anti-Semitic incidents were reported, compared to 309 in 2015. The total number of schools experiencing anti-Semitism dropped slightly in 2016, revealing a surge of anti-Jewish acts taking place on some campuses.
According to the study, Columbia University had the most anti-Semitic incidents in the nation, with 35 reported cases—a near 500 percent increase from the previous year. Vassar College, University of Chicago, New York University and the University of Minnesota rounded out the top five. The University of Wisconsin-Madison reported the most incidents (eight) of Jewish students targeted for harm. Vassar, Northwestern University and Brown University followed, each with a reported five incidents.
Maybe the most troubling finding is the drastic increase in genocidal expression toward Jews. Consisting of swastikas and graffiti to letters and posters calling for the killing of Jews, these incidents doubled from 2015 to 2016.  Examples, according to AMCHA Initiative include, "Kill all Kikes," "GAS JEWS DIE," "Gas the Kikes," "Death to Israel and to all Jews," and "Holocaust 2.0."
Many of these expressions of genocide also targeted students from other campus groups, including immigrants, students of color, the LGBTQ community and students who held different political ideals.
Consistent with last year's survey, the study confirmed the rapidly-growing correlation between anti-Semitism and activism on the part of the anti-Israel Boycott, Divestment and Sanctions (BDS) movement. Campuses with active anti-Israel groups such as Students for Justice in Palestine (SJP) and Muslim Student Association (MSA) are overwhelmingly more likely to have anti-Semitic activity on campus than schools that don't have BDS activity or anti-Israel activism.
"The doubling of anti-Jewish genocidal expression and the continuing BDS-fueled anti-Jewish hostility reveal a profound intolerance toward Jewish students," AMCHA co-founder and director, Tammi Rossman-Benjamin, told the Observer. "I believe antisemitism is on the rise because of the growing normalization of intolerant behavior. Groups like SJP demand freedom of expression, but use it to harass, intimidate, bully and, ultimately, take away the freedom of expression of others, first and foremost, Jewish students."
Uncovered in the survey is the consistent silencing of Jewish students and groups perceived to be pro-Israel. AMCHA documented the thwarting of free speech at numerous campuses. Included in the report:
A Jewish student at Northwestern University was prevented from participating in an anti-racism march on campus by the event organizers, who told her: "You support Israel, so you cannot also support us."
An Ohio State University student threatened to murder students on his campus if the student government did not approve an anti-Israel divestment resolution, tweeting: "Yo if USG messes this up tomorrow I'm coming for everyone's life tomorrow. Every one. Every single, blessed life. Every one."
After several Jewish groups, including Hillel, protested the fact that an anti-Zionist course was being taught at University of California Berkeley, a number of posters appeared on campus that maligned the groups with classic anti-Semitic tropes, claiming: "Jewish bullies smash free speech at Cal and are pledged $38 billion. Attention Non-Jews: PAY UP AND SHUT UP!"
Concluding the report, AMCHA recommends that school administrators "treat antisemitism and other acts of bigotry as forms of intolerant behavior that must be addressed with a single behavioral standard applied equitably to all forms of intolerance." It goes on to recommend six steps for college officials to take in order to curtail all forms of hate on campus.
Paul Miller is president and executive director of the news and public policy group Haym Salomon Center. Follow him on twitter @pauliespoint.