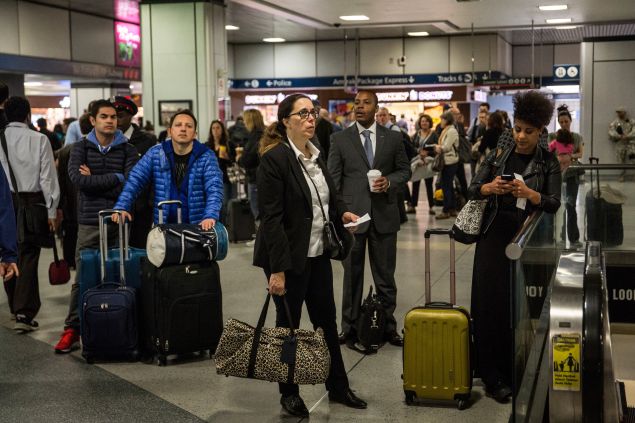 TRENTON — Rail commuters should brace for "two or three significant outages" this summer — meaning delays that stretch into the workweek — as Amtrak accelerates repairs to the battered old tracks in New York Penn Station.
Testifying before a joint Assembly and Senate committee Friday, Amtrak CEO Wick Moorman warned that those delays could last for as long as 30 minutes while Amtrak performs years' worth of maintenance in just a few months. The repairs are urgently needed following two derailments at Penn Station within five weeks, he testified.
Repair crews will be plugging away at the tracks during the weekends, but commuters can also expect delays into the workweek at two or three points this summer, Moorman said, estimating that those delays would not stretch beyond Labor Day.
"It is the most complex, difficult place that could ever be imagined to do track work," said Moorman, who led Norfolk Southern Railway for many years until 2015. "It's like nothing else I have ever seen either in this country or in Europe in terms of its complexity."
Lawmakers said they have been hearing horror stories from stranded and delayed commuters in recent weeks due to service interruptions in the Penn Station area, which has a ripple effect that backs up trains along the northeast corridor. Passenger safety was also a top concern at the hearing.
Sen. Bob Gordon (D-Bergen), co-chair of the committee, warned against playing "Russian roulette" with commuters. Assemblyman John McKeon (D-Essex), the other co-chair, described the last few weeks as a "nightmare" scenario.
"The biggest takeaway is we need to act — before we have any other series of events — we need to act to renew the station," said Amtrak chief operating officer Scott Naparstek.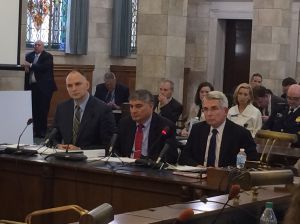 Lawmakers spent hours quizzing Moorman and his team about the repairs, the Gateway project to expand rail and tunnel capacity, and Gov. Chris Christie's decision to cancel the ARC tunnel, a different project, in 2010. Barring any delays, ARC was expected to be finished by 2018.
"How damaging would you say the governor's decision was to cancel the ARC tunnel project when he came into office?" Assemblywoman Liz Muoio (D-Mercer) asked Moorman.
Moorman, who joined Amtrak in September, said he "wasn't really familiar" with that proposal. The two existing rail tunnels under the Hudson connecting New Jersey to Penn Station are both a century old and will soon become inoperable due to damage from Superstorm Sandy, he said.
"If you had a tunnel available to you next year, as opposed to possibly 10 years from now, would it have eased your difficulties?" Muoio asked.
"The tunnel would have to go to Penn Station," Moorman said. Under the ARC plan, the new tunnel would have gone to a separate station under 34th Street.
State Sen. Joe Kyrillos said the ARC debate was seven years old and not entirely apt. He added that politicians from both sides of the aisle, and from both New Jersey and New York, share some of the blame for letting Penn Station fall into its current state of disrepair. The station serves more people than LaGuardia, JFK and Newark airports combined, Naparstek said.
"I don't think it says very much about the New Jersey congressional delegation, the New York congressional delegation — both sides of the aisle, it's not a partisan comment — that we've been going on decades of being underfunded," Kyrillos (R-Monmouth) said. "This is the cultural and financial capital of the world, and we've got a station that's in horrible shape."
Moorman urged lawmakers to press the case for federal funding for Gateway, a colossal $24 billion project that would build new tunnels under the Hudson, expand rail capacity in Newark and New York, replace the Portal Bridge over the Hackensack River, and build new facilities for Penn Station in Manhattan.
The project has support from top political leaders in both states, but federal funding is still up in the air and not contemplated in President Trump's proposed federal budget.
Moorman's testimony came a day after NJ Transit Executive Director Steve Santoro told another legislative committee that while he also expects delays, the reopening of Hoboken Station should mitigate some of the backup.
Martin Robins, a transportation expert at Rutgers University, told reporters after the hearing that the Amtrak upgrades are long overdue.
"The growth of the service has been going on for a number of years, and it really traces back to the beginning of the last decade when it really took off," Robins said. "I think that the problem is that there wasn't a recognition that this old infrastructure that was last repaired in the 1970s was really starting to wear out. And it really required a gutsy decision a long time ago.
"Now we're talking about it after three derailments," he continued.
Unlike Christie and New York Gov. Andrew Cuomo, who have both been critical of Amtrak in recent weeks, the hearing Friday in Trenton was a civil — and at times wonky — affair.
"I feel like now I know how to fix a railroad," Assemblyman Erik Peterson (R-Hunterdon) said at the end.