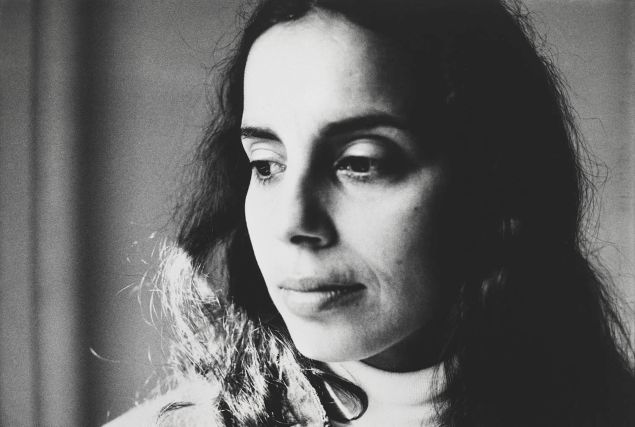 Thirty-two years ago promising young artist, photographer and filmmaker Ana Mendieta fell to her death from her Manhattan apartment in mysterious circumstances. Many suspected that her husband, minimalist sculptor Carl Andre, was responsible. Friends from the art world swooped in, including Frank Stella, who, as legend tells it, offered a prize race horse as collateral in order to secure the sculptor's bail.
Andre was acquitted of the crime after forgoing a jury trial in 1988. Who can blame him? The request made sense; he looks like this.
To many art observers at the time and since, this white man of privilege and esteem in rarefied circles had skirted a proper trial. But unlike with many scandals, this one has continued to grow and find new life year after year.
Part of the reason is that is that Mendieta's body of work has been more and more widely recognized; it's now in revered collections and has been the subject of a number of solo shows at well-known galleries. Another part is that as Andre continues to make work and show it, with each exhibition offering a new chance for a fresh crop of women to speak up. They feel the art world does women, and Mendieta in particular, many a disservice by its silence on the subject of her death, the details of which remain cloudy.
Case in point: earlier this week, the Geffen Contemporary at MOCA in Los Angeles opened "Carl Andre: Sculpture As Place 1958- 2010." And protesters arrived just on schedule, raining postcards that read "Carl Andre is at MOCA Geffen. ¿Dónde está Ana Mendieta?" down on the exhibit from the museum's second floor and laying a cloth pathway with the outlines of bodies like those in a crime scene painted on it on the street leading to its entrance. With each year, the protests get more creative.
This time, however, feminists weren't alone. They were joined by more than 100 signatures, some from prominent gallerists and museum professionals in L.A., who expressed disappointment with MOCA's decision to show Andre, according to the report from the Los Angeles Times.
"We … are extremely disappointed with your decision to bring the Carl Andre retrospective to the Geffen Contemporary," the letter reads, according to the paper. "We would like to remind you that symbols of power emanate from institutions and reverberate through society."
MOCA declined to comment to the LA Times, but the show's curator, Philippe Vergne, defended the sculptor in an interview with the New Yorker in 2011, while working on an Andre show at Dia:Beacon. "The work is there," he said. "We are a museum, not a court of law, and he is one of the most important artists of our time."
Andre, who turns 82 in the fall, has held, even cemented, his space as one of the most important American sculptors in the year's since his wife's death. But has he had enough space for his lifetime in the museum? Many see his continued acknowledgment not only as a slap in the face of Mendieta's family, friends and work, but as emblematic of the marginalization of women artists, and especially non-white artists, generally.
"There are very few women," at a certain level in the art world, Richard Move, a curator who made the 2009 film BloodWork: The Ana Mendieta Story, told the Observer a few years back. "There's no [female] Damien Hirst. It's even worse for ethnic women. And it hasn't really changed at all."
Will these protests help change that? It remains to be seen.