"If high school kids stop showing up to your shows, then you've got to figure it out," Andrew McMahon announced, in response to the line of teens eagerly awaiting his evening Webster Hall set at 2 in the afternoon.
"It's not from a position of pandering to teenagers—they know what honest music is. Just the fact they're finding their way to this stuff is huge for me." Admittedly, more then a decade ago, I stood patiently in a similar line, awaiting my first Something Corporate show.
McMahon first became famous in the days of MySpace as the piano playing frontman of SoCal pop-punk act, Something Corporate. William Tell played guitar and sang back-up (he's now a lawyer, Lauren Conrad's husband and the subject of Pinterest boards everywhere). They sang about kissing drunk girls and punk rock princesses, generating away messages and LiveJournal entries for suburban tweens everywhere. In the early aughts, when Alternative Press reigned supreme, pop punk bands had to stand out. Yellowcard boasted a violinist, Panic! at the Disco donned top hats and SoCo made studded-belt wearers regret quitting their piano lessons.
Then McMahon went on to the pop-driven outfit Jack's Mannequin, with songs about Santa Monica and mix tapes. But after being diagnosed with leukemia at 22, his focus shifted. He founded the Dear Jack Foundation to help young adults with cancer.
In person, McMahon might be the most polite rock star in the world. He's direct, honest and dressed in a grown-up version of his early outfits, with skinny jeans and Converse, but no eyebrow ring. Like many of his Hot Topic-era counterparts, McMahon's music has thoroughly evolved from his "Punk Rock Princess" days, now more dance party-inspired than singalong sad.
[youtube https://www.youtube.com/watch?v=G_zY_jSVXSU&w=640&h=360]
With his hit "Cecelia And The Satellite," named for his daughter, McMahon reached a new generation of fans. It helps that the song is played in the strangest places. When I told him the song kept materializing on flights he joked "it's deemed appropriate for grocery store shopping." Soon, Cecelia arrived, jumping into her father's arms while wearing enormous violet headphones, fresh from a day of visiting the Alice in Wonderland sculpture in Central Park. Her father is also an Alice fan, with a tattoo depicting her adventures in wonderland.
McMahon has received the usual requests for deep cuts on this tour, including the emotional ballad "Hammers and Strings [A Lullaby]" from the 2008 Jack's Mannequin album The Glass Passenger and the Something Corporate song "Hurricane," written by band member Josh Partington.
Another frequent plea is for "Dark Blue." When McMahon played the song during his sold-out concert at Webster Hall later that night, the formerly mild-mannered crowd went wild, screaming along to "Have you ever been alone in a crowded room?" a question his recent music investigates. Another crowd favorite was "Swim," with the line "swim for the lost politicians who don't see their greed as a flaw," shouted loudest of all.
But the most prevailing request is for "Konstantine," a nine minute and 37 second ode to the ultimate manic pixie dream girl. The cult favorite was released in a 2000 album only available in Japan. It would be easy for the song to sound impossibly trite 17 years later, but instead it's equal parts wistful and poignant. Once a year, on 11/11 at his annual benefit concert, he plays "Konstantine."
[youtube https://www.youtube.com/watch?v=0NwJWWnn-cw&w=640&h=360]
Despite fan's longing for old songs, McMahon wants the world to hear what he's spent so much time working on. He'll play three or four songs from Transit in concert, but otherwise sticks to new releases. "That record seems to have had this huge, galvanizing effect, where a lot of people either found it later in life and it meant something to them, or they were there in the midst of all. When I put that record out I was sick, so it's been an important record for people."
"Sick" refers to when McMahon was diagnosed with leukemia. He found out in New York the day the record was intended to be finished. "I had two months in a hospital room to completely rearrange what I'd mastered ten more times after that happened. That was what I focused on for my first couple of months of treatment, making everything the perfect listen." After his recovery, McMahon founded the Dear Jack Foundation, working with people 15 to 39. At his shows, volunteers encourage fans to get swabbed.
For his program The Life List, patients put together a list of items they want, fulfilled by the foundation and friends. Recent recipients include parents who were both in treatment—the foundation built a play set in their backyard for their children. The latest addition is Breathe Now. "We're trying to do a yoga and a breath work program, which will also have outdoor activities, with the idea resetting post-cancer and entering your survivorship healthy, and also empowering your spouses and giving them attention."
McMahon has practicing yoga since before his diagnosis, and credit it as a huge part of his recovery. "I had yogis in my hospital room twice a week doing breath work, exercises and meditation. It was a huge assist to all of the very important Western medicine I was taking in, and it really helped me relax and prepare my body for the treatment I was receiving. We're trying to help bring yoga and breath work into hospitals, and into survivorship to try to help that transition." Even Cecelia attends a yoga and ballet class.
McMahon certainly has to stay healthy for his frenetic stage show, where he crowd surfs to the bar on an enormous inflatable rubber duck, sings beneath an enormous gymnastics class parachute and hops up and down on his piano keys like a highly caffeinated schoolboy. His latest show might be his most ambitious yet, with EDM-inspired lights and a video screen showing off New York within an astronaut's helmet. McMahon returned to New York to record Zombies On Broadway, beginning with an all-too familiar "the L-train is now arriving…" subway announcement.
"'Love And Great Buildings' was written staring out the window at the neighborhood architecture in Williamsburg. 'Shot Out Of a Cannon' outlaid crazy New York City at 4 a.m." He spent most of his time in the city shuttling between his Bedford apartment and Times Square recording studio, but the city was the setting—"it wrote itself into the aesthetic and as the backdrop." His constant commute led to the familiar voiceover. "I created these layers of experiences in the subway over the course of the three or four months."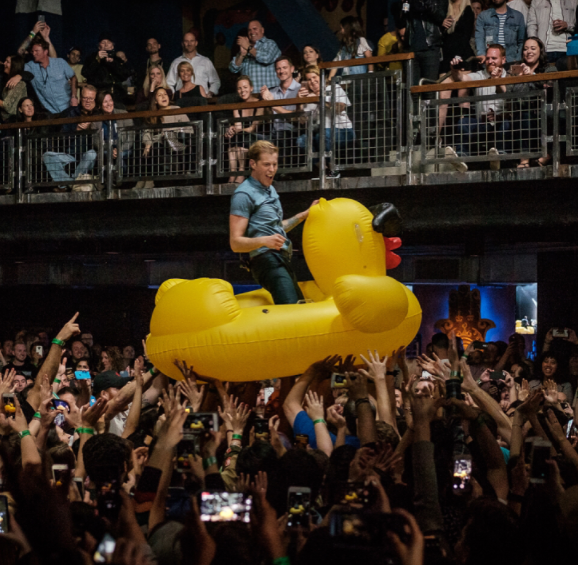 He still found some time to explore Williamsburg, venturing to Hotel Delmano for an Old Fashioned, dancing in the neon basement of the Black Flamingo, and visiting the taco truck on Bedford.
The performer has been nervous about releasing new music, especially since he didn't have time to consider venturing out on his own before. "I always thought I would go make another for Something Corporate. I think when I started Jack's, it was intentionally a side hobby. As I got deeper into it and fell more in love with the music, and realized how I thought it was my biggest music, I was very passionate about getting it out there. But there was still sort of a safety net," he admitted.
Something Corporate played a 10 year reunion tour and there were shows around the anniversary of Transit, but McMahon doesn't revisit old songs as frequently as other emo artists. "I could make a boatload of money if I put Something Corporate together and we did a reunion tour, but what does that serve from the artistic perspective? Very little. I throw a Something Corporate song in the set every night and hopefully that's enough."
"There's a nervousness about the idea of making things too much about nostalgia when you're really trying to make relevant music," he said. "I've worked so hard to be able to play brand new songs." Still, he understands the nostalgia. "I have records I loved to listen to when I was in high school and I get nostalgic for it, but I still like to go see bands play their new shit." Listening to "Konstantine" for the first time at a particularly memorable high school party certainly induces heady nostalgia more than hearing "Brooklyn, You're Killing Me" at the office.
Zombies was influenced by all new music accordingly. "I know it sounds crazy, but I spent so many nights in festival tents listening to dance music like FKA twigs, Lido, Sylvan Esso and Atlas Genius, so it was a lot of dancing," he sheepishly admitted. "It reminded me of punk in the early 2000s. That's what these dance shows look like. It's like when we all gathered in the 2000s and people were moshing and jumping to every song. That's still going on, it's just happening in dance tents at festivals, and I crave that energy."