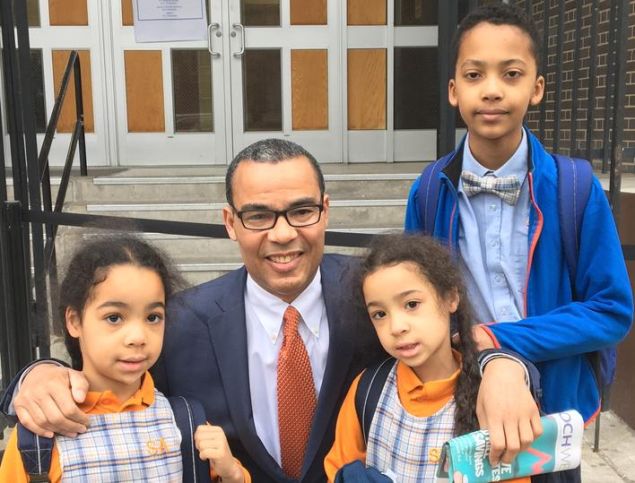 Thomas Lopez-Pierre is hoping his platform of opposing "greedy Jewish landlords" will lift him over Upper Manhattan Councilman Mark Levine in the Democratic primary in September—but when he's not campaigning, he's participating in a court-ordered anger management program, the consequence of his pleading guilty earlier this year to violating an order of protection taken out by his ex-wife.
Lopez-Pierre has become infamous in New York political circles for his vitriolic anti-Semitic attacks on Levine and on property owners he blames for the gentrification of Upper Manhattan. He also provoked controversy in 2013 by appearing at a campaign event with former Gov. Eliot Spitzer during the fallen pol's failed bid for city comptroller, by trading claims of sexual molestation with Assemblywoman Linda Rosenthal and by labeling an African-American supporter of Levine's an "Uncle Tom nigger bitch."
In January, the candidate copped to a misdemeanor criminal contempt charge for knowingly violating a family court restraining order his ex-wife had obtained. His former spouse alleged that, despite the standing order of protection, Lopez-Pierre twice approached her in the fall of 2015 to threaten her, "Don't fuck with me, bitch!"
After more than a year of hearings, Lopez-Pierre confessed to the crime and agreed to enter the anger management program. The criminal court judge also issued a permanent order of protection for the political aspirant's ex.
Lopez-Pierre is due back in court on May 5 for a compliance conference. He insisted the restraining orders are the result of harassment, not physical assault, as he once disseminated a flyer to his wife's neighbors asking them to contact him if they witnessed her abusing their three children.
"There was no violence in our relationship," Lopez-Pierre told the Observer, asserting he pleaded guilty only to avoid disrupting his child visitation schedule. "In these family cases, so you can move the calendar forward, you plead guilty to stuff you didn't do."
Lopez-Pierre has circulated numerous emails and pieces of literature highlighting building owners of Jewish roots who have donated to Levine's campaign and calling attention to what he claims are racist slights against himself and blacks and Latinos in general by the incumbent councilman and other Caucasians.
"We shall rise up against greedy Jewish landlords in New York City! If our political leaders fail to protect us, we shall sacrifice blood to save our communities from the evils of gentrification," reads one missive sent to supporters.
His Twitter biography asserts "Jewish landlords OWN 80% of private rental buildings in Upper Manhattan; GUILTY of GREED for pushing Black/Hispanic tenants out."
An inveterate if unwelcome presence at Democratic Party functions, Lopez-Pierre's social media accounts are studded with photos of him standing alongside prominent political figures, including former President Barack Obama, Mayor Bill de Blasio and retired Congressman Charles Rangel.
Oddly, the account also features images of him with prominent Jewish officials such as Senate Minority Leader Charles Schumer, city Comptroller Scott Stringer and Success Academies CEO Eva Moskowitz.