Making fresh pasta from scratch is probably something you never considered doing, as you reach for that box of Barilla penne once again. But it's actually pretty easy.
A new class at the modern Little Italy restaurant Aunt Jake's is offering a chance to learn how to make fresh pasta (and later eat your own creation) from a true Italian pro in the heart of Manhattan's Italian district. The classes launch today and will be hosted Thursdays at 2 p.m. and 6:30 p.m., as well as both Fridays and Saturdays at 2 p.m.
"People are coming here for the authentic Italian food, so if you want to learn how to make it in a nice artisan way, come to Aunt Jake's," Chef Carmine Di Giovanni told the Observer.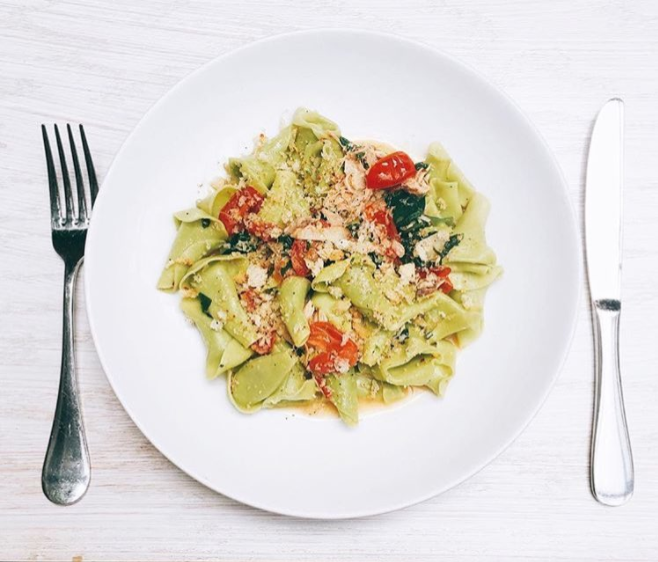 While it's not a namesake of Little Italy (the restaurant is quite new), Aunt Jake's is the perfect venue for the class. Upon entering the eatery, the first thing you see is the pasta making station where 10 different pasta shapes are made fresh daily. And Di Giovanni has all the expertise needed. He worked in fine dining at several of the city's best restaurants while their chefs where still there in the kitchens cooking, meaning he's learned from the masters like Eric Ripert and David Burke themselves.
"While [these restaurants] are french, they also make their own fresh pasta," he said. "Making it in those restaurants, you really have a good depiction of what your texture should be and what the style of the pasta dough should be as a finished result. The aesthetics of pasta are really important to the dish, not just the flavor."
Di Giovanni also trained in Italy. He worked in a butcher shop where they made pasta in the back and sold it to some neighborhood regulars. And then two nights a week, they'd close down to serve dinner in as a sort of bi-weekly pop-up. Situated on the second floor while the restaurant operates as it typically would below, the class mirrors this.
I attended a preview of the class last week. We began by combing flour and eggs to make our own dough, and then we rolled it out with a rolling pin. The next step in the process would be to roll your dough through a pasta machine that flattens it even more—to our disappointment, Di Giovanni had us skip this step, replacing our dough with some he had already rolled through the machine.
We then cut the pasta by hand into a variety of shapes. Typically, we'd then get the chance to cook the vary pasta we cut and shaped, but due to not-yet-resolved permit issues that barred us from using a stove upstairs, we were given doggy bags to take our fresh pasta home. With the real experience, however, every guest will get to cook their very own pasta and choose from a variety of three or so seasonal sauces and eat it on the spot. The class did show potential, and once these kinks are worked out, it will be a great way to learn to make fresh pasta.
And you can't beat the price. Aunt Jake's class is only $25 while other pasta making classes on experience platforms like Groupon and Go Dream are $45 and $100 respectively.