As the late great Atlantic Records producer Joel Dorn once told me, "If there aren't a hundred people lined up down the block waiting to punch you in the nose, you're not doing anything that counts." He easily could've been talking been talking about Bert Berns.
While nearly every singer interviewed for the new documentary film Bang! The Bert Berns Story testifies to Berns' brilliance, his mentor, Jerry Wexler, (the legendary producer of Atlantic Record's soul hits) laments not knowing the location of his grave, so he can piss on it.
Directed by Bert's son, Brett, and Bob Sarles, the film opens with a compelling montage of snapshots and memories of Berns' childhood in the Bronx. For a minute, you almost feel like you've been corralled into having Passover with the family as Bert's sister recalls his near-death battle with rheumatic fever.
Steven Van Zandt's narration comes off a bit rough at first. While his voice lacks the polished delivery of Peter Coyote or Will Lyman (Frontline), his street inflection fits his subject like a pair of handmade Italian shoes.
The film is almost worth the price of admission just to hear Bert's wife Ilene's story of how they met and fell in love. She is above all else, truthful, blunt and pure New York. Bert's mother not surprisingly did not approve of their marriage, warning that she, being young and beautiful would "kill him with his heart condition." The snapshots of their wedding are priceless period pieces that capture and preserve the mid-'60s hipster lifestyle for all to see.
After watching the egomaniacal producer Phil Spector destroy "Twist and Shout," by upping the tempo and writing a forgettable bridge to the song, Berns decided to take control of his career and produce his songs the way he heard them. Bert then delivers "Twist and Shout," to the Isley Brothers who originally cut it, keeping the original Latin feel intact before the Beatles made it world famous.
"A lot of people thought we wrote it," Paul McCartney recalled in an interview edited with black and white clips of the Fabs shaking their pudding bowl hairdos to the beat. "The Isley Brothers version just blew our minds."
The camera then closes in on the weathered leathery face of Keith Richards chuckling over the Rolling Stones' earnest but ultimately forgettable cover of Bert's "Everybody Needs Somebody to Love," which they'd appropriated from soul great Solomon Burke. Berns' "Baby Let Me Take You Home" (which bears a striking resemblance to "Baby Let Me Follow You Down," written and sung by Reverend Gary Davis and later covered by Bob Dylan and the Band) would also become an early hit for the Animals.
Following the Beatles' tremendous success with "Twist and Shout" Berns flew to England where the music scene was exploding. Having recorded for Atlantic in New York, Bert found working in London studios with the up-and-coming Brit bands of the day was like working in "a third-world country," as author Joel Selvin explained. The film's strong continuity and script owe a lot to Selvin's captivating 2014 biography Here Comes the Night: The Dark Soul of Bert Berns and the Dirty Business of Rhythm & Blues.
[youtube https://www.youtube.com/watch?v=aDBuIhj8AWM&w=560&h=315]
Returning to New York, Bert formed Bang! Records, whose name was an anagram for himself and his partners in the label—Ahmet and Nesuhi (Ertegun) and Jerry (Wexler) of Atlantic Records. Bert's next hit "Hang on Sloopy" by the McCoys, which featured the hot lead guitar work of a teenaged Rick Derringer, was Atlantic's biggest-selling single since their heyday with Ray Charles. And (as they say) the hits just kept coming…
A gruff-voiced Van Morrison warmly recalled his "first experience working with a real bona fide producer," when he recorded Bert's song "Here Comes the Night," with his band, Them: "The guy was a genius, he was a brilliant songwriter. He had a lot of soul, which you don't find now-a-days," Morrison mused.
While Keith Richards trashes Them for their lack of polish, he did allow that Berns "must've heard something in Van Morrison's voice." In fact, Bert believed Van was "gonna be a monster." Following their initial recording sessions, Morrison returned to Belfast to live with his parents, where he wrote songs on an acoustic guitar until Bert sent him the plane fare and some pocket money to fly to New York.
The result was Morrison's first solo album, Blowin' Your Mind.
Van and a crew of studio musicians quickly cut eight tracks in the first three days, including the perennial hit "Brown-Eyed Girl" (featuring guitarist Hugh McCracken and Eric Gale picking the famous bass break with back-up vocals by the Sweet Inspirations, led by Cissy Huston).
Everything about Berns and Bang! was a hustle. Morrison thought they were cutting singles and claimed he had "no idea" he was "making an album or [he] would've approached it completely differently."
Like the doomed Mississippi bluesman Robert Johnson, Bert Berns also suspected his time on earth would not be long. He too lived, as Johnson sang, with a hellhound on his trail. But unlike Johnson, whose mind was constantly haunted by death's specter, Berns felt the fleeting tick tock of time in the occasional irregular beating of his heart. His songs, "Cry Baby," "Piece of My Heart," and "Here Comes the Night" were not just typical teen odes of despair, they revealed a deeper tragedy eating away at his troubled soul.
In the meantime, we are treated to memories of joyous jams at Bert's Manhattan penthouse apartment where the champagne flowed while Dino, an enormous Great Dane, guarded the door.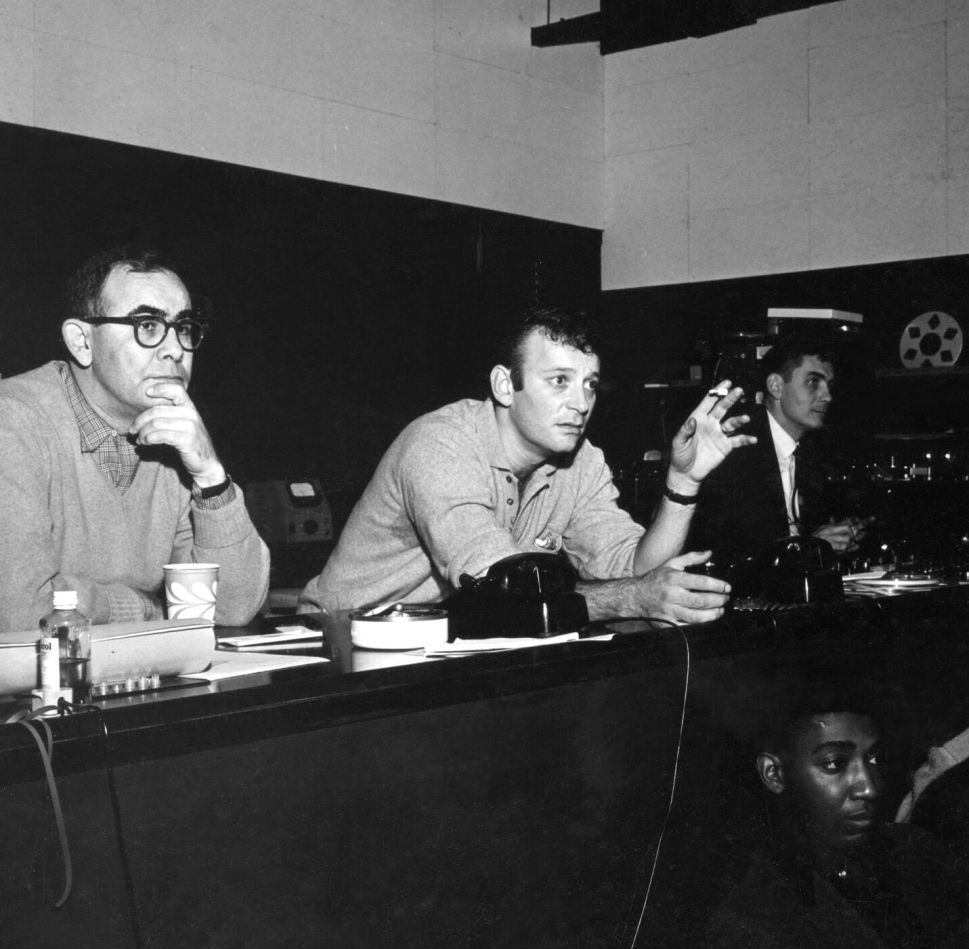 It seems that Berns had a penchant for hanging out with "wiseguys." While a second-rate yachtsman, his boating misadventures led him to mingle with mobsters tied to Lucky Luciano.
Bert's underworld connections included lowlife Morris Levy, the founder of Roulette Records famous for threatening Tommy James and John Lennon among others. (For the lowdown on Levy check out Nick Tosches's book Save the Last Dance for Satan.) Berns' pal Wassel (who described Bert as his "dearest friend") was an old-school street thug who dragged Freddie Scott into the studio immediately following his sister's funeral to sing Bert's next hit, "Cry To Me."
"The whole joint was crying," Wassel says, recalling the atmosphere in the studio as a brokenhearted Scott delivered the song. Sure, they pried a passionate performance out of the singer, but at what price? Wassel didn't bother messing around with musical bootleggers or "payola." To inspire DJ's to play Bang!'s latest release, he "went right to their house," to inquire if they needed anything, like "a new washing machine?'"
Within its first year, Bang!'s chart-topping hits had out-sold anything Atlantic had to offer.
But while Jerry Wexler had great instincts about how to make hit records, his cut-throat business practices were considerably less artful. During a congratulatory dinner in Bert's honor, he dropped the bomb on Berns, demanding that his partners at Bang! were to receive equal shares, split four ways, which would cut Bert's share down from 50 percent to 25 percent. "Never, that's his baby," Ilene abruptly countered.
The next thing they knew the party was over. An infuriated Wexler, who Ilene described as an "absolute Piranha" began calling the house making threats. The situation quickly deteriorated from there, with both Bert and Jerry calling their underworld pals for "favors."
"I did what I had to do," Wassel explains casually. Thankfully both parties lived to hate each other ever-after, although Berns smartly described the split as "amicable."
Through his "influential" friends, Bert managed to raise the outlandish amount of money needed pay off Wexler and the Erteguns. Berns continued running his stalwart label despite further problems with Van Morrison and a young unknown named Neil Diamond who'd recently scored big with the single, "Cherry Cherry."
While in dispute with Bang! over his latest release, Diamond's manager was mugged, while a show at a Greenwich Village club was rudely disrupted in hopes of making the rising star see things Bert's way.
Exhausted and suffering from chest pains, Berns never lost his creative edge. Having written a rough version of "Piece of My Heart" on acoustic guitar, he then handed it over to songwriter/arranger/producer Jerry Ragovoy to put on the finishing touches. Aretha Franklin's sister Erma slowed down the tempo and poured her soul into the original recording, which later became a tour-de-force for Janis Joplin with Big Brother & the Holding Company.
Although "Piece of My Heart" was not his last song, it served as a perfect elegy to the 38-year-old genius hustler who was found dead of a heart attack in a Manhattan hotel room on December 30, 1967.
Beyond the old-school record industry war stories, Bang! is an excellent re-evaluation of Berns' musical legacy. The film unfolds like a Hollywood noir. Guns, pills, booze, greed, betrayal and a little "schtupping" are all part of the story. Bang! is sure to stir your emotions and stick in your head for some time, just like one of Bert Berns' classic records.
The film opens Wednesday, April 26 at the IFC Center in Manhattan.