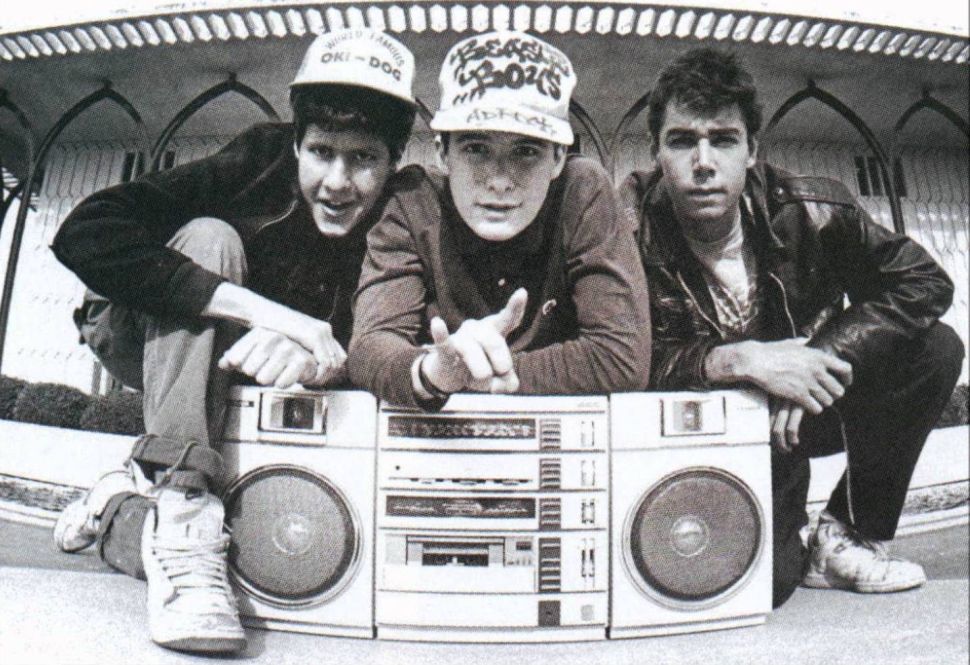 Nobody knew what to expect from the Beastie Boys after they released Paul's Boutique in 1989.
Hip-hop fans were already suspicious because not only did they ditch New York for Los Angeles—they left Def Jam to sign with Capitol Records.
"As a young hip-hop fan at the time, I started hating on the Beasties simply because they left Def Jam,"says veteran music journalist Michael A. Gonzales. "It took me years to see that it was crazy of me, but the logic was [among a lot of fans], who leaves Def Jam to record for Capitol?"
"The thing about the Beastie Boys that seems clearer than ever as time goes by is that there were two stages to their career: there was Licensed to Ill, and then there was everything else that came afterwards," explains legendary Def Jam publicist Bill Adler.
"And really it seems to me with Paul's Boutique, they were looking to break completely with Def Jam and with Rick Rubin in particular. So it was their job to rebuild themselves in the wake of that breakup. And they really put their minds to it, and did it with tremendous success. But it seems to me the way they refashioned themselves was very consciously make a 180-degree turn from the Beasties of Licensed to Ill. To take such a divergent stance and to pull it off and have a successful post-Ill career is very much to their credit."
In the three years that passed following the release of Paul's Boutique, the album—thanks largely to the dense, imaginative production work of the Dust Brothers—saw its legend grow significantly.
By the time the Beastie Boys released Check Your Head on April 21 of 1992, the kids in the skate parks, college radio stations, record shops and comic book stores the world over were crazy with anticipation for what Ad-Rock, Mike D and MCA had planned next.
Which makes the results on Check Your Head even more fascinating; no one could have predicted the curveball the Beasties were about to hurl at their fanbase. Picking up their instruments once again and not only returning to their roots in punk and hardcore, the trio were now also experimenting with funk and jazz as well.
Nearly half of Check Your Head was based on psychedelic jams fleshed out in New York with the trio's new creative partners, Brazilian producer and Paul's Boutique engineer Mario Caldato, Jr., keyboardist Money Mark Nishita and a trio of percussionists in James Bradley, Jr., Drew Lawrence and Art Olivia. Together this new team formulated a series of raw, ramshackle grooves that fell somewhere between the Minutemen and Les McCann.
"We'd been making these pause tapes for each other that would go from jazz instrumentals into reggae into hardcore," Adam "MCA" Yauch would explain to veteran music journalist Alan Light in Spin's 1998 cover story on the Beasties. "We decided to sequence the album like a pause tape—put together these different kinds of music."
[youtube https://www.youtube.com/watch?v=U4jWgRBVkvA?list=PLnH1CB9xsqNG8Bfv3bwQI0UW4nZBXGj6T&w=560&h=315]
"The initial notion of Check Your Head was just all three of us getting back to playing instruments," Mike D told Spin. "We'd been hanging out with the Dust Brothers and listening to stuff like The Meters and Sly Stone and The Crusaders, so we just sat down and said, 'O.K., let's play something funky.' "
That inspired back-t0-basics approach that made Check Your Head such an unforgettable listen soon found Yauch, Horovitz and Diamond—on bass, guitars and drums, respectively—further blossoming as musicians onstage as they performed for sold-out crowds across the country through the spring and summer of '92.
In between barn-burning renditions of faves like "Slow and Low," "Paul Revere," "Shake Your Rump," "Shadrach" and newer classics like "Pass The Mic" and "Jimmy James," the Beasties jumped into band mode to deliver expansive renditions of esoteric Check tracks like "Lighten Up," "In 3's," and "POW," a song that would see their longtime DJ, Hurricane, tear it up on the mic exclusively for the live crowd.
"That was the first time we did a show with the hip-hop and the instruments," Hurricane tells the Observer.
"And putting the show together was not easy. The challenge was going from hip-hop to punk rock to other tunes in there that wasn't punk, rock or hip-hop. You're dealing with crazy different tempos and different music at the same time. You got your DJ with the hip-hop shit, then you'd have to stop and transition to the instruments and totally play something that's not hip-hop. At that time, no one was doing that. No one was doing the hip-hop with the DJ and then transition into a band playing this funk/jazz whatever. And once everybody started seeing us do it, you had your Limp Bizkits coming around and other bands like that who started taking it in another direction."
While many fans were confused by the Beasties playing their instruments these concerts, especially when Mike D would grill the crowd about Don Cherry and Eddie Harris, many more saw these performances as something else altogether—a revelation.
"What Check Your Head did was add punk, rock, Latin sounds and live instrumentation to their studio game, but the live set grew to 'an evening with' lengths," says my friend and former CMJ colleague Greg Corrao. "Around the same time you had the first Brand New Heavies, that LL Unplugged with a live band, and Low End Theory with Ron Carter and Vinia…I think the Beasties took it a step further being competent musicians themselves, and emcees, and actually building the act around that. The Beasties shows I caught that year and at Lollapalooza in 1994 were sharp as hell. Killing. They were bad ass."
"I'd seen them on the previous tour, when they opened for themselves, in clown suits, playing hardcore covers, as Triphammer," my old college pal from New Paltz Chris Tannis, who saw the Beasties play Roseland in 1992, tells me. "So I'd seen them playing instruments before, but that was all things like Minor Threat covers and so on. This show was pretty hotly anticipated. I can remember discussing it with my cronies beforehand, wondering if they would actually be able to play, and if they had, in fact, actually played on the album.
"Once they appeared, I don't think it was very long before MCA had a bass in his hands, and if I recall correctly, he played bass on one of the more rap-oriented things, and it was a tremendous relief. It also reinforced for me the idea I'd been holding onto that MCA was the coolest and most musical Beastie Boy, since he was clearly the best musician of them. Ad-Rock was a serviceable guitar player, and Mike D was a solid drummer, but MCA blew us all away that night with his bass playing."
Despite this profound stylistic transformation, nothing could shake their love for hip-hop and their collective evolution as lyricists and MC's in their own right. Check Your Head contains some of the fiercest bars the Beasties ever produced.
[youtube https://www.youtube.com/watch?v=ru3gH27Fn6E&w=560&h=315]
If there was anything that proved the ever-increasing strength of their rhymes, it was the growing feud between them and 3rd Bass, the duo from Queens, NY, who signed to Def Jam shortly after the Beasties' departure, casting a large shadow over Prime Minister Pete Nice and MC Serch.
"I didn't have any personal beef with them per se, because I didn't know them," Nice says. "But my best friends from college did know them. In fact my old roommate wound up being their road manager, and was in the same classes as Mike D at St. Ann's in Brooklyn. And my other friend went on Barrow St., and knew Ad-Rock from the neighborhood. And these guys who I was down with were listening to hip-hop way before the Beasties were, and they were these posers who hopped on the hip-hop tip just because it was a novelty type thing they could sell. That just built a little animosity because I was so close with these guys. But on another level, both me and Serch had a hard time getting over in the music business because of their existence and coming out before us. It was like just the fact they existed made it hard for us to get a record deal."
An interaction between Mike D and Serch prompted 3rd Bass to strike first with the song "Sons of 3rd Bass" off their classic 1990 debut The Cactus Album.
"One day I saw Mike D on the street and I ended up talking to him in his apartment, because I needed some advice," MC Serch told Billboard in 2014. "They had gotten out of their Def Jam deal, and he gave me really good insight about Russell. I was leaving his apartment and all of a sudden he started throwing shit at me, like foam balls and stuff lying around his apartment. There was no reason for him to do that. Two months later there was a piece in Spin and the writer asked them what they thought of 3rd Bass, and Mike D said how he threw shit at me and shooed me out. So that's where all the Beasties' disses on 'Sons of 3rd Bass' came from. I didn't know any of them before I met Mike that day. He was a real asshole."
"The thing that put it over the top in terms of quote-unquote 'beef' was this shit that went down with Serch," Nice says. "Hard to put it any other way, but Serch has a tendency to exaggerate and fabricate stories. But he told me the story when we were working on The Cactus Album that he had gone to Mike D's apartment over on Canal St., and was hanging out with him, asking him for advice, because at that point they were already huge stars or whatever. And apparently, he said as he walked out Mike D was clowning him and was throwing bologna at him, actually. They had this serious conversation, but in the end he was just clowning him on the way out the door. So that added more fuel to it."
What people at the time failed to take into account, however, was how hard the Beasties would hit back on record.
On Check Your Head, they came at Nice and Serch in particular with a fire they'd never aimed at another MC before or since. While Mike D and Ad-Rock took subtle shots here and there on tracks like "So What'cha Want" and "Live At PJ's," the knockout punch came courtesy of MCA, who exhibited the infancy of his love for Tibetan monks with a breathless verse on "Professor Booty" that pulls the spine out of Serch like a Mortal Kombat fatality:
"So many wack emcees, you get the TV bozak/ Ain't even gonna call out your names, 'cause you're so wack/ And one big oaf, who's faker than plastic/ A dictionary definition of the word spastic/ You should have never started something that you couldn't finish/ 'Cause writin' rhymes to me is like Popeye to spinach."
"They won't call you out by your name," reminds Hurricane. "But they'll get their point across."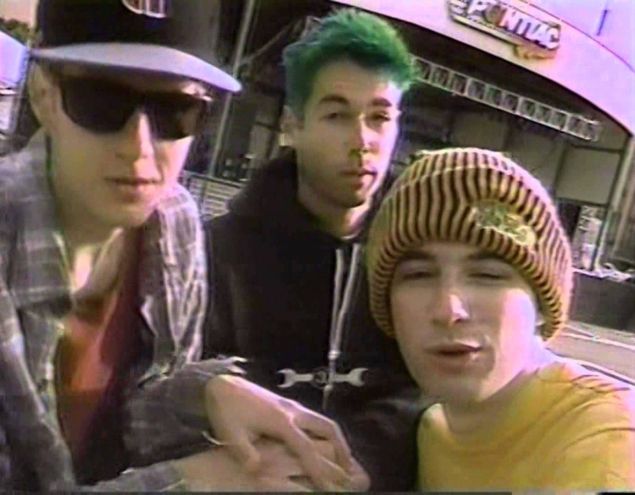 With unmatchable energy and inspiration, Check Your Head reclaimed the Beasties' status as New York hip-hop royalty. And they did it on their own terms.
As Def Jam artists, they were beholden to the expectations of Russell Simmons and Rick Rubin. But as the flagship act of their own imprint, Grand Royal Records, they had carte blanche to turn in whatever they pleased.
So they turned out an album that sounded like the blueprints of their collective brain, an accumulation of all their creative lives—as crust punks, as rappers, as cultural impresarios, as record collectors and as free-thinking musicians. And they adorned the album with artwork that provided the perfect mélange of all these attributes, captured through the all-knowing eye of renowned punk photographer Glen Friedman.
The Beasties went on to release five more albums before going on permanent hiatus in the wake of Yauch's tragic passing from cancer on May 4, 2012, with each LP they released blossoming from the ideas that first manifested on Check Your Head 25 years ago. But neither Ill Communication nor Hello Nasty nor To The 5 Boroughs nor The Mix-Up nor Hot Sauce Committee Part 2 would capture the same lighting-in-a-bottle energy they recorded in real time back in 1992 when they were flying by the seats of their JNCO's.
"By the time Check Your Head came out, they definitely took it to another level musically as a band," admits Nice.
"I can even remember watching the MTV Music Awards and seeing them perform I think 'Sabotage' a couple of years later, and thinking, 'That's kinda why they are who they are.' They weren't a rap group when they started, but they eventually branched out into this whole total package by '92. I mean, people aren't going to be comparing them to Big Daddy Kane or MF Doom in terms of their MC'ing, but they really had a unique sound and persona within music, which obviously they capitalized on and it's why they are as popular as they are."