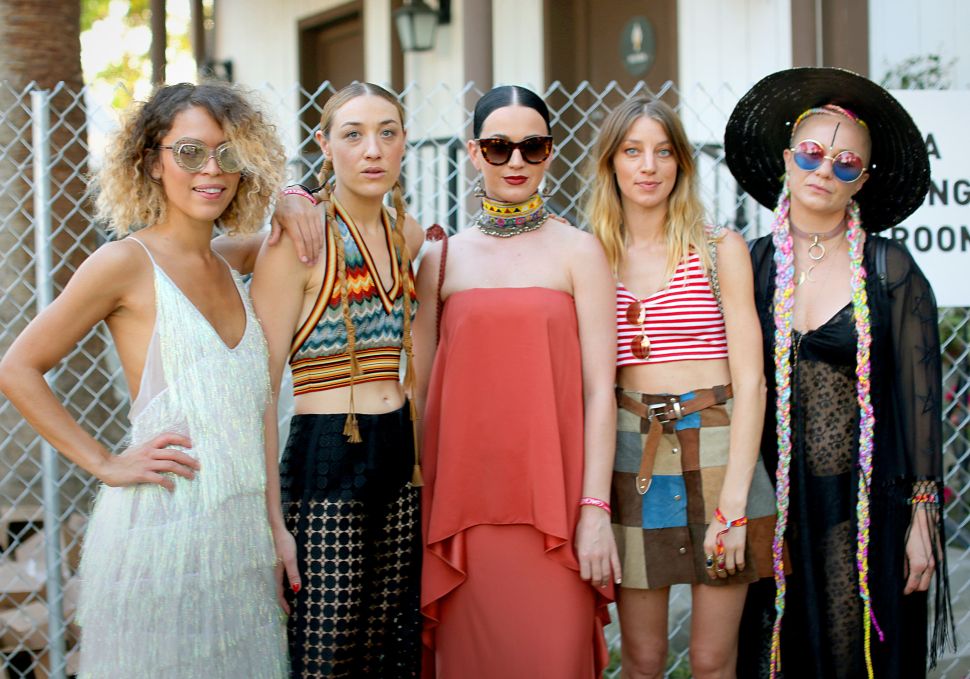 You know summer is on the way when Coachella comes around. Next week's California extravaganza is the first big music event of the festival season, and the lack of red carpet doesn't stop celebrities and nobodies alike from treating the desert like a runway. For those of us hitting the summer scene without a glam squad, looking like our best selves in a booze-soaked, sweltering outdoor crowd can be a challenge. But these major keys will help you hit all the right notes—whether you're festival-bound or planning to glamp your way through summer.
Hydrate, hydrate, hydrate. Then hydrate some more.
As much as everybody hates port-a-potties, drinking water like it's your full-time job is crucial—especially as you're likely to be dehydrating yourself with alcohol and sun exposure. But what you put on your face counts, too. Pack on products teeming with hyaluronic acid, like Pestle & Mortar's Pure Hyaluronic Serum ($69). Three or four drops of this vegan, 'clean' and cruelty-free potion absorb instantly, infusing your skin with hydration and providing a smooth, primed base for makeup. Follow with a mild moisturizer like January Labs Moisture Balancing Lotion ($28) to soften and comfort skin that might be stressed by climate fluctuations and 25/8 partying. Stash a bottle of January Labs Restorative Tonic Mist ($24) in your bag so you can spritz throughout the day to rehydrate, minimize breakouts and calm distressed skin. Because if your moisture barrier is in tip-top shape, you're most of the way toward a constant healthy glow—no makeup necessary.
Yes, you can wear makeup at outdoor sleepovers—but choose carefully.
If you're heading to a music festival, bare faces will be few and far between. Embrace a minimalist look if you want, but cosmetics aren't off-limits just because you're in the middle of nowhere. Go for a low-key base and get creative with eyes and lips. A tinted moisturizer with sun protection, like IT Cosmetics Your Skin But Better CC+ Cream with SPF 50+ ($38) or Lancôme Bienfait Teinté Beauty Balm Sunscreen Broad Spectrum SPF 30 ($49), is a good start. For eyes, choose long-wearing formulas like Marc Jacobs Beauty Magic Marc'er Precision Pen Waterproof Liquid Eyeliner ($30) and Blinc Mascara Amplified ($28), a smudge-proof, sweat-proof, water-resistant, flake-proof formula that removes easily with warm water and gentle pressure. Any of Y et Beauté's India-inspired capsule collection of organic, luxurious lipsticks could be layered or worn sparingly, depending on how intensely you want your lips to stand out. Make a statement with a blackened plum called James ($32) or pick a simple, berry-stained pout with Calme ($32). There's no more iconic rock-babe look than artfully smudged eye makeup and a sexily unkempt bun with just-been-kissed lips. So, if things do get crazy, just go with it, cool girl.
Wash your face. For real.
We've covered this before. Just do it. At night, do it twice. If you insist on using wipes instead of cleansing properly, limit the damage with a few simple steps. No excuses.
Protect your skin until the sun goes down.
In order for sun protection to work, you have to reapply it every couple of hours, and even more frequently if you're super sweaty or swimming. No, the SPF in your tinted moisturizer isn't enough to last you all day. Choose an easy to use product you can apply over makeup without mess or breakouts, like Dr. Dennis Gross Skincare Sheer Mineral Sun Spray SPF 50 ($42) or a powder SPF. Peter Thomas Roth makes two versions of his: Peter Thomas Roth Oily Problem Skin Instant Mineral Powder SPF 30 ($30) and Peter Thomas Roth Instant Mineral SPF 45 ($30). Make sure you cover your neck, chest and ears, too. It's not out until May, when it will be stocked exclusively at Sephora and Sephora.com, but Kate Somerville has a new product in this space that you should get your hands on the day it launches. Kate Somerville UncompliKated SPF is a product unlike any other: a broad spectrum sunscreen in a fine mist spray that sets makeup, reduces shine, and blurs fine lines and wrinkles with the push of a button. I fully expected it to make my naturally oily skin look greasy, but UncompliKated SPF dries down instantly to a matte finish, with the brand's light diffusing silicone powder perfecting skin texture. No shine, no residue. Hyaluronic acid simultaneously delivers hydration while SPF 50 protects. UncompliKated SPF can be used on its own as a sunscreen, too, so apply it whether you're wearing makeup or not. "Spray the air in front of you, then walk into the mist to cover your face," Somerville advised the Observer. "It feels so good, you'll want to keep doing it all day." The fact that it makes you look amazing in heat and humidity is a nice bonus, too.
Jackie Danicki created one of the first and most popular beauty blogs in 2004, and has consulted some of the world's most iconic brands on digital content strategy and innovation. Jackie blogs at http://burnedoutbeauty.com, and you can find her on Twitter, Instagram, and Snapchat as @burnedoutbeauty.