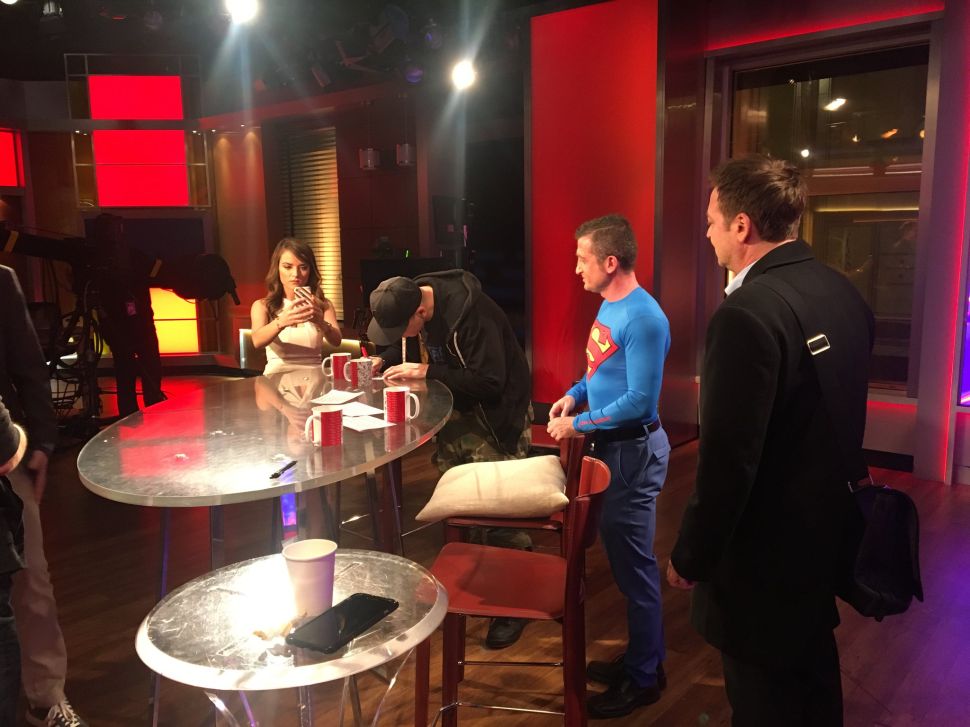 My goal was to become a regular on Red Eye.
Actually my ultimate goal was to take Andy Levy's role if the ombudsman left the show, but that might have been a bridge too far. It was 2015, and I had been making regular appearances on Fox Business' program The Independents and its successor Kennedy for months. I would sit on Kennedy's party panel alongside great people—the best people, you've never seen such people—and listen as they discussed when they would next appear on Red Eye.
Red Eye was always something unique. It was one of the few places on television where the vibe was both humorous and right-of-center. It was frequently bizarre and random; sometimes it worked, and sometimes it didn't. Yet this made for a complete departure from the highly choreographed world of tv news and even tv political comedy. Does anyone doubt how a Republican is going to come off during a Stewart-era Daily Show piece?
I wasn't at all jealous of my colleagues for getting invited. Jimmy Failla and Joe DeVito are hilarious. Kmele Foster and Matt Welch, former Independents co-hosts, are as well-informed as anyone. Gavin McInnes can't help but turn a political debate into a viral video—which makes for great live television. Finally, it's easy for uggos to disparage all the beauty queens that appear on Fox. But more often than not, the reason they're queens and not mere competitors is because they're personable and know how to carry a conversation. Mindbogglingly, Miss America 2008 Kirsten Haglund is far more approachable than the typical local woman, hardened by New York City culture. I understood why all of them kept getting booked. I was just confused why I didn't.
I have no communications or television training. But I also had no writing training, which didn't stop me from authoring and co-authoring many books and becoming a columnist (this is where the punchlines would go, hacks). But even if I had received a communications degree (kill me now) I still wouldn't have any idea about network etiquette. I wanted to ask Kennedy if she could recommend me to appear on Red Eye. But would that appear ungrateful? Social climbing? Was that like asking a friend if you could date his ex? Was this violating the categorical imperative, using someone as a means rather than an end in herself? I'm Russian. I'm paranoid. But Kennedy is Romanian. We take care of our own people in Eastern Europe, in both senses of the term. She was more than delighted to help.
Soon after Tom Shillue was announced as Red Eye's new host. Originating host Greg Gutfeld had left a while prior, with various people filling in as guest hosts. It hadn't been clear if Red Eye was going to continue at all, or in what form. It was such an anomaly that it was shocking that it'd lasted almost a decade by that point. Soon, thanks to a recommendation from Kennedy, I was slated to appear on Tom's second show on June 23, 2015.
From my perspective the episode went well. As the panel was filing out after we wrapped, Tom shook comedian Mike Vecchione's hand. "Great job," he told Mike. "We'll have to have you on again soon."
"Good to meet you, Tom," I told him.
"Great job," he repeated… but said nothing else.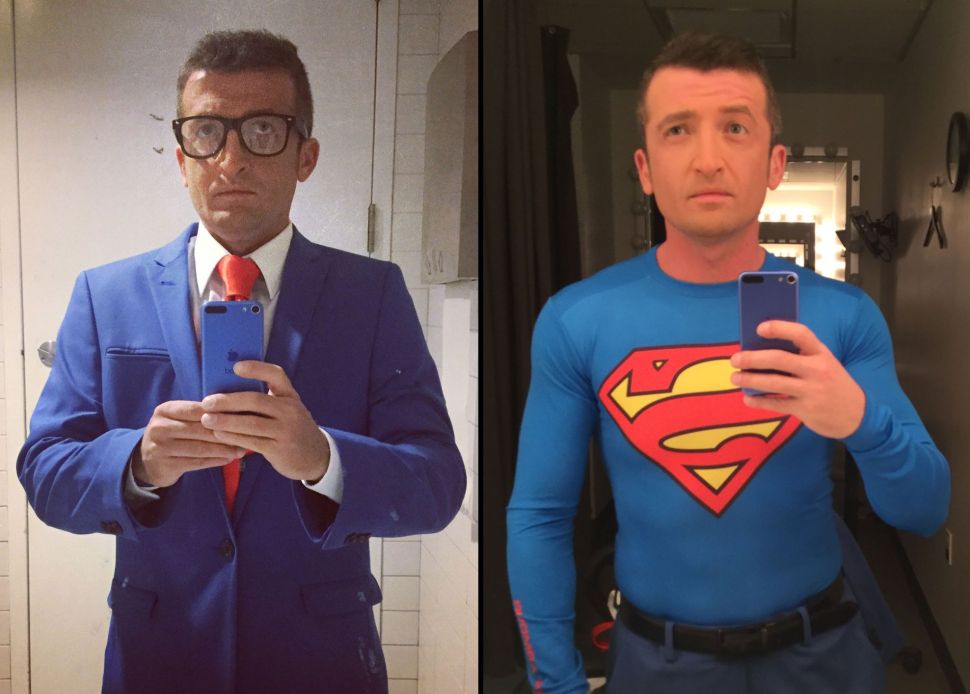 I was booked again a month later, but that was it. I had no idea what I did wrong. I had no idea if I had, in fact, done anything wrong. Maybe I simply hadn't done anything right. I had my chance to be a Red Eye regular, and I had blown it. I still don't know what happened, and am fine with that.
It was eleven months later that I was on a Kennedy panel with Tom, and I thought we had a great rapport on air. He apparently felt the same way. "We haven't had you on in a while," he said in the green room. "Is that us or you?"
"You," I said.
"We'll get you on soon."
Sure enough, I got the call again. And again. I don't know what I did wrong before and don't know what I did right this time. I do know that I was cracking up the entire time I was on air. I was as much a member of the audience as I was a panelist, and was giddy to effectively have stepped inside of the television. It was surreal and it was wonderful.
Halfway through every episode, Andy Levy tells the panel "what they missed and what they got wrong." Every so often, he takes a vacation or a personal day and someone else fills the spot. It was eleven years ago that Publishers Weekly reviewed my biography Ego & Hubris by pointing out that, "Malice has endless energy for pointing out the faults in others." My overwhelming desire to do Andy's gig even once was not much of a surprise.
"Are you sure?" the producer asked me. "It's a tough gig."
Oh I was sure. I was as sure as Al Gore that climate change would kill us all, as sure as Donald Trump that they're sending over rapists. When I saw Andy in the hall after an episode, I asked him myself. "Do you think I'd be able to do your gig as a substitute?"
"Yeah," he said, making a face like it was obvious.
Not longer after, I got that call as well. When I sat down in Andy's chair on February 21, I couldn't remember the last time I was that nervous. As we started rolling, I went into a fugue state. It had been the same thing when I'd done standup the first few times almost twenty years ago, pure adrenalin. There were four topics to cover, and I had to find something to say for each guest somewhere between all four. The problem was that none of the four were dumb, and none of them were dropping easily-attacked talking points. They were funny, and they were informed. Worse, it was happening in real-time. So if someone mentioned something that I could Google to disprove, I still had to keep my ears open in case what they had said turned out to be largely true.
I did have a crutch, however. Unbeknownst to me, Red Eye writer Tim Dimond was watching the show at the same time. Among other things, his role was to feed Andy suggestions and now he sent me a bunch as well. Dimond writes the guest intros at the top of the show, and has the vicious sense of humor that I adore. (Best unused intro: "Michael Malice reminds me of Shakespeare's Puck, because he's a much ado about nothing fairy.")
At one point panelist Haglund pointed out that it's far easier to become an American citizen than a French one. I would have loved to use Tim's suggestion: "Kirsten, you implied that I could not become a Frenchman. Pardon my French, but fuck you!" But if I didn't know about Tim, I doubted that she did. As funny as it would have been, I didn't think telling Miss America "fuck you" on my first ombudsman appearance was a good idea.
My adrenalin was so high I literally did not remember anything I ended up saying. (It was only after I'd watched the clip that I realized my mouth knows what it's doing, even when my conscious mind has fled the country.) The panel burst into applause, and told me I did a great job. This is something else that few people in the audience have access to understand—how supportive that little talking head community can be. Yes, it's competitive but most people aren't competing with one another. A black conservative will never be in competition with the comedian, who isn't vying for the same slots as the leggy liberal. Even better, the next day, Andy went out of his way to send me a note of approval. He didn't need to do that, and having his validation was as priceless as a MasterCard ad.
On Monday, April 3, word came that Red Eye was cancelled—effective the previous Friday. I had been booked for what would be the last episode. It was devastating. The show tapes two episodes on Thursday, the second of which airs on Friday (technically 3 a.m. Saturday). I'd been planning for weeks to pull off a stunt at some point, and now had a great way to send the series.
In a reversal, the last-to-air episode, Friday's, was taped first. Greg Gutfeld returned and from backstage we watched the two hosts reminisce over what 11 years of late-night wackiness had wrought. Then it came time for the final taping, which would be airing later that night.
I arrived in an 80s blue suit, with a white shirt, nerd glasses and a shiny red tie. "Give me hair like Clark Kent," I told Sindy the hair lady. She went to town, using at least four different products to get my wavy hair flattened and shellacked. The show had five segments, and I wrote out a list for myself on how to change into Superman over the course of the episode. B Block: loosen tie and unbutton shirt. E Block: remove white button-down shirt to reveal Superman compression shirt underneath. It was during C Block, as my mic was moved from the blazer to the dress shirt, that one of the crew said that we were at war. Our president was bombing Syria.
As the show wrapped, it became clear that we would be preempted that night. Red Eye repeats on Saturday, airing Friday's show at 11pm. Would they air what would have been Thursday's episode after the Friday finale? Would Thursday air on Friday, and Friday on Saturday? We didn't know. As the lights shut down one last time, I focused on getting everyone to sign one of Tom's cue cards so that I could frame it as a memento (a memento mori, I suppose).
Most of us went out for drinks after, with a few other friends of the show joining. I sat in a booth beside fellow panelist Kristin Tate, and we stared at the group. "We are so lucky," she said, "to have been a part of this."
"Don't ever forget this," I agreed. It was one of those moments where we both felt like Wes Bentley staring at the flying garbage bag. Was every Red Eye episode great? No. Was every panelist funny or interesting? Did I have something useful to say every time? Of course not. But sometimes there's beauty in the world, and sometimes it was on Fox News at 3 in the morning.
Michael Malice is the author of Dear Reader: The Unauthorized Autobiography of Kim Jong Il. Follow him on Twitter @michaelmalice.