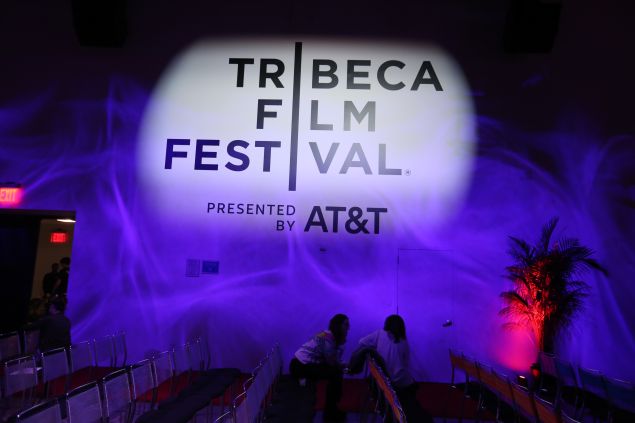 The Tribeca Film Festival, first established in the months after 9/11, has quickly become a New York institution, thanks to a unique combination of star power (its co-founder is Robert DeNiro, after all) and an extremely accessible lineup ranging from a special screening of Aladdin to the post-apocalyptic online short, YOYO.  Putting together such a mammoth slate requires a crack team of film programmers, several of whom met with us to talk about how their goals, selection process, and which under-the-radar movies are must-sees; Loren Hammonds (programmer, Future Films and Immersive), Frederic Boyer (Artistic Director), Cara Cusumano (Director of Programming), Liza Domnitz (Programmer, TV and New Online Work) and Ian Hollander (programmer, Feature Films). 
Film festivals are entities that, by necessity, need to have distinctive identities and yet, at the same time, you're not making the movies yourselves. How do you take pre-existing material and establish a Tribeca Film Festival brand in the first place, and how has that brand evolved over 16 years?
CC: The Tribeca brand is an interesting question. I think we always come to each year with a blank slate, just looking for the best possible films. We are a discovery festival and we are about innovation, so those are kind of broad themes that we'll bring to it to start with. But it's also quite curated. We really are incredibly selective and want to have the absolute best possible films that we can have, and then later in the process, it becomes about filling in those angles of, "Is this a diverse enough slate? Do we have enough countries represented? Do we have first-time directors, New York filmmakers?" Typically, they sort of fill themselves, but then there becomes a moment later in the process that's just about making sure everything is really well rounded. There's been a real consistency in the quality and scope of the program over the years, which, in sum, becomes the Tribeca brand and identity.
LH: It's also been crucial to understand who our audience is as we've gone through these years and years of the festival. We're still super young as a festival, but I think being in New York City and having such a culturally curious audience, we think about that because we want to make it accessible. We want to make it a festival that doesn't feel elitist, that feels well curated, but also really welcoming to an audience.
LD: Culturally, the fact that we live in New York City means we can program an esoteric Estonian film and the Estonian community will come out, as will fans of esoteric material.
The festival has grown so much since 2001. How much of that expansion are you planning in advance and how much is based on your needs for each year? How big can you get?
CC: I think that there's a sense that it's bigger than it is. Because we have a wide reach and a wide influence, it feels like this massive event, but we have 98 feature films this year. If you look at other festivals that have our kind of profile, Sundance is 130, SXSW is 150, Toronto's 300+, so it's not a "more is more" situation. We really want the festival to be clear and focused, and I think that the way we have grown is the different platforms that we've embraced. Liza curates the New Online Work program and that was something where we said, "These are people doing work that we think rivals our film submissions and they're just bypassing festivals entirely, putting things up online, directly interacting with the audience." So, there's a real role and opportunity for a curator to come to that space and say, "We watched everything, but here's the fifteen that we think you, as an audience member maybe looking to get more involved in what is going on, should start with. Then, we brought that to VR and, later, TV. So, that's sort of the direction we'll continue to go in as the creators go there first.
In my experience seeing films at Tribeca, the audience is generally younger and more diverse than those at most other festivals. How do you establish and maintain that kind of inclusivity?
CC: Inclusivity is essential, and it goes back to the founding mission of the festival, which was revitalizing lower Manhattan and bringing a community together. I think we do more of a populist vision than your typical arthouse community that only sees the same things and is a smaller world, so we try to create multiple access points for different people, no matter what their interests are, to interact with the festival.
IH: The community outreach portion is a big part of what we're doing. We have a day of all free screenings on the Friday of the festival, which is amazing for New York to be able to do.
LH: Across the entirety of the festival, we try to bring things off of the screen, so we have something like Can't Stop, Won't Stop, the Bad Boy documentary, followed by a performance by Puffy and Mase and Faith and L'il Kim. So, it's just touching these different communities that we know are there and are interested in these subjects, but it all starts with the films being great and then building an experience around those films that will make people say, "I better be there or I missed it." That's important to the DNA of Tribeca.
What necessitated the creation of categories like "Viewpoints" and "Spotlight?" Are there specific criteria for each of them?
CC: Many years ago, the festival was bigger and, in my earliest years, it was sort of Toronto-sized, in terms of how many films were shown. There were so many different sections, and they were not really intuitive, so there were categories like "Encounters" and nobody knew what that meant, so there was a very conscious decision at the moment when we brought the slate way down to 85 that we were going to make our sections really clear. We wanted them to be few and small and focused, so we came up with the competitions, which we have tweaked over time. For instance, last year we split our narrative competition into U.S. and international, so that we could have twice as many films. It felt like it was too limiting to try to get that much done in just ten slots. So, we have U.S., international, and documentary competition. Our "Spotlight" section is for better-known actors and filmmakers, and for documentary, for better-known subject matter, and/or directors. But there's a refining process because, for the last several years, it's been a long section of 40ish films, docs and narratives together, and this year, we made the choice to say split them up into two groups of fifteen each. "Viewpoints" is more about talent behind the camera, really boundary-pushing voices, or just things that are otherwise unclassifiable. Our "Midnight" section is for genre films.
What is the criteria for the competition? Are the films that are in Spotlight and Viewpoints not eligible for the competition for whatever reason?
CC: There are a couple of rules. Competition films are typically world premieres, except for some of the international ones that have screened in their home country. They don't have distribution, but otherwise, we really feel like that it's just the films that we think are the strongest that we've seen this year, and we think that they fit together and complement each other as a microcosm of the whole festival. We try to have that same diversity of styles and voices that you see across the whole program within each section as well.
LD: Which doesn't necessarily mean you won't see a recognizable face in a competition film. It's just following some close eligibility rules. You might see someone that you would think, "Oh, that's a Spotlight," but it doesn't necessarily always follow those lines.
CC: There are always films that could fit in each, like there's a film called My Friend Dahmer this year. It's about Jeffrey Dahmer, so a lot of people are like, "Oh, this'll be a Midnight film," but we thought it was an amazing coming-of-age story, and it's really about the voice of this director and these young actors and the atmosphere and the arc of the film. If you put it in "Midnight," people would come to it with certain expectations, that it'll be a horror movie or it'll be really genre, and that wasn't the context that we wanted to present it in. We think that it'll be best appreciated in the context of "Viewpoints."
In terms of politics, you obviously don't have any political platform that you're adhering to, but if there was a very well-made documentary that took some sort of controversial viewpoint that you don't necessarily agree with, how much would that factor into your decision-making about presenting it at the festival?

CC: I think it would be a lively debate among our team. We have a political voice in the program this year, and that was something we embraced, but the way we came at it was less showing films that have strong political messages about specific issues that they're pushing and more looking at stories like The Reagan Show and ACORN and the Firestorm. Stories from American history that speak to what we're going through now that can help inform and give people context and familiarize them with multiple sides of an issue. I think ACORN is a fascinating film for this reason because it's about this scandal that happened around ACORN and one of the subjects of it was the perpetrator of this scandal, so if you were pro-ACORN, you kind of hate this person and yet she's very candid in the film, and she stands by certain things she did and regrets other things she did, so I think fostering that conversation and having that access to that character is the power of what that film can accomplish. That's always the context that we're looking at things in: "Is this something that's going to further the conversation, or is this going to further divide people and galvanize them in what they believe already?"
In addition to choosing films, you're also responsible for writing the blurbs in the festival guide. What are your goals when you're writing one?
IH: Blurbs are so important because they're the first entry point for so much of the world. We're 80% world premieres, and the first way people learn about all these films is through the blurbs, so we really try to distill the essence of why we selected a particular film into that 60-word piece. So, it may be highlighting the actors, the plot of the film, what drew us into it, and/or what we think will excite an audience.
CC: The goal is always to connect the right viewer with the right film. We're not going to misrepresent the movie, or be like, 'It's the most hilarious thing you've ever seen!' We know that would sell tickets, but we want to be sure that it appeals to the person who's actually going to enjoy coming to that movie. So, if it's scary, we'll tell you it's scary, and if it's funny, we'll tell you it's funny, but in a way that's authentic to the actual movie.
LH: It's also the process of disseminating who writes the blurbs, too, because after months and months of curating, we know who really digs what film and who has a passion for certain films.
CC: I find it harder to write the ones I really love because I feel like there's something intangible about it that speaks to me…
LH: You feel like you're not quite getting it.
CC: I can never totally get there. But, for the ones that just get assigned to me that aren't my personal passion, I bang 'em out.
Would you say that your personal film tastes don't entirely overlap with the things that you might think would be great for the festival? Or, on the other hand, you might really love this movie, but realize it doesn't work for the festival?
CC: Yeah, but I think that's why there's so many of us. Even if I don't totally get a movie, Loren might love it, and I respect his taste. You don't want it to be just my taste at the festival because then you'll be watching crime dramas with lady detectives all day long.
What is the process of actually weeding through the thousands of submissions? 
IH: We have a big team. I think it's upwards of thirty people who are watching features, and it's all people who have been either programming for us for a while or who have worked for other festivals and whose taste we trust. It's a long process. It takes a while to get through the four thousand features submitted this year, so just to getting everything covered and giving everything a fair shake is a big part of the job.
Are there any under-the-radar movies festivalgoers should be checking out?
CC: November is an Estonian black-and-white werewolf fairy tale. I'm so into this movie, and it's totally different than anything we've seen in the history of programming this festival. So, that's, if your parameters are always to be surprised and see something different, that is certainly this.
FB: Maybe The Sensitives. It's a very small film, but the topic is extraordinary. All these people that cannot touch themselves, they cannot touch electricity, they are living in trucks. This is a small, but fascinating film.
LH: I think For Akheem. It's also a small film about a young girl in St. Louis, Missouri, but it's just so beautifully made and a really remarkably told story. It's just very cinematic doc, and I hope people find it. It premiered in Berlin and kind of flew under the radar there, and we're really excited to share it with our audience here.
IH: I'll talk about Mr. Long, which is from the Japanese director SABU, and it's about a Taiwanese hitman who goes to Japan and gets stranded. It starts off very bloody and then turns into a sort of charming family drama.
LD: Super Dark Times is just really cool…really fantastic performances by this group of young teenage kids, guys. It does have sort of a Stranger Things vibe, but it's set in the '90s. It's just very perfect with the period details of that time.
Is there anything else about programmers in general that even other people in the film industry might not realize?
LD: We're a beautiful group.
[laughter]
FB: I like that.
CC: People always seem to enjoy or are horrified by exactly how many movies we actually watch. I think a lot of people think it's like, "Pick which movies are your favorite! I can do that job!" And then they're like, "Oh, you have to watch 500 movies? No." I think people also have misconceptions about the idea that we don't watch all the movies or we don't watch all of every movie, and I'm eager to dispel that at every opportunity because we're a discovery-driven festival. I'm actually horrified by the idea of missing something. That's what keeps me up at night. So, everything is watched and taken very seriously. We love movies. You couldn't do this if you didn't love movies, so we are happy to watch five movies a day, just in the hope of seeing something surprising or exciting.
The Tribeca Film Festival runs through Sunday, April 30th.