Bella Hadid's Mexico transportation.
Bella Hadid/Instagram
Bella Hadid in Cabo.
Bella Hadid/Instagram
Bethenny Frankel in Playa del Carmen.
Bethenny Frankel/Instagram
Emily Ratajkowski in Cuixmala.
Emily Ratajkowski/Instagram
Sienna Miller in Tulum.
JustJared/Instagram
Kristin Cavallari and Jay Cutler in Tulum.
Kristin Cavallari/Instagram
Colton Haynes in Los Cabos.
Colton Haynes/Instagram
Gwyneth Paltrow in Cabo.
Gwyneth Paltrow/Instagram
We know everyone is in dire need of a vacation right about now. You'd be lying if you said you didn't experience FOMO while scrolling through Instagram and spotting snaps of those lucky few who are currently frolicking around on warm beaches.
We partially blame our former president Barack Obama, who is living his absolute best vacation life post-White House, and is currently chilling and writing in the middle of a French Indonesian island. But it seems like all your favorite celebs have chosen a different A-list locale for their spring trips; in the past month, almost every single human went on a jealousy-inducing getaway to Mexico.
Seriously, it's like everyone took a cue from the locale's number one fan (and Cabo's unofficial spokeswoman), Jennifer Aniston and jumped on a flight to go bask in the warm sunshine. Aniston has been vacationing in the chic Mexico spot for over fifteen years (yes, back in the Brad Pitt era) and she just celebrated her 48th birthday there with Justin Theroux and friends.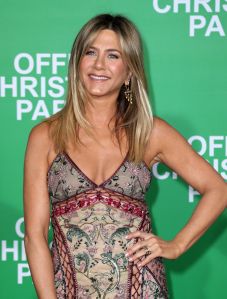 Let's start with Gwyneth Paltrow, who is in Cabo and being the most Goop ever; uploading posts with her "fresh organic carrot juice," because #wellness. Bella Hadid also made the trip to Cabo to celebrate a friend's birthday, sharing one of the best bikini Instagrams, ever.
Of course Sienna Miller, always the epitome of boho chic perfection, chose Tulum for her Mexico getaway. Kristin Cavallari and husband Jay Cutler (the former Chicago Bears quarterback, who is now a free agent) also made the trip to Tulum. The former Laguna Beach star uploaded a post of her husband sans any form of pants, which leads us to believe that she's still trying to forget about Cabo, post her televised 2004 #springbreak.
Real Housewife Bethenny Frankel ventured to Playa del Carmen, and shared some photos that make us all want a Skinnygirl cocktail. And we've already talked about Instagram and bikini queen Emily Ratajkowski and her glamorous trip to Cuixmala.
It wasn't just the girls who wanted to head down to Mexico, though—who could forget Colton Haynes, who got engaged to Jeff Leatham on the beach at Las Ventanas al Paraíso in Los Cabos, Mexico, with a little help from Cher. Click through the slideshow above to see all the best celeb photos in Mexico, and perhaps get some major travel inspo.