It really seems like Bella Hadid is living by the mantra: "If you've got it, flaunt it."
Just yesterday, the supermodel posted an Instagram of herself wearing a teeny red bikini, lounging on the beach in Mexico. A quick scroll through the account procures a plethora of other scantily clad images, featuring the model in similar bikini shots, barely-there dresses and so on.
Hadid, who was recently interviewed for the cover of Porter's summer issue, has an explanation for that. "My mom is very European, so our whole life we were very open about that stuff. It was just more casual," she told the glossy. To prove that statement about her Dutch mother, let's refer back to Instagram. Just three weeks ago, Hadid posted a throwback of Yolanda Hadid wearing a red bikini in the early '90s, one that is nearly identical to one her daughter just wore.
According to the cover girl, these skimpy photos are for no one but herself: "I'm just really focusing on myself, and my work, and just being the best that I can be. I'm not really worried about what guys think about me, I'm just trying to be a woman!" So take that, Abel.
The one place that Hadid doesn't want to bare it all is when she's out in public, just going about her day. She told the magazine that it's "overwhelming" to be recognized wherever she goes.
"You feel really overexposed and you don't want to see anybody… I just want to be in my apartment alone and kind of retreat and be centered again," she explained.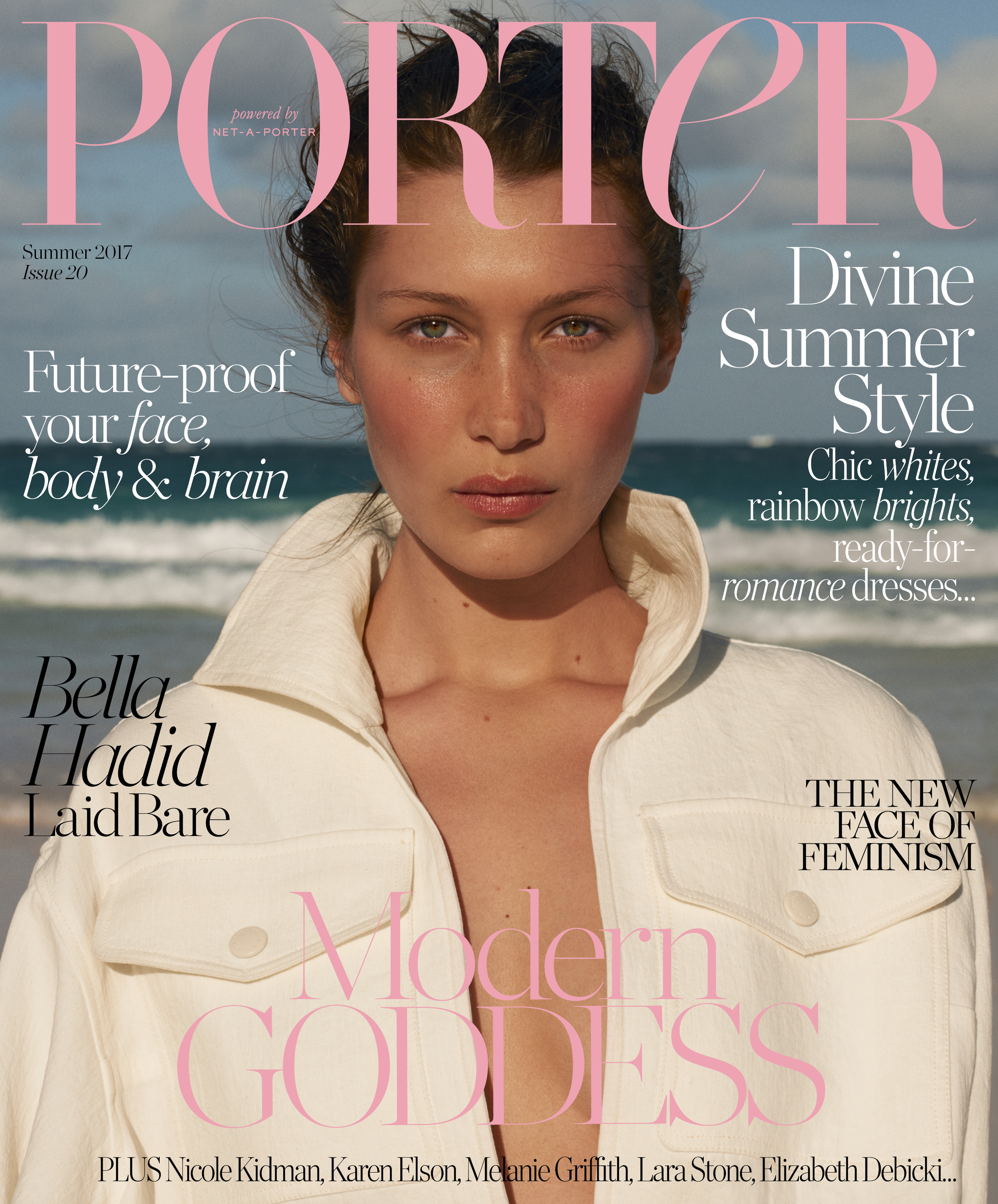 For the cover of Porter, which hits newsstands on April 7, Hadid revealed yet another stripped down look, but this time it was in the beauty department. The shoot, lensed by Terry Richardson, took place on the sunny shores of Harbour Island in the Bahamas. So naturally, makeup artist Dick Page provided Hadid with perfectly sunburnt cheeks, which he described as "easy, fresh makeup," on (where else?) Instagram. He punctuated that statement with the addition of three important hashtags: #natural #healthy #glow. They happen to be a pretty good description of the almost bare face, which was actually created with Dior Beauty products. Along with the overly sunned skin, Hadid rocks a healthy sprinkling of freckles, a dewy lip and not much else. She doesn't even appear to be wearing a lick of mascara, allowing her intense green eyes to shine.
Luckily, this is one revealing look that can safely be replicated and worn by all.