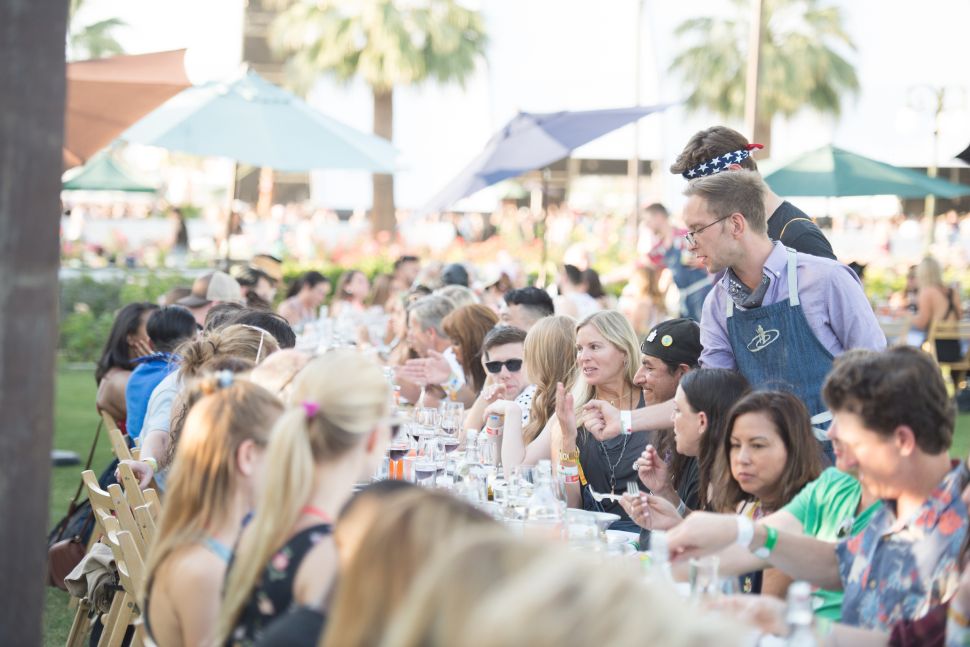 Alex Chang was born in Hong Kong to a Chinese father and Mexican mother and raised in California. He went to college at USC in L.A., started a supper club and, after some time in Tokyo and Mexico City kitchens, became one of Miami's most buzzworthy chefs. Now, he's back in Los Angeles and working to open a restaurant that will showcase Israeli flavors, L.A.'s dynamic diversity and California's wonderful produce. It makes perfect sense to us in boundary-free Los Angeles.
Expect that restaurant, The Exchange at downtown's Freehand hotel, to be a summer sensation. Chang, who's spent time in Israel doing research for the restaurant, tells us that it should it open in the next 30 days or so. Elad Zvi and Gabriel Orta of Bar Lab, who are opening The Exchange with Chang, are also set to debut the Freehand's L.A. version of Broken Shaker, which has established itself as one of the country's best cocktail bars in both Miami and Chicago. (Broken Shaker, when it was just a pop-up, is where an impromptu after-hours birthday party for L.A. chef Roy Choi took place during the South Beach Wine & Food Festival.)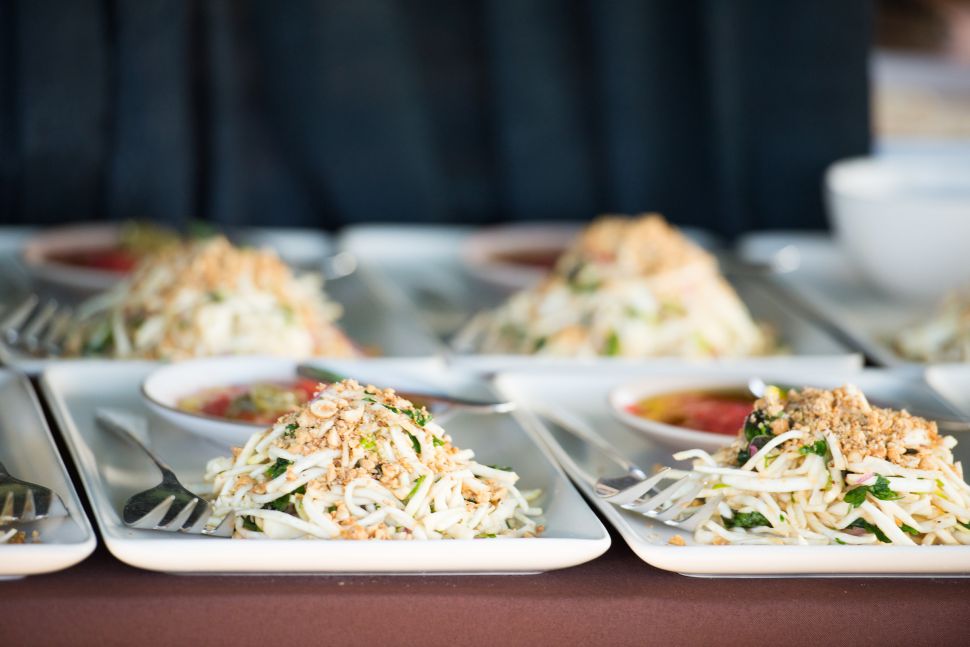 Chang was one of the culinary stars this past weekend at Coachella. He cooked at an Outstanding in the Field dinner, which had two seatings for more than 250 guests at a gorgeous communal table in a shaded area adjacent to the VIP Rose Garden.
Chang put spring peas and charred cucumber vinaigrette on a plate with Straus Family Creamery yogurt.  He served pureed Early Girl tomatoes with creamy tahini, California olive oil and basil, a perfect dip for baker Zack Hall's Clark Street Bread sourdough. He merged Middle Eastern and Asian flavors in a celery root salad with peanut tahini, lime, herbs, dukkah and a note of fish sauce that all added up to an opus of texture and freshness and surprise and love. We think Chang's going to have a good time and do well cooking in L.A.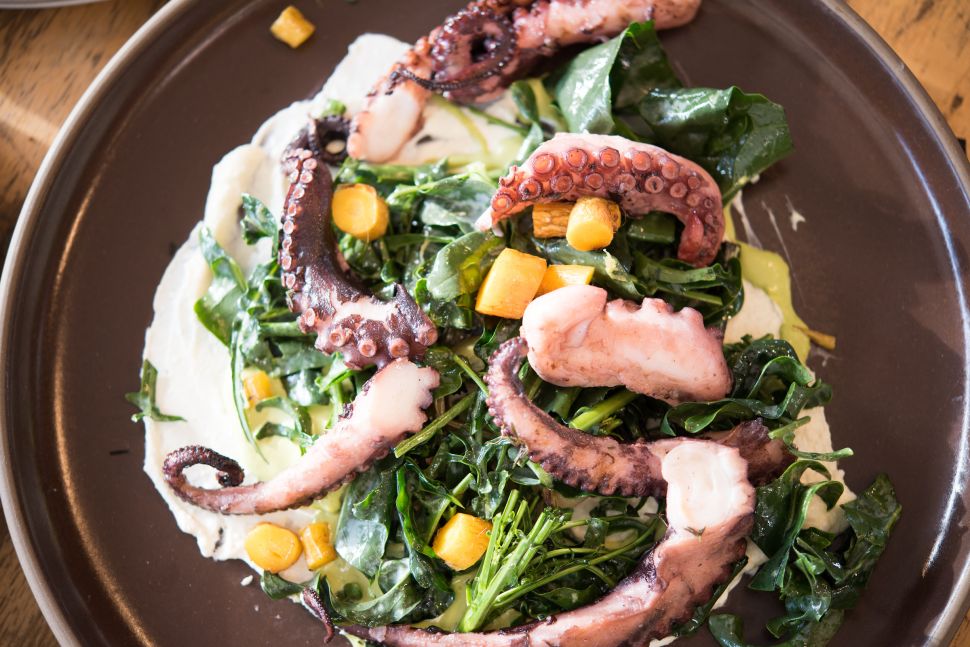 Chang's vegetables were just the first course of Saturday's Outstanding in the Field extravaganza.
Miami chef Jamie DeRosa of Izzy's Fish & Oyster is known as a seafood-shack wizard in South Beach, but he's also been a star in the kitchens of Wolfgang Puck and Geoffrey Zakarian as well as L.A.'s revered Campanile and Patina. So, he served Portuguese grilled octopus with smoked County Line South radishes, ramp green goddess and French feta.
Then Boston/New York players Ken Oringer and Jamie Bissonnette of Toro and many other excellent restaurants brought out their magnificent churrasco paella, headlined by chorizo and Aspen Ridge rib eyes grilled over charcoal and wood. The County Line South charred ramps in this dish were another reminder that Outstanding in the Field is about celebrating local farmers.
Coachella is two weekends, so you've got a few options for Outstanding in the Field this weekend, all of which feature prominent L.A. chefs: Friday, April 21, is a Southeast Asian feast from Jet Tila (Cutthroat Kitchen), Perry Cheung (Phorage) and Louis Tikaram (E.P. & L.P.). Saturday, April 22, is Vartan Abgaryan (71Above), Charles Olalia (RiceBar) and Eduardo Ruiz (Chicas Tacos). Sunday, April 23, is Nyesha Arrington (formerly of Leona), Antonia Lofaso (Scopa Italian Roots and Black Market Liquor Bar) and Dakota Weiss (Estrella and Sweetfin Poke.) Plus, Outstanding in the Field's Jim Denavan (who is also known for his massive pieces of temporary land art) is presenting dinners year-round all over the country, including many feasts that are on the grounds of farms. If you're the type of person who really cares about where your food comes from, there's no better way to dine.