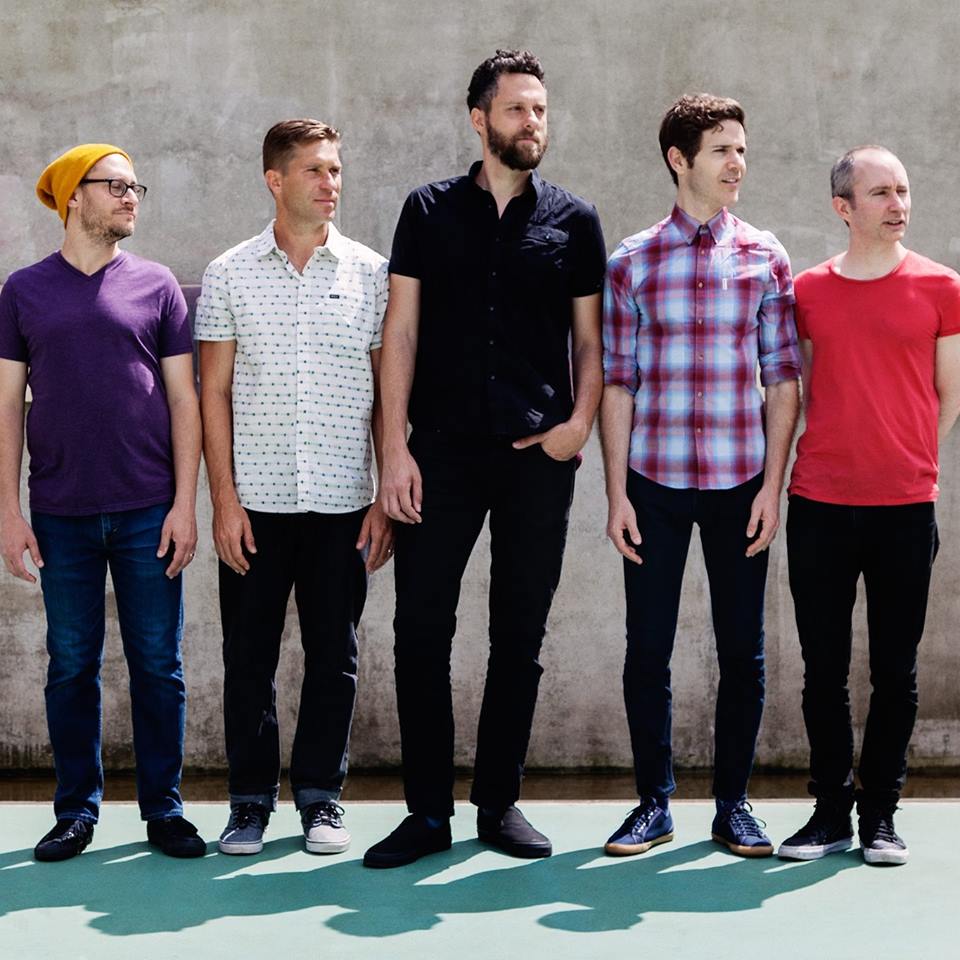 No two projects in modern jazz speak to the evolution of the cross-section where bop meets beats like Los Angeles fusion collective Kneebody and NYC's Beat Music, the hip-hop-rooted improvisational group led by drummer Mark Guiliana, surely still pinching himself following his key role as the rhythm behind David Bowie's Blackstar. 
"Jamming!" was what the members of Kneebody enthusiastically exclaimed when asked about what they were most looking forward to when the two acts take the stage at Le Poisson Rouge on Saturday, April 8.
Kneebody's impulse to improvise should be amplified by the great collection of new material they've just released, their new album Anti-Hero, the band's ninth LP and debut on Motema Music.
Interweaving the jam-funk looseness of their earlier works with the kind of innovative ideas that gave magic to Kneedelus (the group's groundbreaking 2015 collaboration with Los Angeles abstract beatsmith Daedelus on Flying Lotus' Brainfeeder imprint), it's a bold collection that sees saxophonist Ben Wendel, keyboardist Adam Benjamin, trumpet player Shane Endsley, bassist Kaveh Rastegar and drummer Nate Wood aiming to redefine instrumental music as a sharp point of political protest.
In anticipation of their upcoming gig at Le Poisson Rouge, the members of Kneebody not only took some time out to speak with the Observer—they gave us the opportunity to premiere the video for their poignant new single "For The Fallen."
[youtube https://www.youtube.com/watch?v=RzJJsOscY2g&w=560&h=315]
Anti-Hero came out on Motéma, but I'm curious to know if Brainfeeder was ever an option for this record following Kneedelus. Also, what led you guys to Motéma?
Shane Endsley: Motéma was a natural fit since our saxophonist Ben Wendel was already working with them and had developed a nice relationship. They showed exceptional interest in the project and jumped on it. We had a great experience with Brainfeeder and would be happy to record for them again.
How much of an influence did your collaboration with Alfred impact the music on Anti Hero?
Ben Wendel: It's hard to quantify but we've definitely felt the impact musically. After making that album and then touring with Alfred for a year, we just naturally absorbed a lot of his sonic influence and language.
This has played itself out in obvious ways like using our effects pedals more like samplers and introducing a synthesizer into the band for the first time, but also in subtler ways like the way we chose to treat the drums on the new album and using various delays.
Do you have any thoughts on the new Daedalus album, Labyrinths? And are there any plans for a future collaboration with him or another producer in the future?
Shane Endsley: The album is amazing! No specific plans to go back in the studio with him just yet. However, we just played a show with Daedelus on this tour at the Cedar Cultural Center in Minneapolis. It was one of the best shows we have ever done with him and I am sure we will find ways to continue collaborating in the future.
Would you consider the means by which samples and electronics have been playing such a key role in new jazz to be a sort of second act for the concept of jazz-fusion?
Adam Benjamin: I think it's all part of a broader continuum. Music in general and jazz in particular is always a reflection of the technology of its time, both in the physical tools used to create and distribute the music and also in the experience of living in that time which is communicated by the music.
Our music definitely reflects our generation, the music we grew up with, the technology that is part of our life. At the same time, there is a universal aspect to the experience of improvising music that links us to artists of other times. There is a certain kind of communion in live music-making that we would share with artists from 100 years ago, even though our lives would have very little in common.
Shane Endsley: The progress of electronics and samples has affected lots of the new music being created these days, not just jazz or jazz-fusion. The nature of the tones and phrases that live musicians create now is influenced by the technology at our fingertips and that we hear and see in the media of the current times.
[youtube https://www.youtube.com/watch?v=eqTbnVL0CWE?list=PLjOm2XGmh5zOjKC5-VMVes25iucaM4OjD&w=560&h=315]
I love how you kept in the Miles Davis tradition of naming songs after favorite people with Austin Peralta and I would love to know more about your relationship with him. 
Ben Wendel: We all had interaction with Austin in various ways. Some of us played with him on local Los Angeles gigs. I played on what would be his final album [Endless Planets].
A lot of the community was deeply affected and shocked by his sudden death. I ended up writing a piece for Austin on my most recent solo album—I wrote it after coming home from his funeral and being particulary moved by his girlfriend reading his private letters—he was an incredible writer and deep thinker, and I think a lot of folks didn't know this part of him.
Kaveh also wrote a piece for Austin shortly after he passed—we learned and played it at the Blue Whale in L.A. very soon after—this happened to be the last club Austin played at. We all still think about him.
You've said Anti-Hero is a political album. In what ways do you feel instrumental music cam make a bold statement in this present climate?
Adam Benjamin: The ways in which instrumental music, and abstract art in general, functions politically is a pretty interesting topic to me. I really cherish the open-ended nature of the meaning of our music, the fact that every listener will have a different mental picture and a different feeling about the meaning of each piece. At the same time, it feels cowardly to hide behind the abstraction of jazz in such an overtly political time.
We all feel very conscientious about our roles as artists and teachers and parents and citizens at this critical juncture in American history. So we are trying to be careful but effective in how we involve politics in our music.
I do think there is an element to our band and our nature of playing that is really about listening to each other, being open to new ideas, being kind but being strong about our ideas and our identities…so I feel that in a way, that is the best message we could be sending at this time.
Shane Endsley: Firstly, we believe in the power of communion and that happens any time people gather together and participate in artistic performance, athletic competition, intellectual debate, worship and meditation, etc. It is rituals like these that keep us connected as communities.
With instrumental music we hope to create a mood and emotional space where the audience can explore their own relationship to the issues that hold sway in our modern lives.
Or they can take the opportunity to be transported away from those issues. Obviously, some of the titles of our songs are political and social and we do want to evoke a feeling of shared effort in creating a society that can boast true equality and social justice.
But if that is too much then just come bob your head and have a good time and be with your friends and neighbors. It is going to be good for the world either way.
[youtube https://www.youtube.com/watch?v=tQR4x1dDq90&w=560&h=315]
Randy Weston, The Jazz Standard, April 6-9
At 91, Randy Weston continues to enjoy a historic career as one of the richest, boldest architects of jazz piano and it's context within the rhythms of African music, a fusion that reached a new high on last year's African Nubian Suite, a spectacular two–CD set recorded live at the Skirball Center in New York.
The double LP will be performed across a four-night stand at the Jazz Standard with all-star instrumentalists from around the world, most notably the Thousand Finger Man, legendary conguero Candido Camero.
The pairing of two living icons of jazz as Weston and Candido on the same stage is such a once-in-a-lifetime event, the promise of special guests is pure gravy.
[youtube https://www.youtube.com/watch?v=eD4E5Zt6u8s&w=560&h=315]
Anat Fort, Union Arts Center, April 8; Rockwood Music Hall, April 11; Cornelia Street Café, April 13
With the cross-cultural beauty of last year's collaboration with Italian reedist Gianluigi Trovesi, Birdwatching, still singing in our ears, Tel Aviv pianist Anat Fort returns to New York for an exciting trio of gigs in April.
On April 8 at Union Arts Center in the Rockland County town of Sparkill, she joins forces with reedist Erik Lawrence of the Honey Ear Trio, while April 8 finds her performing as a duo with her sister, vocalist Noa Fort, at the Rockwood Music Hall.
She rounds out her visit at the Cornelia Street Café with a strong new quartet featuring former Paul Motian saxophonist Chris Cheek, longtime bassist Gary Wang and Cuban percussion giant Francesco Mela. We can only hope that one of these situations will manifest themselves in the form Fort's next studio album.
[youtube https://www.youtube.com/watch?v=EkV2AUskoi0&w=560&h=315]
Billy Childs, Jazz Standard, April 13-16
Since cutting his teeth at the bandstands of Freddie Hubbard and JJ Johnson in the late '70s, pianist Billy Childs has established himself as one of the most adventurous spirits in the realm of commercial jazz for over three decades with credits on the works of Yo-Yo Ma, Sting Kronos Quartet, Wynton Marsalis and Chris Botti among others.
His excellent new album on Mack Avenue was released on March 24, and Childs will be celebrating its arrival in the form of a four-night stand at the Jazz Standard, flanked by bassist Hans Glawischnig, drummer Ari Hoenig and—for three dates—saxophonist Steve Wilson.
On the first night, however, the piano man will be joined by the last man to play sax on a David Bowie album, Donny McCaslin, for what will surely be a magical performance.
[youtube https://www.youtube.com/watch?v=rX9tR6DGwSg&w=560&h=315]
Matthew Stevens with Corey King, Nublu April 15
Were you a fan of the electric guitar that punctuated Esperanza Spalding's acclaimed 2016 LP Emily's D+Evolution? You can thank her guitarist, Toronto's own Matthew Stevens for those meaty Vernon Reid-inspired inflections.
On his great second album as bandleader, the guitar player doubles down on the amplification in a way that envisions Sonny Sharrock's Ask The Ages remixed by Tortoise.
Stevens will be performing Preverbal as part of a double bill with the equally mighty Corey King, still on the road promoting his killer 2016 LP Lashes, at NUBLU on Saturday, April 15. If the presence of serious electric rock guitar is something you miss in your jazz music, this promises to be a can't-miss gig.
[youtube https://www.youtube.com/watch?v=jGEjtaECQIM?list=PL08O5UjkS7cmPUjezYMdQN1DrwSSqWhHY&w=560&h=315]
Noah Haidu: Infinite Distances A Memorial Concert for Peter Haidu, Birdland, April 16
As a father who loves music, you can only hope the sounds you expose your children to will have an equal or greater level of importance in their lives as they did in your own. But to have that same child honor you in concert after you die? Can any parent imagine a more heartfelt tribute?
That's exactly what pianist Noah Haidu is doing on April 16 at Birdland when he and his quartet (Jon Irabagon on sax, acoustic bassist Yasushi Nakamura and drummer John Davis) pay homage to his father, UCLA professor Peter Haidu, who lost his battle with lung cancer the week his son's new album Infinite Distances was released.
A son honoring his recently deceased father is a heavy rite of passage, and you can tell from the beautiful remembrance Noah wrote on his website that he and his dad loved each other very much.
[youtube https://www.youtube.com/watch?v=BWNE3eWBRA4&w=560&h=315]
Linda Oh Group, Jazz Standard, April 19

Mimes may be unfortunately relegated to comedic punchline or city-park nuisance, but when the age-old art form is done by a true master like the late French actor Marcel Marceau when he performed his famed "Walking Against The Wind" sketch, it's literal poetry in motion.
On her gorgeous new album on Biophilia Records, bassist Linda May Han Oh finds inspiration in the graceful frustration of Marceau's performance art masterpiece, utilizing it as a metaphor for her own journey as one of the most respected bassists in modern jazz today.
Oh will be celebrating the release of Walk Against The Wind on April 19 at the Jazz Standard with a superlative quartet comprised of Kneebody's Ben Wendel on sax and Matthew Stevens on guitar (reprising their roles on the album) with drummer Rudy Royston sitting in for Wind percussionist Justin Brown, currently on tour with Ambrose Akinmusire. This is a distinctive opportunity to see a jazz supergroup of the highest order, the kind of show you're sure to her passed down in whispers on the Internet in the years to come.
This is a distinctive opportunity to see a jazz supergroup of the highest order, the kind of show you're sure to her passed down in whispers on the Internet in the years to come.
[bandcamp width=100% height=120 album=983662621 size=large bgcol=ffffff linkcol=0687f5 tracklist=false artwork=small]
Randy Ingram & Drew Gress, The Jazz Gallery, April 19
In terms of duet albums for piano and bass in 2017, it's going to be tough to top the beguiling union of Randy Ingram and Drew Gress on Ingram's gorgeous new album for Sunnyside, The Wandering.
Its songs—a combination of originals and thoughtful interpretations of music by Wayne Shorter, Bill Evans and Kenny Wheeler—comprise as calming and carefully crafted a conversation you're likely to hear between a grand piano and stand-up bass anytime soon.
The duo celebrates the release of The Wandering two days ahead of its release date on April 21 with a special show at The Jazz Gallery. If the performance will be anything like this amazing LP, it will be the quintessence of quietude.
[youtube https://www.youtube.com/watch?v=1ansLrjus24&w=560&h=315]
Christian Sands, Dizzy's Club Coca-Cola, April 27
At only 27, Christian Sands is reinventing the concept of what it means to be a Steinway artist as he continues to bring the solid traditions of classic piano jazz into the now with his new album Reach. 
He was recruited right out of the Manhattan School of Music by bassist Christian McBride to be a part of both his group Inside Straight as well as his Grammy Award-winning trio in 2013. So it's fitting to see McBride return the favor by co-producing Sands' Mack Avenue debut alongside Al Pryor.
As far as piano trio sets go in 2017, no one else in the game can touch Reach.
While you're sure to expect that money cover of the Linda Ronstadt/James Ingram ballad "Somewhere Out There" from An American Tail when Sands and co. come to Dizzy's on April 27, maybe he'll pay homage to the upcoming 30th anniversary of Bad with a cover of, say, "The Way You Make Me Feel" as well. With a talent like Sands at the keys, anything is possible.
[youtube https://www.youtube.com/watch?v=zpwaUPcUomA&w=560&h=315]
Jimmy Greene Quartet, Jimmy Greene's Love In Action, The Jazz Standard, April 27-30
Tenor sax great Jimmy Greene continues to be a beacon of strength as he channels his grief of losing a child to gun violence into some of the most vibrant, lyrical jazz coming out of America today.
Greene will be returning to the Jazz Standard to celebrate the release of his wonderful new LP Flowers: Beautiful Life, Volume 2 with a four-night stand that will feature two unique groups intermittently comprised of guitarist Mike Moreno, pianist Renee Rosnes, percussionist Rogerio Bocatto, the one and only Jeff "Tain" Watts on drums and a big time player on bass to be named later.
Flowers is a gorgeous, playful testament to the vibrancy of his late daughter, 6-year-old Ana Márquez-Greene, and the horn man could not have picked a better combo of musicians to bring this music to life onstage.